Welcome to the Equality & Equity Project
Equality ('quality or state of being equal'), the ideal for our NSCC community, and to a larger extent, our global community.
Equity ('freedom from bias or favoritism, the quality of being fair and impartial'), the path to equality.
As part of our commitment to Anti-Racism, Diversity & Inclusion, this page will provide historical and present-day information about the contributions, challenges, culture, and daily lives of the many vital groups that make up our NSCC community, and the larger world. We will regularly highlight important facts, stories, and experiences that traditionally have been omitted from the narrative of our country, and offer steps you can take to combat inequality. This page originated in response to the urgency of Black Lives Matter, and will predominantly feature African Americans in the 2020-2021 academic year. However, this is an ongoing project that intends to honor every group in the rich fabric of NSCC life.
We invite you to visit often, reflect on what you see and read, discuss it with others and, hopefully, expand your knowledge base, appreciation, and understanding of groups beyond your own. Together we can achieve: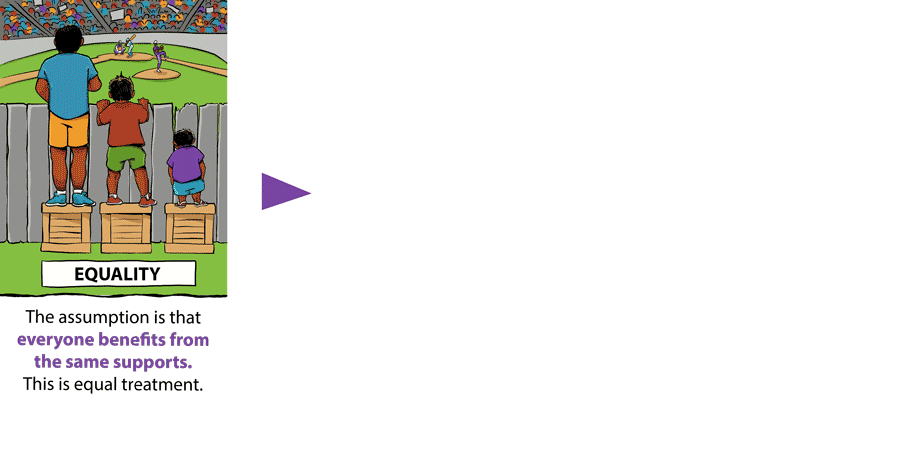 Courtesy of Artist: Angus Maguire/Interaction Institute for Social Change and Center for Story-based Strategy
https://www.trainingfortherealworld.com/post/when-we-can-all-buy-our-own-seat-and-popcorn

A consciously aware and understanding environment builds a stronger Comm-Unity.
If you have any questions or comments on NSCC's Equality & Equity Project, please contact
us at EqualityEquity@northshore.edu
Sources
Chief Diversity Officer & Additional NSCC Diversity, Equity and Inclusion Groups
Nikki Pelonia, Chief Diversity & Equity Officer
Equity and Inclusion Collaborative
Anti-Racism Working Group
Forum on Tolerance
Diversity Leadership Council