Attending college is a proven investment in your future.
It's a fact. Earning a college degree can transform your life, lead to better salaries, and increase satisfaction with career choices. We are committed to helping you access an excellent and affordable education and work with you to avoid unnecessary student debt. Whether you're transferring to a four-year college or university or want to quickly enter the job market, NSCC will help you choose the payment options right for you, including financial aid, scholarships, and payment plans.
If it weren't for the grants and funding I received, college would not have been an option for me.
Nia Gaines
2019 AA, Liberal Arts
Tuition and Fees
North Shore Community College is the top choice for students who are smart with their money.
Each semester students are assessed tuition and fees after they have registered for their courses. To review the cost select the semester below.
File now to get the best financial aid package.
NSCC's Priority Deadline to submit the FAFSA the 2020-21 academic year is July 1, 2020. Eligible students can use this funding to pay for the Fall 2020, Spring 2021 and Summer 2021 tuition and fees.
NSCC's school code is 002173.
Complete your FAFSA here. Complete your FAFSA here.
Compare NSCC to other schools.
NSCC's tuition and fees are among the lowest in Massachusetts – and financial aid and scholarships can reduce costs even more.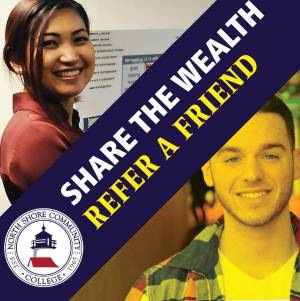 Are you a New Student as of Fall 2020?
Apply with a friend and enroll in 12 credits – typically 4 courses – or more and you both earn a $500 discount on tuition and fees! Apply and enroll with two friends and you can earn a $750 discount and each of your friends can earn $500.
Types of Aid
College is expensive, but thanks to the several aid package options we offer, it's manageable. Explore the several types of aid you could benefit from.
Expand All
Collapse All
Contact Student Financial Services
Office Hours
The Office of Student Financial Services is currently unavailible for onsite services and operating remotely, Monday through Friday between the hours of 8:00am to 5:00pm.
The preferred method of contact at this time is email, we can be reached at sfs@northshore.edu.
For quick questions during business hours – please utilize Google Chat. Google Chat is located on the bottom left of your NSCC email screen, and you will receive service from a SFS staff member in real time. A tip sheet for this can be found by clicking here.
If you contact the office via phone, at 978-762-4189 please leave a voicemail with your name and number. Someone will return your call, possibly from a "private caller" line.
Please be aware that the office is still offering all services, and we are here to help.
Mailing Address
NSCC Student Financial Services
1 Ferncroft Road
Danvers, MA 01923
Telephone
Danvers: 978-762-4189