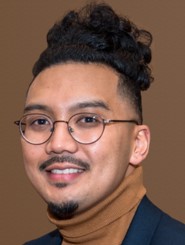 Dear NSCC Community,
My first couple months as NSCC's inaugural Chief Diversity & Equity Officer have been filled with warmth, welcomed support, a lot of learning, and gratitude. I continue to enjoy meeting with many of you to learn more about our greater community and the people that co-create North Shore Community College. I see a vibrantly passionate campus focused on striving towards equity through action and strengthening our student-centered mission, all while remaining adaptable during transitional and uncertain times. It is abundantly clear that North Shore Community College is a community that immensely cares about and aims to do more for the students, especially those that have been and are, historically excluded.
I understand this firsthand; like many of our community's students, I am a first-generation college student and Filipino immigrant who grew up in a neglected Black and brown community. I went through the ebbs and flows of success and failures inside and outside of community college (and still do). I was only able to persist through personal and systemic barriers thanks to the relentless support, creativity, and integrity from a few faculty and staff who, truthfully, remind me of many of you. Even though I had every right to give up, I had a will, and my community college offered me many ways to succeed. Nearly two decades ago, community college was a catalyst for me to progress. In my initial months here, I have already seen that consistent spark you help provide for our students; a spark that won't extinguish even through a global pandemic; a spark that deserves incalculable appreciation. With great gratitude, thank you for your invaluable work.
We also have a lot of work to do together. I cannot continue discussing my role as Chief Diversity & Equity Officer without also acknowledging the advocacy, activism, and work towards diversity, equity, inclusion, and social justice it stems from. Last year, there was another catalyst that ignited a raised awareness of racist violence across the country after the abhorrent murders of George Floyd, Ahmaud Arbery, Breonna Taylor, Sean Reed, Tony McDade, and sadly, many more to name in years prior. NSCC working groups such as the Equity & Inclusion Collaborative (EIC), Diversity Leadership Council (DLC), Forum on Tolerance Committee, National Coalition Building Institute (NCBI) team, Anti-racism Working Group, and Equality & Equity Project cultivated an environment of necessary transparency and resources with an aim towards social justice that also helped create the Chief Diversity & Equity Officer role. Like many other institutions across the country, along with the establishment of this role NSCC also decided we can no longer stay silent and committed to taking a proactive role in confronting systemic racism. Simply put, my job is to hold us accountable to that very commitment.
With accountability must also come the acknowledgment that we have been and are complicit with the systemic racism that permeates our society and culture. Systemic racism can only exist through collective bias, and it's the kind of racism that has the power to substantially impact our life chances. And it does. While there is much that we will co-create and plan together, I can confidently say racial equity and anti-racism will be central to our strategic plan and collective work ahead. With accountability and acknowledgement must also come action, especially from leadership. Our work towards racial equity will not only align with the Department of Higher Education's statewide Equity Agenda strategic initiative, it will also aim to bring revolutionary practices from and within our own college community. It won't be easy. It will necessitate courage, openness, mistakes, and patience for collective growth and learning to occur. I am hopeful, excited, and eager to collaborate with you.
In the coming weeks and months, you'll hear more from me about our diversity, equity, and inclusion efforts. There is much to look forward to, such as our inaugural Faculty Fellow for Equity & Inclusion, our Gender Pronoun Inclusion Campaign, this year's Forum on Tolerance: "What does Asian American mean?," institutionalizing Cultural Heritage Months (Happy Hispanic & Latinx Heritage Month), a recommitment to professional development, and much, much more. Rest assured, this is only the beginning.
Take good care,
Nikki Pelonia, he/him/his

Chief Diversity & Equity Officer
North Shore Community College