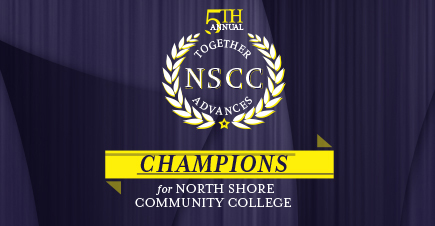 Senator Joan B. Lovely, The Essex County Community Foundation, and Anh Dao Tran-Moseman, NSCC Trustee and Class of 1988 alumna, will be honored with North Shore Community College's Champions Awards, which recognize exceptional leaders dedicated to excellence in higher education for residents of the North Shore and beyond.
The theme of the fifth annual celebration is Shaping the Future: how students, alumni and community members all have a role in shaping the future of the college, higher education, and in turn, their own lives. The event will be held virtually Thursday, November 4, 2021, 8– 9 a.m.
Senator Joan B. Lovely has been a strong supporter of the college throughout her tenure, and is currently sponsoring a bill at the state level to create a pilot community college campus hunger relief program to reduce student food insecurity and increase access to higher education.
The Essex County Community Foundation (ECCF) believes higher education is essential, and has partnered with the college in multiple ways, including awarding NSCC a multi-year grant to establish and lead the Northeast Prior Learning Assessment Consortium, increasing public awareness of credit-for-prior-learning. ECCF also provided critical relief funds early in the pandemic for NSCC students impacted by COVID-19.
Immigrating to the U.S. from Vietnam, Anh Dao Tran-Moseman enrolled at NSCC where she learned English, earned her associate degree, and went on to earn advanced degrees and launch a successful career in biotech. She serves as an NSCC Trustee and established an NSCC scholarship endowment.
"Like the Champion honorees we celebrate, our students will become champions in their own right, not just by completing their own college education, but by taking the knowledge gained, the challenges overcome, and the achievements along the way and applying those experiences to their personal, professional, and philanthropic endeavors. Their journeys will become the inspiration for aspiring students, grateful alumni, and area residents to invest in higher education and to become champions themselves," said NSCC President Dr. William Heineman.
"The North Shore Community College Foundation's mission is to secure resources to improve, promote and maintain access to high-quality education. Our Champions Award honorees are leading the way through their dedicated service, advocacy, and philanthropy which is transforming the future for our amazing students, this incredible college, and the greater North Shore community," said NSCC Foundation President James Horrocks.
Tickets, sponsorships, and advertisement opportunities are available. Advance registration required. Visit northshore.edu/champions to participate or for more information, contact nmarcott@northshore.edu or 978-739-5527.
Presenting sponsors include: Comcast; Eastern Bank; R.T. Paine and Barbara Metcalf; and Caleb Loring Jr. and Rosemary M. Loring Charitable Gift Fund.
To date, the NSCC Foundation has granted $200,000 to NSCC from Champions events proceeds, directly funding student emergency grants, flexible financial assistance, and meal vouchers for students experiencing housing instability, food insecurity, and other challenges.