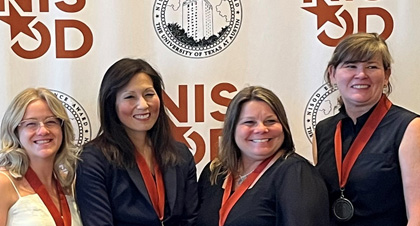 l-r, Allissa Flint-Kummel, Mary Meng-Lee, Jennifer Baker, Jane Saunders. Not pictured, Tiffany Magnolia.
Five North Shore Community College faculty and staff members earned 2023 National Institute for Staff and Organizational Development (NISOD) Excellence Awards for doing extraordinary work and demonstrating outstanding commitment and contributions to their students and colleagues. Excellence Awards recipients were recognized and honored at NISOD's annual conference, held in Austin, TX in May.
The honorees each noted what inspires and motivates them in their work:
Jennifer Baker, Coordinator of Academic Computing, Center for Teaching, Learning and Innovation: "I am inspired by our dedicated and talented faculty, who continually look to improve their students' learning experiences. We collaborate to incorporate proven and innovative techniques into their course design, which can increase student engagement, course satisfaction, as well as success.
Allissa Flint-Kummel, Research Analyst, Planning, Research & Institutional Assessment: "The dedication of my students inspires me to ensure there are no barriers that are being placed to interfere with their success. One simple interaction or change can impact a student's entire educational journey. Be the positive impact in your students' lives!"
Tiffany Magnolia, Professor/Honors Program Coordinator, English Department: "I have been an English professor for the past 20 years and an honors program coordinator for five. What keeps me coming back year after year is that spark in a student's eyes when the whole world opens up to them. It truly is a joy."
Mary Meng-Lee, Professor/Department Chair, Physical Therapy Assistant (now Dean of Human Services and Emergency Response Pathways): "I am inspired by the students and colleagues that I work with. There is never a dull moment where I am not challenged by perhaps a student who is having difficulty with a physical therapy concept we are teaching or a college wide question that requires faculty input. After all of the years serving this wonderful college and its amazing students, I want to do more and be better each day."
Jane Saunders, Assessment Coordinator, Center for Alternative Studies: "My success as an educator is based solely on the excellence of the team of people I work with, members of the community college at large, and their dedication to the communities we serve. I wholeheartedly believe in the mission of NSCC and community colleges in general."
NSCC President Dr. William Heineman said, "I am pleased to congratulate our fine faculty and staff members who received this year's awards. NSCC greatly benefits from their commitment and dedication to our students inside and outside the classroom!"