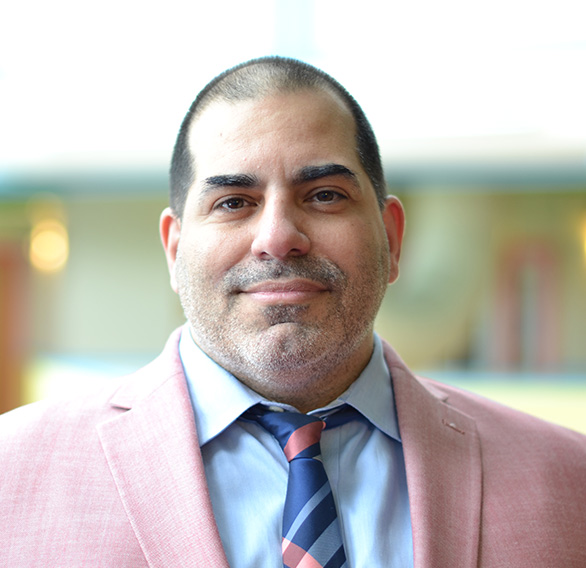 Jason Marsala, of Lowell, will become North Shore Community College's Dean of Enrollment Services on Monday, March 6, 2023.
Marsala was hired as NSCC's Coordinator of Financial Aid in 2014. He took on increasingly responsible positions, becoming the Director of Student Accounts, and most recently was named the Interim AVP of Student Affairs Operations.
A first-generation college student, Marsala said, "I truly believe in the mission of making higher education accessible, affordable, and a degree attainable. I struggled through my entire college experience, especially around money. I made poor borrowing choices due to lack of guidance. Working at NSCC has provided a way for me to give back and help the next generation make smarter choices."
In his latest role as Interim AVP, he realized his passion. "Too often access to education is used to keep people from advancing in their careers and improving their lives. I want to make sure all students have the ability to walk through the door to a new world. And if they are having difficulties, I'll happily kick the door down for them!" he said.
In his tenure at NSCC Marsala has led the setup of the Lynn Student Success Center, served as co-chair for NSCC's FY22-27 strategic plan, graduated from the Chair Leadership Academy (NELDI), and is currently in the Executive Leadership Institute 2022-2023 program.
Provost Dr. Jennifer Mezquita noted, "I am delighted to have the privilege to continue to work with Jason, now as our Dean of Enrollment Services. His exceptional work ethic, positive disposition, and exceptional leadership skills will help us continue to cultivate a collaborative people-centered work environment."
Marsala has a bachelor's degree in English, a bachelor's degree in Theatre and a master's degree in Theatre History from the State University of New York at Albany. He previously worked in banking and then at MIT in Student Accounts and as Assistant Director of Financial Aid.