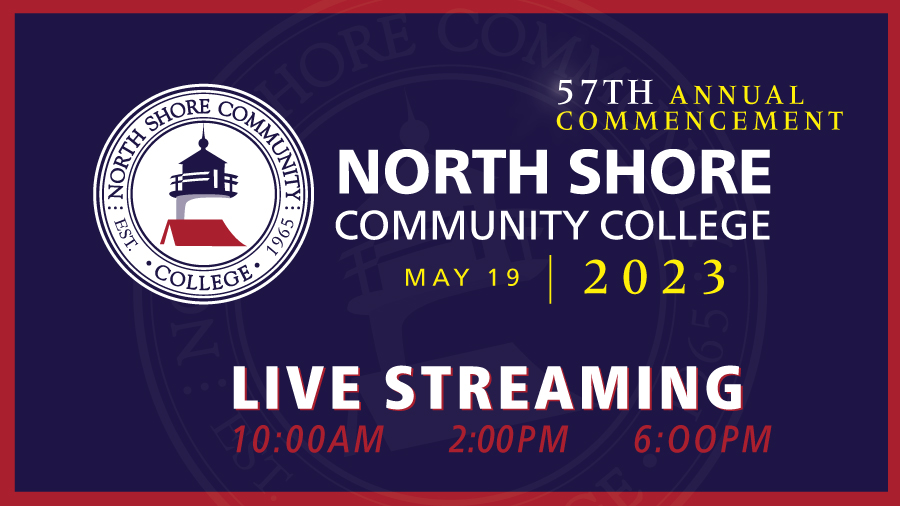 North Shore Community College expects to bestow approximately 700 associate degrees and certificates at their 57th Commencement that will be held on NSCC's Lynn Campus on May 19, 2023. The ticketed event will feature three separate ceremonies at 10 a.m., 2 p.m., and 6 p.m.
This year's ceremonies will each feature a different student speaker along with messages from three external/non-student speakers.
10 a.m. Ceremony – Student speaker, Maryann De Thomas De Labarthe, Winchester, will be graduating with an Associate Degree in Respiratory Care; Dr. Kiame Mahaniah, Undersecretary of Human Services and former CEO of Lynn Community Health Center will virtually address our 10 a.m. graduates
2 p.m. Ceremony – Margaret Munroe, Wenham, is the Student Speaker and will be graduating with an Associate Degree in Business Administration; Frances Martinez, President & Founder of the North Shore Latino Business Association, will address our 2:00 pm graduates.
6 p.m. Ceremony – Student speaker Amanda Dias, Beverly, will receive an Associate Degree in Liberal Arts with a Psychology pathway; John D Keenan, JD, President of Salem State University will virtually address our 6:00 pm graduates
More details on Commencement, including how to watch the ceremonies via live stream on May 19, may be found at www.northshore.edu/commencement