Ahern joins Anna Jaques Hospital as chief operating officer
Jan 18, 2023 Newburyport Daily News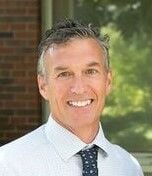 NEWBURYPORT — Sean Ahern has joined Anna Jaques Hospital as chief operating officer, the hospital announced Wednesday.
In this role, Ahern will have oversight of clinical services at the hospital and oversee all hospital operations, including food service, construction, facilities and maintenance, and security and safety.
"We are thrilled that Sean has joined Anna Jaques as chief operating officer," Anna Jacques Hospital President Mark Goldstein said. "Sean has a deep understanding of hospital management and clinical operations gained during his 28 years of experience at Winchester Hospital. At Anna Jaques, Sean will be a key player in helping to further our mission of delivering high-quality care locally to residents of our community."
Ahern brings to Anna Jaques an extensive background in health care, both in direct patient care and in operations and administration. He joins Anna Jaques from Winchester Hospital, which is also part of Beth Israel Lahey Health, where he worked for more than 28 years. He began his career at Winchester as a respiratory therapist and held progressive leadership positions over the years.
Since 2009, Ahern served at Winchester as director of Cardiopulmonary, Sleep, Neurology and Rehabilitation Services, where he led a number of strategic and operational projects. Ahern replaces Gary Lee, the vice president of clinical services, who retired this month after a 47-year career in health care, including the last eight at Anna Jaques Hospital.
"Anna Jaques Hospital is a valued part of Newburyport and the wider community," Ahern said. "I look forward to working collaboratively with all members of the Anna Jaques team in providing the very best care for our patients."
Ahern holds a master of health care Administration from Independence University, a bachelor of science in business administration from Eastern Nazarene College, and an associate degree in respiratory therapy from North Shore Community College. He maintains a respiratory therapy license and is a credentialed neonatal pediatric specialist.