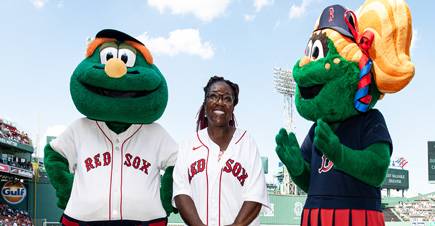 Congratulations to Dr. Jennifer Harris, Professor, Behavioral Science, who was honored at the July 23 Blue Jays vs Red Sox game as a "Most Valuable Educator." Jennifer, shown at Fenway Park with Sox mascots Wally and Tessie, was nominated by President Heineman and Assistant Provost Andrea DeFusco-Sullivan when NSCC alum Nathaniel Montero, Class of 2016, now working as Community Relations Coordinator for the Sox, reached out with the opportunity. Jennifer shared that as a young woman she dreamed of being a sports broadcaster or sports psychiatrist.
Responding to an amazing outpouring of congratulations on NSCC's Facebook page, Jennifer said,
"I am truly overwhelmed and humbled. Thanks especially to my former students. I wouldn't be here without you. It was a wonderful and special day."