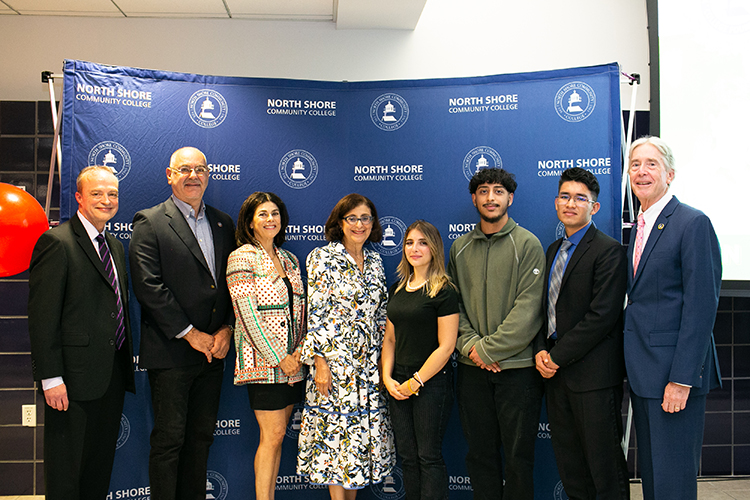 2022 Traicoff Award Honoree, The Derderian Family, for the Dean Lillian A. Derderian Scholarship. Pictured, l-r, President William Heineman, Scott Derderian, Faith Derderian, April Derderian Fellows, three of our amazing scholarship awardees who shared their journeys, Joelle Carey, Ayman Alabbasi,and Josue Hernandez Escalon, and John Fouhy, NSCC Foundation VP.
The North Shore Community College Foundation has awarded $343,000 in scholarships to 300 NSCC students for the 2022 – 2023 academic year. This represents the highest amount ever awarded by the Foundation in a single year.
At a ceremony held on the college's Danvers campus, Foundation Vice President John Fouhy said, "We are here today because we believe in the power of higher education and the promise of each and every scholarship awardee. The Directors of the NSCC Foundation are honored to steward the generous gifts our donors make to support our students and we are committed to maximizing the impact of their generosity with initiatives that empower students to succeed in the classroom and throughout their lives."
The Foundation's mission is to secure resources to improve, promote and maintain access to high quality education as it believes higher education is a catalyst and an agent of change for individuals, families and communities. The Foundation began 37 years ago, when just two $300 scholarships were awarded.
Since that first year, more than five million dollars in scholarships have been awarded, and the Foundation has expanded its philanthropic impact to include student support programs like Here to Help, campus expansions and renovations, technology upgrades, academic program support, and more.
NSCC President William Heineman noted, "When I think about the accomplishments of our scholarship awardees, and trust me, there are many, I am tremendously impressed and inspired. They are achieving in the classroom and beyond with their grades, their leadership, and their successful advancement toward achieving their academic goals. They all share the belief that higher education is the turning point for their future and what will launch them to new heights and change their lives forever."
Scholarship recipient Joelle Carey, liberal arts transfer program, Class of 2023, shared, "College means the world to me, and it feels so amazing to earn a scholarship. I'm a first generation, independent college student working full-time to pay for college. In high school, I didn't think I would go to college. NSCC was a leap of faith. Now, I can't imagine not being in college or not learning all the time. NSCC really saved my life."
Ayman Alabbasi, computer science transfer Class of 2023, said, "Although first generation, I always saw myself as someone who would go to college. After high school, I went to a four-year university but it wasn't the right fit. My goals coming to NSCC were to get good grades, make the Dean's List, and be the best I could be. I've already started my own web design company.
All my hard work was recognized with this scholarship. I hope I can do well and succeed and to someday be in the position to do the same thing for others."
Also featured at the Scholarship Ceremony was the presentation of the Traicoff Award which was created in 2019 in honor of NSCC President Emeritus George Traicoff, who founded the scholarship program. This annual award recognizes the exemplary and inspirational commitment of donors to scholarships and the success of our students.
The 2022 Traicoff Award was presented to The Derderian Family for the Dean Lillian A. Derderian Scholarship. us. Dr. Derderian founded NSCC's Guidance Department and served as Dean of Students until her retirement in 1995.
In accepting the award for her family, daughter April Derderian Fellows noted, "Being part of NSCC meant everything to my mother so by virtue of that, it meant everything to us. Mom wanted the Dean Lillian A. Derderian Scholarship to be a life changer for its recipients. She loved her students, especially the women. She wanted them to know they could do it, and I think she accomplished that. This scholarship is her legacy."
For more information on NSCC's Scholarship program or the NSCC Foundation contact Nicole Marcotte, Director of Development, at nmarcott@northshore.edu.