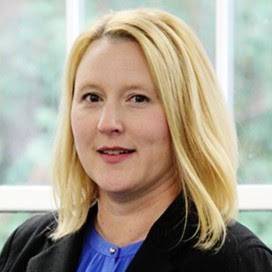 Justine Caron, North Shore Community College's first Chief People & Culture Officer (CPCO), sees her new role as "serving at the heart of the institution and working as a strategic partner with the greater NSCC community towards cultivating a positive workplace . . .focusing on employee well-being and appreciation . . ."
Caron joined the college on May 23, 2022.
An accomplished and impressive Human Resources leader, Caron has worked in multiple higher education institutions over the past 20 years, including two Massachusetts Community College System Institutions. Prior to joining NSCC, Caron was the Executive Director of Human Resources at Massachusetts College of Art and Design (MassArt) where she provided executive leadership and oversight of the human resources team and helped strengthen the college's culture by supporting employees through engagement, training and development, talent management, retention strategies, and succession planning.
"I am honored to join the NSCC family and thrilled to serve in this inaugural role as CPCO," said Caron. "As an approachable leader with the responsibility to serve as an advocate and ally, supporting diversity, equity, and inclusion initiatives in alignment with the College's missions and values, . . . this is an amazing opportunity for me to make a positive impact."
Caron has extensive training from the National Coalition Building Institute (NCBI), Massachusetts Commission Against Discrimination (MCAD), ATIXA, is a graduate of the Community College Leadership Academy as well as The Chair Academy, with experience successfully serving as Title IX Coordinator, Affirmative Action Officer and ADA, section 504 Compliance Officer for Rivier University, Northern Essex and Mount Wachusett Community Colleges.
She earned a master's in business administration from Anna Maria College and serves as a Boston HR Council member as well as a Society of Human Resources Management (SHRM) member.
A graduate of Auburn High School, Caron currently resides in Newton, NH with her husband Patrick and daughter Sofie.