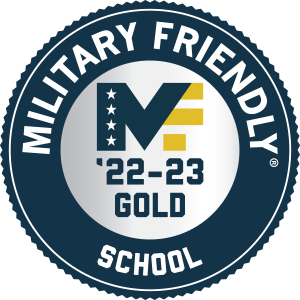 For the 12th consecutive year, North Shore Community College (NSCC) has received designation as a Military Friendly® School, this year, for the first time, earning Gold award status.
The designation honors the top 20 percent of colleges, universities and trade schools which are doing the most to embrace America's military service members and veterans as students. Military Friendly® ratings and resources provide service members and their families with the information they need to make decisions about civilian careers and education opportunities.
"I have been very impressed by NSCC's commitment to its student veterans since becoming president," said Dr. William Heineman, NSCC president. "We have a very strong team that is dedicated to providing these students the wrap around services they need and providing an environment on both our campuses where they feel supported and understood."
Institutions earning the Military Friendly® Schools Awards designation were evaluated using public data sources and responses from a proprietary survey. Over 1,800 schools participated in the 2022-2023 survey, 665 schools earned awards level designations in Gold, Silver, and Bronze. NSCC was among the 282 schools selected for "Gold" award status for their leading practices, outcomes, and effective programs.
The 2022-2023 Military Friendly ®Schools list will be published in the May issue of G.I. Jobs magazine and can also be found at https://www.militaryfriendly.com/
For more information on what NSCC can offer to members of the military or veterans, contact Kristine Babcock, Veteran's Services Coordinator at kbabcock@northshore.edu or at 978-762-4187.