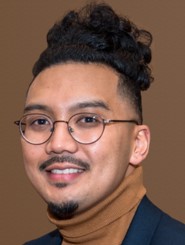 Nikki Pelonia, former Director of Education, Training and Inclusive Excellence at Salem State University, became North Shore Community College's inaugural Chief Diversity and Equity Officer on July 6.
The Chief Diversity and Equity Officer is a senior management position reporting to the President which provides vision, leadership, and oversight to programs, policies, and procedures related to the institution's commitment to social justice, equity, diversity, and inclusion, and facilitates the integration of equity and cultural wealth across all aspects of the institution.
The CDEO will work to promote an environment free of discrimination and biases through advocacy, education, and the development and implementation of programs and campaigns designed to enhance the success, retention, and personal development of NSCC's diverse community. The CDEO serves as the College's Affirmative Action Officer and Title IX Coordinator ensuring compliance with The College's Policy on Affirmative Action, Equal Opportunity and Diversity.
"Hiring a Chief Diversity and Equity Officer directly serves North Shore Community College's goal of achieving equitable outcomes for our students and communities," said Dr. William Heineman, who became NSCC's fifth president the same day Pelonia began at NSCC. "Nikki will help us focus on an array of existing initiatives and good intentions into specific action steps leading to measurable achievements in equity for our stakeholders. I am excited to work with him.
"Establishing a CDEO at this moment in time is a very important step for the college and will augment the body of foundational work that many here have built and been committed to for many years. I know the college community will welcome Nikki and enthusiastically engage in elevating our diversity, equity and inclusion work," Heineman added.
Pelonia is a first-generation immigrant born in Olongapo, Philippines and was raised in Southeast San Diego, CA. Throughout his career he has worked with diverse groups of people and organizations to dismantle and disrupt systems of oppression towards equity and social justice. He has over 15 years of experience in the non-profit, higher education, social work, and international education fields, providing facilitation, training, curriculum design, program implementation, community building, organizing, storytelling for change, strategic planning, and leadership coaching.
"I am humbled and honored to be selected as the inaugural Chief Diversity and Equity Officer at NSCC," Pelonia said. "Having had the opportunity to work with NSCC as a community partner the past two years, I am truly looking forward to working with and within the NSCC community directly towards social justice.
"I know there are already many at the college who exemplify awareness, advocacy, action, and accountability towards this shared goal whom I am sincerely grateful for. With established diversity, equity, and inclusion (DEI) working groups such as the college's Anti-racism Working Group, Diversity Leadership Council, Equity and Inclusion Collaborative, Forum on Tolerance, Leading for Change, MALES (Men as Leaders Empowered to Strive), and NCBI (National Coalition Building Institute), I look forward to joining and strengthening these shared efforts," Pelonia noted.
A community college attendee himself, Nikki also has a M.A. in Intercultural Service, Leadership & Management from SIT Graduate Institute, and a B.A. in Philosophy & Religion, cum laude, from San Francisco State University.
"As an individual who has experienced both success and failure within the community college system, I firmly believe that community college has been and continues to be critical to the future of higher education. There aren't many places where one can receive a high-quality education with affordable tuition while being immersed within a truly diverse classroom and community" he noted. "Community college is a true nexus and intersection of diversity, equity, inclusion, and belonging and my hope is to help facilitate and lead NSCC as an exemplar by centering restorative practices, co-creating community, transforming systems, and cultivating culture for meaningful change at the college and within our society."