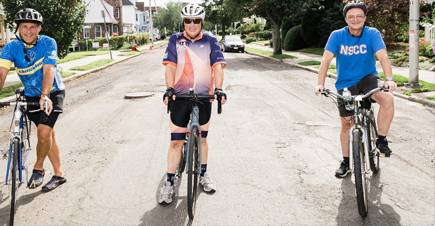 From left, St. Mary's Head of School Dr. John Dolan, Mayor Thomas M. McGee, and NSCC President Dr. Bill Heineman prepare to set off on a 30-mile charity bike ride to welcome Heineman to Lynn on Tuesday. (Spenser Hasak)
New NSCC President Rolls Into Lynn
Lynn Item 9/1/21 | Meaghan Casey

LYNN — As the city welcomes William Heineman as president of North Shore Community College, a simple handshake and hello wouldn't do for some community leaders, so Mayor Thomas M. McGee and St. Mary's Head of School Dr. John F. Dolan decided to take it the extra mile — or 30.
McGee and Dolan committed to a bike ride through the area with Heineman, while also raising more than $3,000 for the Jimmy Fund at the Dana-Farber Cancer Institute. Lynn Public Schools Superintendent Dr. Patrick Tutwiler was also scheduled to be on hand to send them off with a little motivation.
"Signing up for the ride seemed like a win, win, win to me," said Heineman. "As a newcomer to Lynn, who wouldn't want to spend a few hours with two such important leaders in the city? I have had the opportunity to meet both Mayor McGee and Dr. Dolan in more formal settings, but it is often the more relaxed outings that provide the best insights about how things work in a community. North Shore Community College's students expect me to advocate for their interests and needs, and this is a great opportunity for me to learn and advance NSCC's mission."
"A second win," Heineman continued, "is that I also get to tour the area in a mode I enjoy. I'm not in the mayor's class when it comes to cycling, but I will do my best. He and his family have been such strong supporters of North Shore Community College, and I couldn't pass up the offer to see the sights with him and John. Finally, it's a win to be raising money for the Jimmy Fund and all the amazing work it supports."
Heineman became North Shore Community College's fifth president on July 6. He previously served as provost at Northern Essex Community College and has worked in the Massachusetts community college system for 25 years. His work has always focused on improving the experience of students and innovation in education. He and his wife have lived in Chelmsford for more than 25 years, but plan to relocate to the North Shore.
"People have given me a very warm welcome, and I appreciate the invitation from Dr. Dolan and Mayor McGee to get to know them and the region better," he said.
The bike route started at McGee's home in Lynn Tuesday afternoon and took the group through Swampscott, Marblehead, Salem and Nahant. McGee committed to 30 miles based on $3,000 in pledged donations, while Dolan and Heineman were in for at least 20 miles. With personal contributions from all four, the total raised was nearly $3,300.
"All of us have had cancer impact our lives," said Dolan. "This was a way to honor Mayor McGee by joining him in his passion for bike riding and raising awareness for the Jimmy Fund and the fight against cancer."