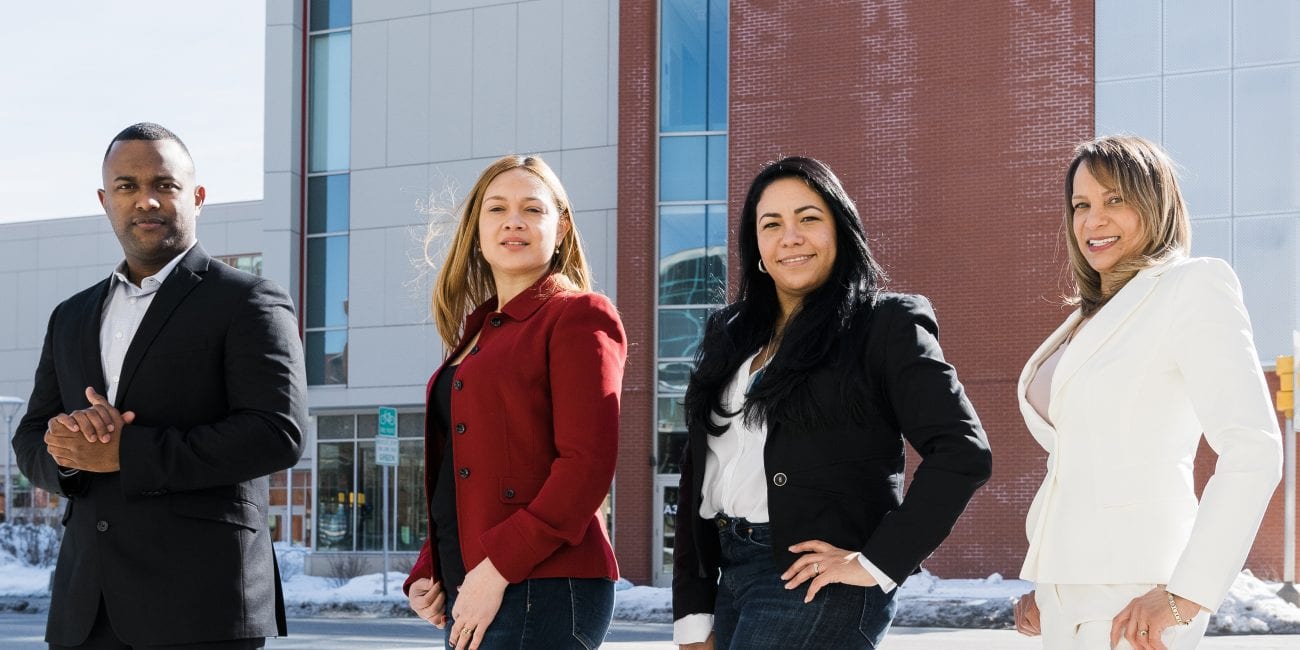 From left, Tirsson Ozoria Ventura of Lynn, Tairis Ceballos of Salem, Delfa Fabian of Lynn, and Ylonka Mendez of Lynn have all graduated North Shore Community College's ESL program and are working on their associates degrees. (Spenser Hasak)
LYNN — When Delfa Fabian came to the United States from the Dominican Republic in 2012, she was alone except for her two young daughters.
She immediately enrolled in English as a Second Language classes at North Shore Community College (NSCC) to begin acclimating to her new home, but soon found herself pregnant with a third daughter.
"I was in a new country, without family, pregnant and starting a different language," Fabian said. "It was hard, but I wanted to be something."
In the ESL program, Fabian met and befriended Tairis Ceballos, another Dominican immigrant who had arrived in the country in 2009. Ceballos had begun classes the year before, but because she was working a full-time job, she had trouble taking on a full course load.
Soon the circle expanded to include Ylonka Mendez, who had first come to the country from the DR in 2003 and had begun ESL classes at Lynn's La Vida Scholars program before transferring to NSCC, and Tirsson Ozoria, a former baseball player and engineering student who left those paths behind and immigrated in 2012, starting ESL the next year.
The four students soon became a mini-family, supporting each other through their classes and life outside of school. Fabian took on the role of mother to the group, encouraging them to keep going whenever one of them wanted to quit.
Their hard work paid off. In May 2017, all four graduated from the college's ESL program.
"It felt amazing," Ceballos said. "It was such a beautiful day. It felt so nice that we wanted to continue together."
NSCC's ESL program has two different pathways: ESL for academic credit and non-credit. The academic credit pathway, which those four students participated in, offers foreign language credit to students who will be pursuing a degree following completion of ESL classes, similar to Advanced Placement courses taken by high school students.
"Colleges historically haven't treated ESL students as they should be," said Christian Bednar, who oversees the school's ESL program. "When they're coming in here, they're not a remedial separate population, and they're coming in ahead of the monolingual English-speaking students."
After their ESL graduation, the group all enrolled in the school's accounting program, inspired by Ozoria's interest in business. They knew that the bond they had made in their previous course would be important for their continuing education.
"When we select classes, we all call each other and say, "Hey, what are you doing? What's the next step?" Mendez said.
Their shared background also proves useful when they struggle in their accounting classes, as they know they can count on each other to help explain difficult concepts.
"We speak Spanish, so we feel more comfortable talking to each other," Ozoria said.
As part of their course, the four are currently completing an internship together, volunteering for the IRS' Volunteer Income Tax Assistance program.
Lorin Buksa, coordinator of experiential education and internships at NSCC, who has been overseeing the students' work at VITA, said that their mutual support has been integral in their journey.
"Knowing your resources is an important part of being a professional — knowing who you can go to and succeeding," Buksa said. "They've really done it together. The college was there to support them, but they showed the initiative."
Now, the four students are preparing to graduate together in May with associate's degrees in accounting. While they aren't sure yet what they want to do afterwards, Ozoria hopes to one day open his own business and build on the skills he's learned in his classes, and all four agree that they'll stick together.
"We're like a team," Ozoria said.
By Tréa Lavery, February 16, 2021, Lynn Daily Item