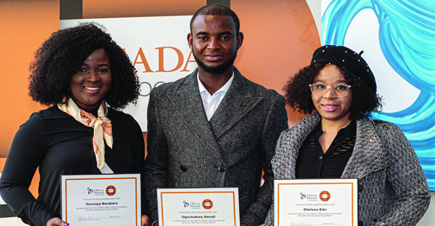 NSCC students Ugochukwu Amadi, Chelsea Edo, and Ifunanya Nwabara were recently presented with Liberty Mutual Insurance's annual LEADA@Liberty Scholarship. Amadi, Edo and Nwabara were among this year's five 2019-2020 scholarship recipients who each received $2,500 per year for each of the four years of their college career. Launched in 2017 and administered by the United Negro College Fund (UNCF), the LEADA@Liberty scholarship is available to students of African descent attending community colleges in Massachusetts.
"Forging new partnerships within the community is just one way Liberty Mutual's employee resource groups are working with the diversity and inclusion team to expand our future talent pipeline," said LEADA@Liberty Operations Chair Stacy Ann Hull. "Investing in students' college careers gives Liberty Mutual an opportunity to reach the next generation of insurance professionals and help them chart a path to success."
Developed by Liberty Mutual's Employees of African Descent and Allies (LEADA@Liberty) employee resource group, the scholarship assists with college tuition for Massachusetts students who are enrolled in a community college through the Massachusetts Commonwealth Commitment and who plan to complete a degree at a state university or University of Massachusetts campus. The other two recipients of the 2019-2020 LEADA@Liberty Scholarship are Adedapo Azeez, Massasoit Community College; and Jimmy Dorielan, Roxbury Community College.
Amadi, Class of 2020, said: "I am studying Computer Information Systems so that I can help protect the information of people all over the world, especially the elderly who are at heightened risk for being scammed out of their retirement savings. Being a member of the TRIO and STEM clubs at North Shore has helped me take advantage of all the services the college has to offer and put me on a path for success."
Edo, Class of 2021, commented: "I'm currently enrolled in the Health Science program and am working towards transferring to Salem State University or University of Massachusetts Lowell Nursing program for my bachelor's degree in nursing. My goal is to become a nurse practitioner and help bring compassion, healing and joy to those who are suffering."
Nwabara, Class of 2021, shared: "I am currently completing requirements towards my planned bachelor's degrees. My first degree will be in Nursing and the other in Community Public Health, in order to give back to underserved and marginalized populations. Upon graduation, my first objective is to work towards making care affordable for patients at community health centers. My second objective is to establish a health care learning platform that will focus on the physical development of children and proactively address the glaring cases of malnutrition."
The Commonwealth Commitment is the Massachusetts Department of Higher Education's innovative college affordability and completion plan that aims to help more Massachusetts students achieve the dream of a college career. The plan commits Massachusetts public colleges and universities to providing a series of financial incentives to students who begin their studies at one of 15 community colleges, earn an associate degree within two and a half years, and then transfer to a state university or University of Massachusetts campus to earn a baccalaureate degree.
"Liberty Mutual's generous support of the Commonwealth Commitment program helps us ensure that students of all races and ethnicities are able to learn," said Massachusetts Commissioner of Higher Education Carlos E. Santiago.
In addition to the scholarship, through the Commonwealth Commitment, students who attend college full time and maintain a 3.0 GPA receive a freeze on tuition and fees, a 10 percent rebate at the end of each successfully completed semester, and a full MassTransfer tuition waiver in their third and fourth years at a university.
"Without vital supporters like Liberty Mutual, UNCF New England could not help to advance educational opportunities for students in the Greater Boston area," said UNCF Northeast Vice President Diego Aviles. "Since 1944, more than half a million students have been able to realize a higher education thanks to a UNCF scholarship and the generosity of companies like Liberty Mutual."
For more information, please visit the LEADA@Liberty scholarship web site.
About LEADA@Liberty
One of Liberty Mutual's six employee resource groups (ERG), LEADA@Liberty—Liberty Employees of African Descent and Allies—provides meaningful connections, professional development and ongoing support, while acting as a resource to influence inclusive business practices.
ERGs represent different affinity groups — groups formed around shared backgrounds and experiences — and their allies — those who support people beyond their own background, culture or experience. They are led by executives and co-chairs and are company-sponsored. Liberty Mutual's Diversity & Inclusion team provides each group with a budget and oversight, and all ERGs follow a framework that supports the company's broader business objectives, called the 4Cs: culture, community, career and commerce.