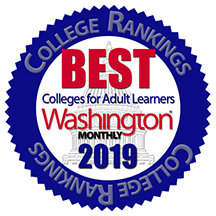 Washington Monthly also ranks NSCC 13th in the nation.
For the third year in a row, North Shore Community College (NSCC) has been ranked as one of the nation's top two-year colleges for adult learners. NSCC rose in rank from 16 up to 13 out of the 978 community colleges sampled, and was again the best Massachusetts community college at serving adult learners, scoring at the highest levels for flexibility of programs, ease of transfer, and services for adult students by Washington Monthly magazine's annual College Guide and Rankings.
To develop its rankings, the Washington, D.C.–based magazine used data from the Department of Education's Integrated Postsecondary Education Data System (IPEDS) survey, College Board's Annual Survey of Colleges, and the College Scorecard. In addition to above criteria, other metrics factored in were the percentage of students over age 25, earnings 10 years after attending college, loan repayment rates, tuition and fees, and graduation rates of part-time students.
"We're very honored to be recognized nationally for serving adult students," said NSCC President Patricia A. Gentile, Ed.D. "At NSCC 39% of our students are 25+. We strive to provide excellent flexible programs so adult learners can successfully enroll, retain and graduate. We utilize online, hybrid and accelerated course formats along with strong individualized student support services to meet their needs.
"The college's long and successful use of Prior Learning Assessment helps our adult learners get college credit for their knowledge and skills gained outside the classroom in their work, military, and/or volunteer activities. Our welcoming culture provides an adult learner the respect each student should expect from their institution of higher education," Gentile added. "This state and national recognition is a tribute to our faculty and staff who are continuously committed to our students' success."
At NSCC, adult students have the option to earn their associate degree, advance their career with certificates and other credentials, or update their job skills. The college also offers an expansive range of noncredit programs to help students enter or advance in the workforce.
In addition, a broad array of services such as academic advising, tutoring support, and veterans assistance are available. Students can also find support with all aspects of the employment process at the college's Career Placement Services. Both personal and career counseling are available to students. Other opportunities include help with writing resumes, improving interview skills, finding internships, and securing new jobs.
Read the full list of two-year colleges in the Washington Monthly rankings here https://washingtonmonthly.com/2019college-guide/adult-two-year .
For more information on services and support for adult students at NSCC contact https://www.northshore.edu/cas/