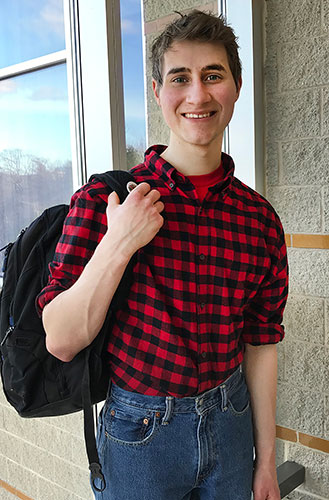 NSCC student Ryan Duggan has been named a recipient of the National Newman Civic Fellow Award, presented to student leaders who have taken action in pursuit of long-term social change, and who engage and inspire others in their communities. Students are nominated by their institution's president on the basis of their potential for public leadership.
The honor is named for Dr. Frank Newman, a founder of Campus Compact and a tireless advocate for the role of higher education in preparing students for active and engaged citizenship.
Duggan will graduate from North Shore Community College this May with an associate degree in environmental studies. "Outside of academics, the most valuable part of my experience at NSCC was one I hadn't originally anticipated and that was becoming an involved member of the campus community."
Duggan has immersed himself in numerous activities at NSCC and positioned himself to be both a leader and an advocate for students. He serves as the Vice President of Culture and Inclusion in the Student Government Association. A member of the Environmental Club, the Health and Wellness Club, TRIO, and Events Council, he also serves as a Civic Ambassador for NSCC's Service Learning Department. A tireless worker, he is a regular volunteer at NSCC's monthly mobile markets and spearheaded a Thanksgiving Food Drive that collected more than 800 lbs. of food for his fellow students in need.
Excelling academically with a 4.0 GPA has earned him membership in the Presidential Scholars Program, the Honors Program, and the Phi Theta Kappa Honor Society and contributed to Duggan being selected as a 2019 Coca-Cola Academic Team Bronze Scholar.
He is also a published author as The American Bee Journal (January 2019) featured his article about his experiences as a volunteer Essex County Honey Ambassador at the 2018 Topsfield Fair.
Duggan plans to transfer to a four-year institution to earn a bachelor's degree in natural resources conservation with a goal of entering the environment field as either a park ranger or conservationist.