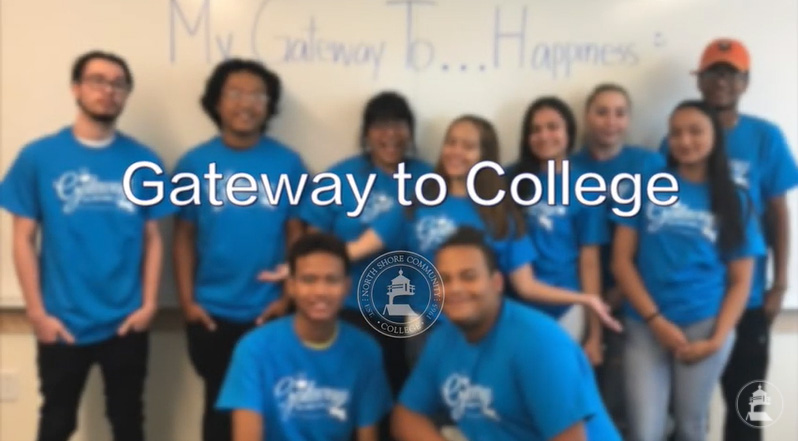 Why Gateway?
The MA regional job market shows the most growth in middle-skilled jobs that require education beyond high school but less than a bachelor's degree. Without high-quality educational options, legitimate economic mobility and self-sustaining career opportunities will be out of reach for youth who have disengaged from high school and have not earned a diploma or GED.
Purpose:
The Gateway to College program at North Shore Community College facilitates intentional collaboration that leverages resources within the program, the college, local school districts, and the community to break down barriers to high school completion, degree attainment, and self-sustaining career options for students who have dropped out of high school, disengaged, or are behind in credits to graduate with their designated class.
Mission:
Gateway to College empowers young adults in communities north of Boston, who have disengaged from high school but have the desire to earn a diploma and a college degree, with an opportunity to reclaim their education by enrolling in a fully immersive college program that allows them to at the same time earn a high diploma and free college credits that can be applied towards an in-demand degree or certificate at NSCC or transfer to a four-year institution.
Vision:
Gateway students graduate from the program with a high school diploma, transferable college credits, a labor market informed postsecondary plan, and the skills and habits necessary for success in college and to compete in the 21st-century job market. Click here to explore Gateway Career Pathways.
Key Benefits:
Graduate with your high school diploma

Earn up to 22 free college credits per year

Significantly reduce your overall college costs

Career pathway development and job skills training

Personal development and identity-based motivation workshops

Prepare academically and socially for college

Personalized support and advising

A flexible course schedule
To be eligible for the Gateway to College program, students must:
Be 16-20 years old.
Be willing to work hard to complete high school and progress toward a college degree.
Be able to complete their high school diploma by age 21.

Be enrolled or re-enrolled in a partnering school district

(

See list here

)

.

Believe that a traditional high school setting is not the right fit OR
Have left high school or are on the verge of leaving before graduation OR
Are behind in high school credits to graduate with your designated class
How to Apply
Attend an Information Session. Online Information Session Registration Form
Complete the Gateway to College Application Packet
Take a remote college placement test. Once your application has been received, you will be emailed a link to schedule a testing session. For more information and test prep resources visit NSCC's Center for Alternative Studies and Educational Testing
Participate in a virtual individual interview. Applicants selected to move on to the 2nd round will be contacted to schedule a virtual interview appointment.

Attend a

1-Week New Student Orientation

. All newly admitted students must attend and participate in orientation week. If you are unable to participate you may be waitlisted for the following semester.
Contact Information
For more information, please contact Gateway to College Staff:
Nadira McDonald
Gateway To College, Director
North Shore Community College
LE-318 (Inside E315), 300 Broad Street, Lynn MA 01901
DB-116, 1 Ferncroft Road, Danvers, MA 01923
Phone (Lynn): 781-477-2185
Phone (Danvers): 978-762-4000 extension 2185
Email: nmcdonal@northshore.edu
Gateway National Network Site
Natalya Rakevich
Gateway To College, Success Coach
North Shore Community College
DB-116, 1 Ferncroft Road, Danvers, MA 01923
Phone (Danvers): 978-762-4000 extension 5531
Email: nganchin01@northshore.edu
Gateway National Network Site