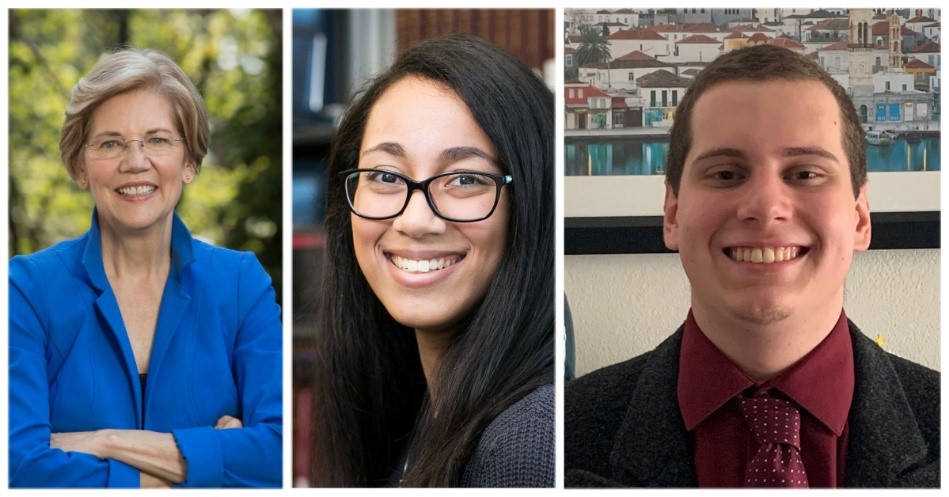 Pictured, l-r: Keynote Speaker Sen. Elizabeth Warren, Student Speaker Larissa Louissaint, and Student Soloist Luis Navarro
Due to the COVID-19 pandemic, this year's Commencement ceremony, NSCC's 54th, was dramatically unlike any previous Commencement as the entire ceremony had to be held virtually.
"Making the difficult decision to forego an in-person, traditional graduation was heart wrenching as we know how much our graduates look forward to the ceremony and being able to walk across the stage in front of their family and friends to celebrate all they have accomplished through sheer determination, persistence and grit," said former NSCC President Dr. Patricia A. Gentile when the decision was made to hold a virtual Commencement.
Determined to make the virtual graduation ceremony as robust and memorable as ever, the dedicated Commencement Committee quickly pivoted from planning a traditional, in-person ceremony to creating a never-been-done-before virtual graduation program that they hoped all of the 2020 NSCC graduates would be proud to participate in.
Recordings were made of speeches from the keynote speaker, Sen. Elizabeth Warren and the student speaker, Larissa Louissaint. Student soloist Luis Navarro was filmed singing the National Anthem. Also pre-recorded were speeches from President Patricia Gentile, Trustee Board Chair J.D. LaRock, Vice President of Academic Affairs Karen Hynick and Dean of Students Bonie Williamson, all in full academic regalia.
Taped congratulations to the graduates from faculty and staff and candid footage of Class of 2020 students were also included in a pre-ceremony segment.
The NSCC team effort paid off and resulted in a dramatically different, but still celebratory, pre-recorded Commencement Ceremony that featured every graduate being recognized and if they submitted one, included a video, picture or quote. The ceremony was broadcast via You Tube on Thursday, June 25, at 6 p.m. and more than 2,000 family and friends were able to participate and offer congratulations and commentary via chat.
We invite you to enjoy NSCC's 2020 (Virtual) Commencement Ceremony!