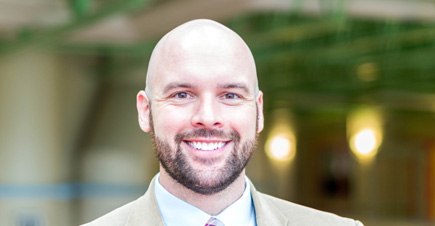 Nick Royal of Dorchester has been named North Shore Community College's (NSCC) inaugural Title IX Coordinator, Affirmative Action, & Compliance Officer.
In his role at NSCC, Royal will work with campus partners to prevent and respond to incidents of discrimination and harassment on campus and to support individuals impacted by trauma and/or violence. He will work closely with the Chief Diversity & Equity Officer, and the Director of Community Standards to transition and codify responsibilities as they relate to supporting employees and students in regards to Title IX, Affirmative Action, and compliance. This position will report to the Chief People & Culture Officer.
Royal has 10 plus years of experience working in the areas of university administration, Diversity, Equity, and Inclusion (DEI), Equal Opportunity, and Title IX. He most recently served as the Equal Opportunity and Title IX Investigator and Analyst at Lesley University. Prior to that, he served as a Senior Civil Rights Investigator at Michigan State University.
His experience includes investigating claims of discrimination and harassment based on protected classes, including sexual misconduct, stalking, and intimate partner violence. Additionally, he will work to increase access to the reporting processes for historically marginalized populations in the communities.
Royal received a B.S. in Law and Economics from Central Michigan University and an M.S. in Higher Education Administration and Policy from Northwestern University. At Northwestern, his research was focused on the interactions between students' sexual and gender identities and their identity as student leaders.
"Diversity, Equity, and Inclusion have been pillars of my professional and personal life. I look forward to bringing these values to my work at NSCC and implementing and coordinating the college's efforts to provide an inclusive and harassment-free learning and working environment for students, faculty, and staff," said Royal.