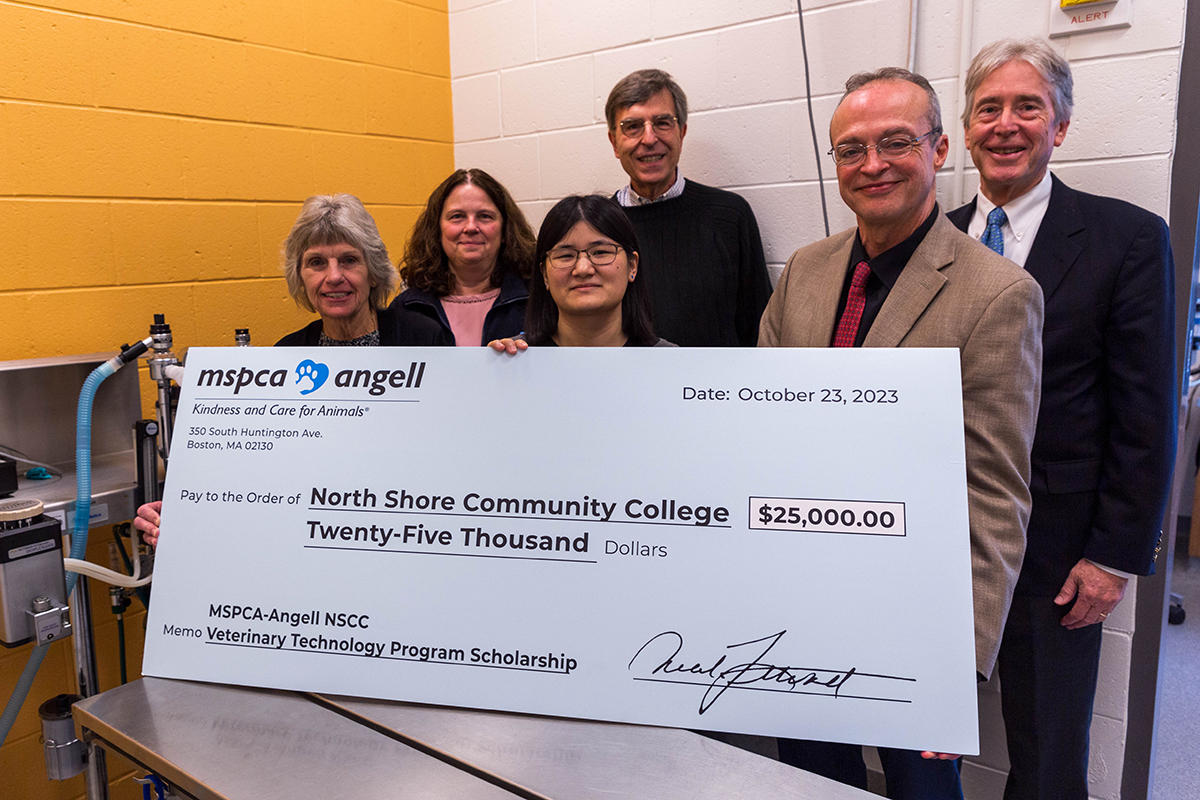 l-r, Sheila Magesky, Vet Tech Program Coordinator; Dr. Ann Marie Greenleaf, Chief of Staff, MSPCA-Angell; Lily Attwood, Vet Tech student and MSPCA-Angell 2023 scholarship awardee; Neal Litvack, President, MSPCA-Angell; Dr. William Heineman, NSCC President; John Fouhy, NSCC Foundation President.
Students in North Shore Community College's Veterinary Technician program may now qualify for an endowed scholarship created by MSPCA-Angell.
MSPCA leaders visited the college recently to present their $26,000 donation, the first of its kind that the organization has made. "We are very familiar with NSCC's Vet Tech program as we have had alums working for us. We think very highly of it and the training it provides," said MSPCA-Angell President Neal Litvack. "In addition, we hope that this opportunity will encourage more people to enter the field. The industry has been so beset by shortages of qualified staff since the pandemic, particularly vet techs. We want to see the workforce grow as vet techs are vital to the work we do."
"We are very pleased to make this scholarship possible. It's become clear to us that partnerships such as this are the wave of the future. To work with programs like yours that are so well respected, and turns out such wonderful graduates who are dedicated to animal health and medicine, is essential to us," Litvack added.
"This is a wonderful partnership which will further NSCC's ability to continue its essential role in workforce training, and promote the excellence of our Veterinary Technician program for prospective students," said NSCC President Dr. William Heineman. "We are most grateful for the transformational impact of this philanthropic investment in NSCC."
Lily Attwood, a second year Vet Tech student, was the first recipient of the MSPCA-Angell scholarship awarded this fall. "I'm very thankful for this scholarship as the financial support is really important as I go to school and work part-time. I graduated with a degree from Wheaton College in 2017 and after working with animals awhile decided I wanted to get certified so saved up money to come back to college."
MSPCA-Angell will also offer NSCC Vet Tech students internships and the ability to visit and tour their facilities.
Find out more about NSCC's Veterinary Technology program. https://tinyurl.com/4eh9pcfk