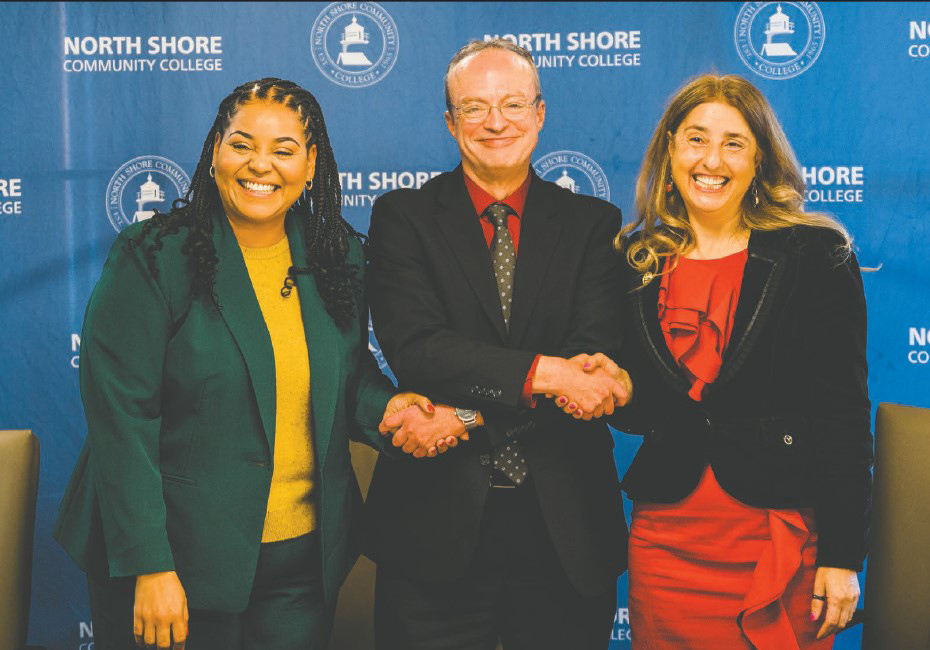 From left, North Shore Community College (NSCC) Provost Jennifer Mezquita, NSCC President William Heineman, and Quincy College Provost and Chief Academic Officer Servet Yatin shake hands following the signing of a partnership between NSCC and Quincy College on Wednesday |Spenser Hasak
Lynn Item| December 15, 2022| Alexandra Rodriguez
LYNN — On Wednesday, Dec. 14, North Shore Community College (NSCC) and Quincy College signed an articulation agreement that allows NSCC students to transfer into a bachelor's degree program without credit courses getting lost in the transition.
This is part of the NSCC five-year strategic agreement that was approved by the Massachusetts Board of Higher Education on Tuesday, Dec. 13.
"I'm happy to tell you that yesterday, the Board of Higher Education here in Massachusetts approved NSCC's new 5-year strategic plan. The vision for that plan is for a NSCC education to consistently and equitably deliver excellent life outcomes for our students," said the President of the NSCC, William A. Heineman in his opening statement.
"Their goal is not just to come here and take courses. Their goal is not just to come here and graduate. Their goal is not even to just transfer to the next place. Their goal is to get a bachelor's degree. They won't be a transfer student if their ultimate goal wasn't to get a bachelor's degree," added Heineman, regarding what it means for students who attend NSCC with the intention of later transferring.
"We don't control what happens after a student leaves us, we don't run Quincy College or other transfer institutions, and that's true. We don't control that, but we can shape it and that's really what this agreement is about," said Heineman.
This is the second articulation agreement signed by Quincy College and NSCC. This agreement aims to provide NSCC graduates with a seamless transfer to Quincy College Bachelor of Science and Computer Science programs.
According to Provost of the Quincy College, Servet Yatin, Quincy college will accept up to 90 credits from NSCC graduates who wish to complete their degree.
Dr. Jennifer Mezquita, provost of NSCC, added that "North Shore students who complete a specific associate degree program with at least a 2.0 grade point average are eligible to transfer to Quincy College as juniors."
"In addition to that, a scholarship award of up to $2,000 will be available due to this agreement for our graduates to help them complete their bachelor's degree program at Quincy," said Mezquita.
"This gathering is a testament of our shared mission. Not only we share the value of community college on higher education but also, we care about community college students, our students," said Yatin.