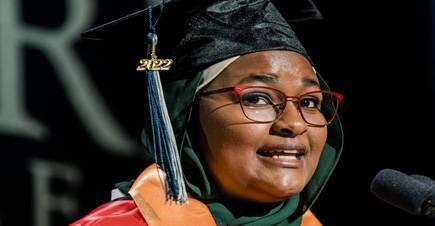 Lynn resident Aya Mohamed delivers her commencement speech during North Shore Community College's graduation ceremony on Thursday. (Spenser Hasak)
LYNN— North Shore Community College held their 55th commencement ceremony for the graduating class of 2022 on Thursday at 1 p.m. Out of 55 ceremonies at NSCC, this is the first ceremony to be live in-person since 2019, and the first on Lynn's campus. In addition to this, its commencement speaker Aya Mohamed, is a 19-year-old Muslim woman graduating with her STEM degree in Biology.
"My long-term goal is to open my own clinic one day in Sudan," said Mohamed.
Born in Syria, Mohamed grew up in Indonesia where she learned the English language. She then went on to graduate High School in Nigeria and was accepted into Ahfad University in Sudan. However, the healthcare in Sudan is anything but accessible. With the lack of resources and rising prices, Mohamed was unable to attend. For students going to University in Sudan, it's not uncommon that the power goes out during class.
"Never give up, never let someone talk you down into getting an education because that's part of the freedom that women need," said Mohamed.
It was because Mohamed watched her grandmother struggle when she had a back injury after having a bad fall. Without being provided with the proper care, she was unable to fully recover. It was then that Mohamed decided she was going to study medicine.
At first, when moving to Lynn, Mohamed was under the misconception that going to a community college would be less of an education than a four-year university. NSCC opened this perspective for her after advisors helped guide her and supported her to go out of her comfort zone. Mohamed earned herself a position as vice president of culture and inclusion, to reastablish the Muslim Student Association on campus, which, to her surpise, she learned had been dormant for a while.
"I was very happy to connect with the Muslim community here on campus," said Mohamed.
Mohamed emphasized the importance to keep moving forward and remain hopeful regardless of what the challenge is.
William Heineman, president of NSCC, stood at the podium center stage before 120 graduates out of the total 875, congratulating the class of 2022.
"It's really important for our students to celebrate this accomplishment, and doing four in one day is not easy," said Heineman.
With great organization and hard-work, Heineman is proud of his people to make all of these ceremonies happen live. Graduates walked across the stage enthusiastically, awaiting being awarded their degree, and shook hands with Pres. Heineman.
"I am grateful for the love and support I found here at North Shore Community College, as it shaped the woman I am today," said Mohamed.
By Magella Cantara | May 26, 2022 | Lynn Item