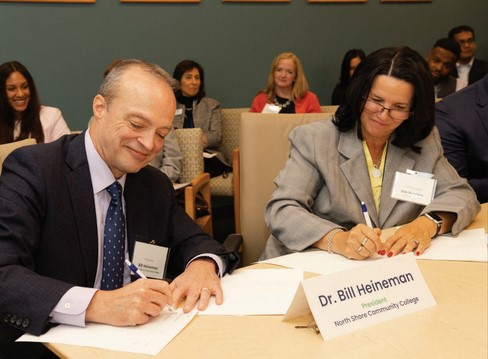 LYNN — Interim Superintendent of Schools Debra Ruggiero and North Shore Community College President Bill Heineman signed a memorandum of understanding Monday morning officializing the first semester of Lynn Public Schools' partnership with North Shore Community College for their Early College High School.
Seventy-five students are currently enrolled in Frederick Douglass Collegiate Academy, the early college high school that allows high school students from Lynn English, Lynn Classical, and Lynn Tech the opportunity to attend college-level courses at North Shore Community College while still enrolled in high school.
The school, which Lynn Public Schools Early College Administrator Shannon Gardner said will soon hold over 100 seats, aims to provide, over the course of four years, 400 students with college credits prior to high school graduation. On a district level, Lynn Public Schools projects that the district will, through early college programs with North Shore Community College and Salem State University, serve 675 early college students with more than 4,400 college credits.
Gardner, who collaborated with former Superintendent of Schools Patrick Tutwiler and Heineman to plan the program, said that of the first group of 75 students who have enrolled in the program, feedback has been positive.
"We had a great interest in the program and continue to hear from students who are looking to be enrolled for a second semester," Gardner said.
From the variety of involved leaders who spoke at Monday's spotlight event, most emphasized a common goal in the school's establishment: making a college education more accessible and cheaper for students lacking the resources to afford higher education.
When the moderator, Seventh Essex District State Rep.-Elect Manny Cruz (D-Salem), introduced Ruggiero, she said that being raised in Lynn housing projects with a family of six, she understands why some families need to prioritize basic needs over higher education and feels proud to have worked to provide students with a tenable solution to the high costs of college.
"I know all too well how difficult it is to pay for college degrees when a family needs all of their financial resources just to survive," Ruggiero said. "I'm thrilled to be here and sign off on the launch of this school. The doors that are opening here in Lynn lead somewhere real and tangible."
According to data gathered by the Massachusetts Alliance for Early College (MA4EC), who co-hosted the event, students in 2019 who engaged in an early college program were 16 percent more likely to complete four semesters of college after high school graduation. Speaking to MA4EC's statistics, Heineman said the COVID-19 pandemic exacerbated pre-existing racial and economic disparities in students' access to college-level education.
"We've all seen the data about long standing equity gaps for low incomes, for students of color at all levels of Massachusetts education, and we all know that COVID made it worse, so it seemed to me that the moment calls for bold action and not more incremental change," Heineman said.
After a decade of working with similar early college programs, Heineman said that they're difficult to implement, but typically successful once they launch.
"You start to realize just how different high school in college is: the curriculum, the course schedules, the student conduct rules, you add in transportation and everything else. It's a thick pile of stuff that you've got to work through," he said "But once you get the model, it's really, really successful."
In a heartfelt speech, School Committee member Brian Castellanos shared the challenges he faced growing up as the son of Venezuelan immigrants. He described his childhood as being "plagued with housing instability, food insecurities, and lethal doses of childhood trauma."
"Being a first-generation low-income student isn't just a buzzword for me. It's my everyday struggle. I didn't have a family who ever pursued higher education, or enough social capital to plan out my educational endeavors," Castellanos said. "Why support amazing innovations like this? What my life is today, versus what it could have been, is what can happen when a person has a belief surrounding them, an opportunity to succeed."
Before leaders sat down to sign the memorandum, Mayor Jared Nicholson, in a speech, said that in the 2018-2019 school year, 75 percent of Lynn Public Schools high school graduates planned to attend college, while this year, only 50 percent of graduates reportedly planned to attend college. He said that even for those who dream of going to college, many fall under financial constraints.
"Every year, you have at least a couple of 100 LPS graduates who raise their hand and say 'yes, I plan to go to higher education,' and it doesn't work out further," Nicholson said. "That just speaks to the imperative that we all have to really guide them through these paths that are tremendously difficult to figure out if you've enrolled in higher education for everyone, and particularly for folks who don't have that life experience don't have those prior generations to tap into."
Anthony Cammalleri|Lynn Item|October 18, 2022 Photo by Libby O'Neill
anthony@itemlive.com.