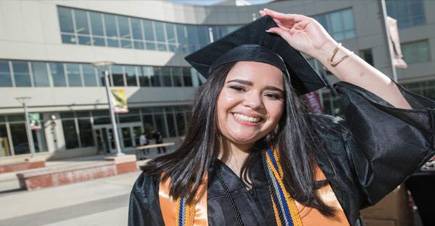 Rosanna Fernandez graduated from NSCC with a 4.0 gpa

LYNN — Some came from nearby, others from around the world. But one thing united the roughly 875 students North Shore Community College graduated across four ceremonies yesterday: a journey that only begins with a degree or certificate.
North Shore Community College, headquartered in Danvers, held its 56th commencement exercises at its Lynn campus throughout the day Thursday, May 26. It was the first time commencement exercises were held in Lynn, according to NSCC President William Heineman.
Each ceremony focused on a specific portion of the school — for example, 10 a.m. spotlighted career technical education and business programs, while 4 p.m. was very health care-heavy. The ceremonies each also spotlighted the story of just one graduating student.
"Our students come from the North Shore, as well as countless countries around the world," said president William Heineman during the first ceremony. "They have tremendous grit and persistence because, while they attend college classes, the vast majority of our students work. More than half of them are raising children or caring for a family member. They're constantly juggling to fit all their responsibilities in, plus go to college."
Among them were Rosanna Fernandez, a Salem resident who emigrated from the Dominican Republic five years ago. She graduated during the 4 p.m. ceremony, from the school's nutritional science and diet technology program.
"I've always known I wanted to earn a degree, but I was missing the most important component: English," said Fernandez, speaking in flawless English. "Everything was in a foreign language... the foreigner was me."
A college acceptance letter became a major point of pride for Fernandez, but it was only the first. On Thursday, she graduated with a 4.0 GPA, according to the college.
"For many a student, being accepted to a renown school is a goal. But for some of us, that goal is simply to be the first member in your family to graduate," Fernandez said. "I completed the ESL program in spring of 2020 and was about to begin another stage of my life — my journey as a first-generation college student."
Solmaria Deleon, also of Salem, is a single mother of three daughters who left NSCC on the Dean's List. She led the 10 a.m. ceremony on her way toward a degree in digital and social marketing.
As she began her remarks, Deleon pointed out to the crowd.
"My daughters, who are also here today.. they've taught me so much. Hey baby girls, I love you," she said, waving. "They've taught me so much about life and have been my biggest motivation."
Deleon's college career started with attending and then withdrawing from Gordon College. She took an 11-year break from education before returning and now graduating at the age of 34.
"For someone who grew up in the poverty cycle, I thought my life was over. 'How am I going to do this?' 'What's the point?'" Deleon asked, summarizing her feelings after withdrawing from higher education the first time around.
"After many years of healing and self-reflection, I came back to North Shore in 2019, because I decided the only way to pick myself up out of a bad situation was to show up for myself and do the work," Deleon said. "That's what my fellow classmates did. So... round of applause to you!"
The ceremonies also honored Lynn graduate Aya Mohamed at 1 p.m. and Beverly graduate Luciano Hoxhaj at 6:30 p.m.
"I learned to become more open-minded, independent, compassionate. But that isn't all," Mohamed said during her ceremony. "North Shore Community College has taught me many lessons... First, it's never too late to enroll in college.
"It's alright if your dreams don't go as planned," Mohamed continued, "or if they take a little more time to accomplish. If you really believe in something, always remember it's never too late to make it happen."
COMMENCEMENT A, 10 a.m.
CTE and Business Division
Student speaker: Solmaria Deleon, Salem, Digital and Social Marketing
COMMENCEMENT B, 1 p.m.
STEM Education Division, Fire Science, and Criminal Justice
Student speaker: Aya Mohamed, Lynn, Liberal Arts Transfer
COMMENCEMENT C, 4 p.m.
Health Professions
Student speaker: Rosanna Fernandez, Salem, Nutritional Science and Diet Technology
COMMENCEMENT D, 6:30 p.m.
Liberal Arts Division, and Liberal Arts Health Science
Student speaker: Luciano Hoxhaj, Beverly, Liberal Arts
Dustin Luca|Salem News| 5/27/22
Contact Dustin Luca at 978-338-2523 or DLuca@salemnews.com. Follow him at facebook.com/dustinluca or on Twitter @DustinLucaSN.