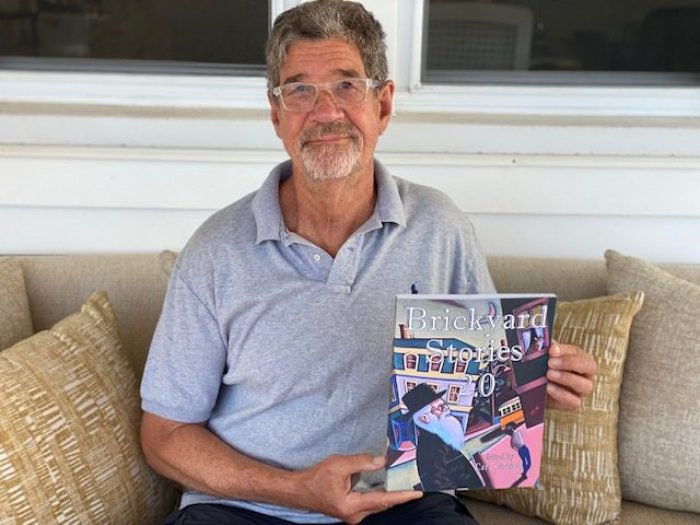 Former NSCC professor publishes book on the Brickyard in Lynn
By Allysha Dunnigan | September 7, 2021 | Lynn Item
LYNN — Former North Shore Community College (NSCC) professor Carl Carlsen recently published a book consisting of old stories and tales about the Brickyard neighborhood of the city.
Having taught at NSCC for 37 years, Carlsen said he got to know the area very well and watched it change as new people moved in and generations moved out.
Even though he didn't live there, Carlsen said he witnessed new developments and alterations in the area, thinking of all the stories that must exist from residents old and new, ones he wanted to hear and write down to keep a record of.
The idea for the book stemmed from a book he finished in 1985— "Brickyard Stories: A Neighborhood and its Traditions" — which was published by NSCC.
For this first Brickyard book, he conducted interviews with people from the area that he came across.
About three years ago, Carlsen said he felt as if he had "unfinished Brickyard business," so he decided to self-publish a book to use as a way to demonstrate the history of the area.
"Brickyard Stories: A Lynn, MA Neighborhood Before and After Urban Renewal" was published in July and made available on Amazon, and at the Lynn Museum, in August.
In writing the book, Carlsen conducted 40 tape-recorded interviews and listened back to them to decipher different parts to create each story for his book. Carlsen said he found some people to interview in 2019 when the Lynn Museum was looking for Lynn residents for its Untold Stories: A History of Black People in Lynn exhibit.
Carlsen said he signed up, hoping to meet people with their own stories, and he ended up meeting Dolores Johnson, who grew up in the Brickyard, and whose mother lived in the same house as Jan Ernst Matzeliger — the Lynn resident who invented a shoemaking machine.
Johnson told Carlsen that her mother was one of the activists who got the post office to issue a stamp for Matzeliger in the Black heritage series.
After meeting Matzeliger, Carlsen came across Ward 6 Councilor Fred Hogan, who created the Shoe City Classic Basketball Tournament in the Brickyard.
"I didn't go through census records or anything like that," Carlsen said. "It kind of snowballed once I found one person, and there's so much to tell."
After meeting Hogan, Carlsen visited Marian Gardens to get photographs for the book. When he was there, he met the groundskeeper who had been there for decades who had numerous stories to tell.
"Every family has stories that can be told and collected," Carlsen said. "My cousin likes to say 'if you don't collect them, they'll get lost.'"
The goal of this book, he said, is to tell the stories and life of this neighborhood.
"I think most people think urban renewal is what killed the Brickyard," Carlsen said. "But the neighborhood is hard to kill."
One of the points he makes in the book is how the Brickyard has now become a brand, with entrepreneurs using it to keep the spirit alive.
As Carlsen's book tells the stories of the Brickyard, he hopes stories similar to ones in his book can be remembered.
Carlsen had help from M.P. Carver — a creative and digital writing professor at Salem State University — with the design of the book, including choosing the font, organizing the table of contents, and putting people's names at the bottom of the page to signify who is telling the stories.
He said it feels great to have finished the book, but he misses writing the stories and having something to do in his free time.
"Brickyard Stories: A Lynn, MA Neighborhood Before and After Urban Renewal" can be purchased on Amazon for $15.