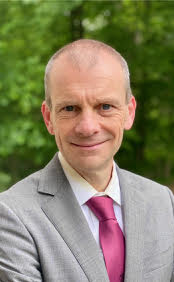 Dr. Steven Hubbard, of Weston, MA, has been named Dean of STEM (Science, Technology, Engineering and Math) and Education at North Shore Community College (NSCC) in Danvers, MA.
A professional scientist, Hubbard brings multi-disciplinary experience in industry, academia, and leadership to NSCC. He led R&D efforts in materials for optical data storage at General Electric where he authored several patents. Prior to joining NSCC, Hubbard was the photonics lab manager and a visiting assistant professor at Stonehill College. Previously, he served on the faculty and Administrative Leadership Team at Lorain County Community College in Ohio.
In his new role, Hubbard will assume leadership of the division which houses the Natural Sciences, Biotechnology, Engineering & Industrial Technology, Computer and Information Science, Aviation Science, Animal Science, Mathematics, and Education Departments. He will prioritize student persistence and completion in courses and programs offered by the division with an immediate focus on emerging from the pandemic era that supports all students as they pursue their college credentials.
"My mission every day is to help students complete college," said Hubbard. "STEM and Education are fields that excite me and the faculty in this division, and we will work together to provide students with high-value knowledge and skills they need to reach their professional and educational goals. "
Hubbard holds a Ph.D. in physics from Case Western Reserve University, where he studied experimental nonlinear optics, and a B.S. in physics from Purdue University. He serves on the Advisory Board of the Weston Art and Innovation Center and served as an at-large trustee on the Board of Trustees at the Ohio Academy of Science.