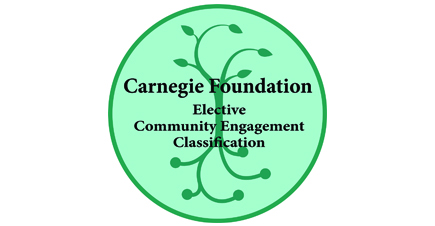 North Shore Community College's (NSCC) ongoing commitment to community engagement has resulted in the college receiving the 2020 Carnegie Community Engagement Classification. NSCC is the only community college in Massachusetts, and one of only 3 community colleges nationwide, chosen out of the 119 U.S. colleges and universities selected to receive the designation for 2020. This is the college's second Carnegie Foundation distinction.
The classification, designated by the Carnegie Foundation for the Advancement of Teaching, recognizes "the collaboration between institutions of higher education and their larger communities (local, regional/state, national, global) for the mutually beneficial exchange of knowledge and resources in a context of partnership and reciprocity."
"As president of NSCC for six and a half years, it has been my honor and privilege to continue the long tradition of commitment to community and civic engagement for our students, faculty and staff which resulted in NSCC's being selected in 2010 as one of only six community college's in the nation classified as a Carnegie Community Engaged Institution," said President Gentile. "Recognition from the Carnegie Foundation is an excellent acknowledgement of progressive advancement in NSCC's continued efforts to expand upon our commitment to community and civic engagement for our students, faculty and staff."
In its notification letter, the Carnegie Foundation stated that NSCC's "… application documented excellent alignment among mission, culture, leadership, resources, and practices that support dynamic and noteworthy community engagement, and you were able to provide exemplary institutionalized practices of community engagement."
Gentile noted that Community engagement is emphasized in NSCC's institutional mission, vision, and values, as well as in strategic plan performance measures and college-wide implementation strategies. Specifically "civic engagement is embedded in our college's Mission Statement, which states: North Shore Community College is a diverse, caring, inclusive community that inspires our students to become engaged citizens and to achieve their personal, academic, and career goals through accessible, affordable, rigorous educational opportunities that are aligned with our region's workforce needs and will prepare them for life in a changing world.
NSCC's commitment to community engagement expanded exponentially under Gentile's leadership and her conception and creation of The CommUniverCity at Lynn, an urban education-workforce development collaboration involving NSCC, Lynn Public Schools, Salem State University, the city of Lynn, Lynn Community Health Center, and the North Shore Workforce Investment Board (WIB). Partners now work in integrated tandem to increasing the number of Lynn residents who attend and complete post-secondary training and education goals and enter into sustaining careers in area industry.
She added, "NSCC believes educating and training today's workforce goes hand in hand with developing citizens actively engaged in promoting the public good. Studies show that students who participate in civic learning opportunities are more likely to: persist in college and complete their degrees; obtain skills prized by employers; and develop habits of social responsibility and civic participation."
The Carnegie Foundation for the Advancement of Teaching is an independent policy and research center that supports needed transformations in American education through tighter connections between teaching practice, evidence of student learning, the communication and use of this evidence, and structured opportunities to build knowledge. The Carnegie Classification of Institutions of Higher Education continues to be used for a wide range of purposes by academic researchers, institutional personnel, policymakers and others.