The Experiences of Women in The Soviet Union During World War II
Virtual Zoom Conversation
Co-sponsored by North Shore Community College and the Harvard University's Davis Center for Russian and Eurasian Studies.



April 14th, 2022
7:00 PM - 8:30 PM
Pre-Registration is Required
The Soviet Union was the site of ferocious fighting during World War II. The brutal German occupation forced women to make extraordinary choices that seem unimaginable to us today. What were the conditions that informed their choices and how do historians interpret their experiences?
Please join us for an evening of conversation with two scholars who specialize in this research. The event is co-sponsored by North Shore Community College and Harvard University's Davis Center for Russian and Eurasian Studies.
For more information or to register, contact:
Kara Kaufman: kkaufman@northshore.edu
Larry Davis: ldavis@northshore.edu
An open-source repository for educators on this topic is available here >
Bios
Dr. Regina Kazyulina is the Program Research Associate at the Center for Holocaust and Genocide Studies at Salem State University. She received her Ph.D. in 2018 from Northeastern University. Her research focuses on the gendered lived experiences of civilians on German-occupied territory during World War Two. Her research has been supported by a Title VIII grant from American Councils for International Education and fellowships from the Harry Frank Guggenheim Foundation and the United States Holocaust Memorial Museum. Kazyulina has previously taught courses in Modern European and Russian History at Northeastern University, Bates College, and Emerson College.
Recent Publication: "Women's Antifascist Resistance on German-Occupied Territory Through the Lens of Soviet Leaflets, 1941-1945" Journal of Contemporary History 56, 4 (2021): 1126-1146.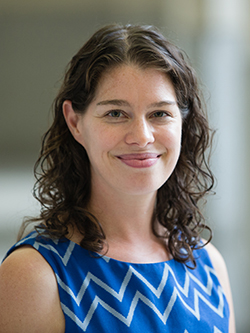 Dr. Alexis Peri is an Associate Professor of History at Boston University, specializing in Russian and Soviet history. Peri published The War Within: Diaries from the Siege of Leningrad (Harvard University Press, 2017) as well as articles in Kritika, The Russian Review, and The Soviet and Post-Soviet Review. Peri's current research examines hundreds of pen-friendships Soviet and American women formed during WWII, and it traces how they struggled to maintain them during the Cold War. The manuscript is titled: Dear Unknown Friend: Soviet and American Women Discover the Power of the Personal and is under contract with Harvard University Press.