The NSCC Liberal Studies Lecture Series - (LS)2 for short - is designed to promote dialogue about topics relevant to the liberal arts disciplines. It is a forum for the exchange and dissemination of ideas, a place to celebrate faculty projects and research, and a way to reach out and share our work with both the North Shore Community College family and the broader community of which the college is part.
For more information about the Liberal Studeies Lecture Series contact:
Cari Keebaugh ckeebaug@northshore.edu
Kara Kaufman kkaufman@northshore.edu
Upcoming Lecture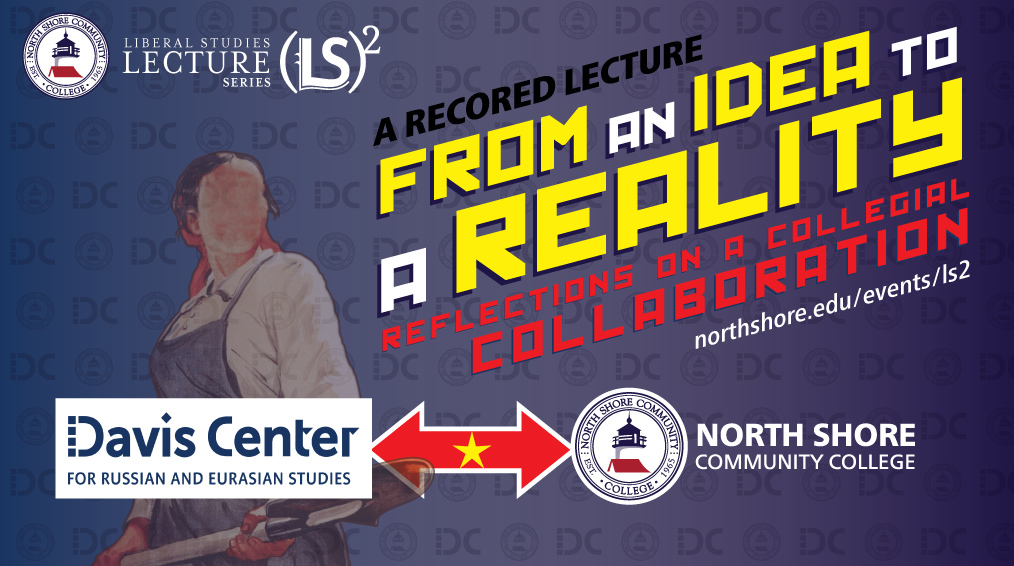 From an Idea to a Reality: Reflections on a Collegial Collaboration
April 2022
Join Kara Kaufman and Larry Davis as they reflect on a year-long collaboration with Harvard University's Davis Center for Russian and Eurasian Studies. What began as a curiosity culminated in a community and classroom event and an open educational resource repository.
Learn what it takes to produce a program about a controversial topic–the lived experiences of women in the Soviet Union during World War II–and the lessons that Kara and Larry took away in the process.
Past Lectures
Archives
Expand All
Collapse All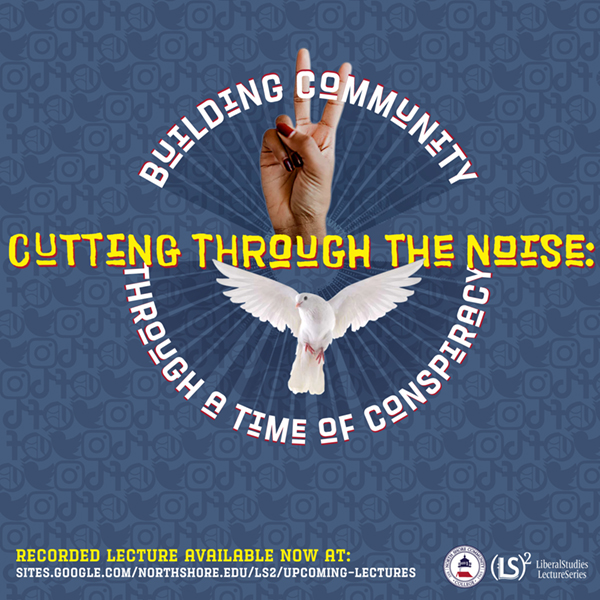 In a communication environment and digital landscape where conspiracy theories are mainstream, and critical investigation largely ignored, intellectual integrity continues to provide an alternative paradigm of knowledge building and solidarity. This conversation with three professors in the Cultural Arts Department at NSCC revolves around ways of seeing, thinking, and articulating strategies for approaching truth and creating a better world.
Cutting Through the Noise: Building Community Through a Time of Controversy Prof. yusef Hayes moderating with panelists Prof. Dermot Smyth and Prof. Anne Sears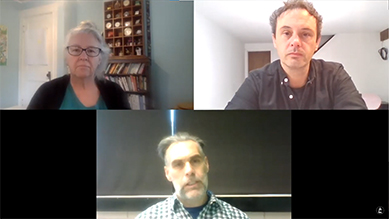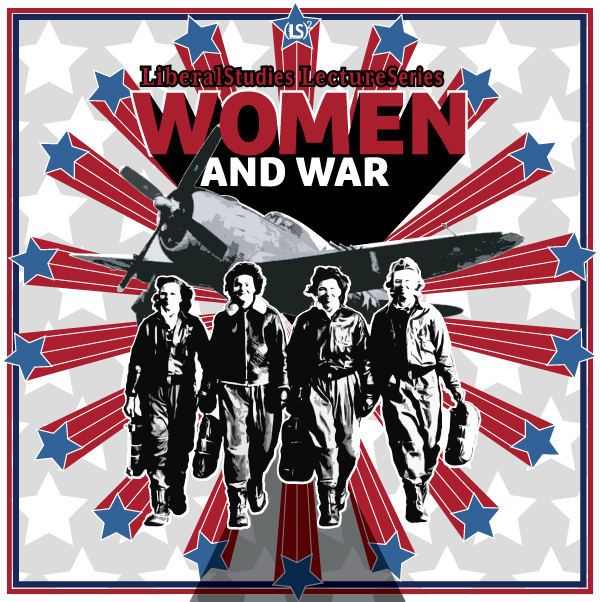 War has been a part of human history since the dawn of mankind, and statues exist in nearly every nation on Earth to commemorate the brave men who fought for their country. But what about women who served?
Servicewomen are often left out of the picture when it comes to talking about war. Pothier-Hill will discuss the evolution of women serving in the military, the challenges they have faced, and the contributions they have made: the power structures, body politics, and coverage of war. In addition, we will take a look at the work of female conflict photographers from WWII to the war in Afghanistan and Iraq. This presentation will bring women out of the shadows of war and shed light on their experiences and contributions.
Women and War with Prof. Wanda Pothier-Hill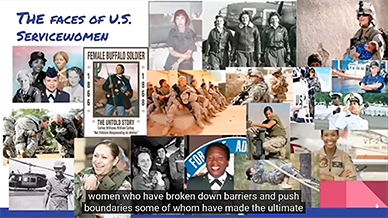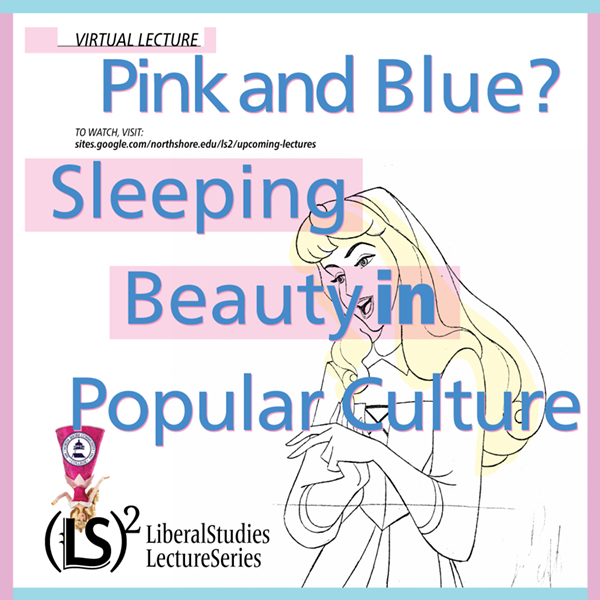 Princess Aurora has been dancing her way into Disney fans' hearts since she first appeared in a Technicolor dream in 1959, ushering in a new dawn of animation and introducing viewers to one of the most enduring princesses of all time . . . but despite that, the film's history isn't all roses. It initially did so poorly at the box office that Disney Studios waited a full thirty years before attempting to animate another fairy tale. And to this day, many children's lit scholars believe that Aurora is a "passive heroine" who emphasizes the importance of submissive traits like "patience, grace, and charity."
So, is this film a model of technological advancement in animation, an artistic masterpiece, with memorable and engaging characters? Or is it instead a throwback to an outdated era of pink-and-blue gender stereotypes and gauche Art Nouveau? Grab your magic wand, don your Maleficent horns from last Halloween, and join Dr. Keebaugh as she examines the lasting impact Sleeping Beauty has had on American culture.
PINK AND BLUE? Sleeping Beauty in Popular Culture​ with Prof. Cari Keebaugh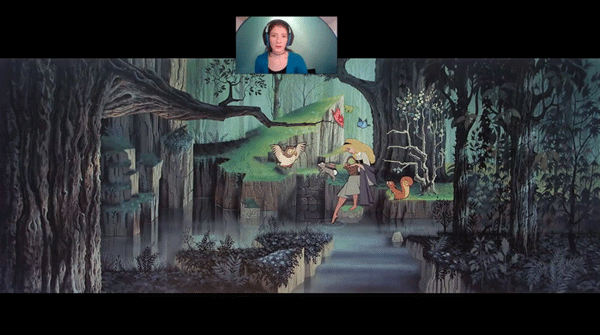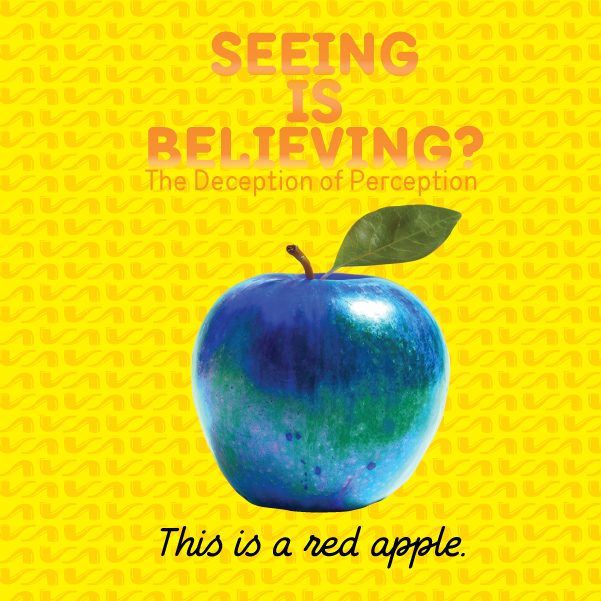 What is the world really like? To some people, red and green cannot be distinguished; to others, cilantro tastes like soap. Are such people mistaken, or is it the rest of us who do not perceive reality "correctly?" Are there, in fact, some sensory experiences that all human beings get wrong? And if so, how would we ever know?
In his lecture Professor Altieri will examine the nature of perception and whether our senses give us an accurate picture of the world. By examining the faculty of sight via neurobiology and philosophy, he will call into question one of our most basic beliefs:
"Seeing is believing."
Seeing is Believing? The Deception of Perception with Prof. Fred Altieri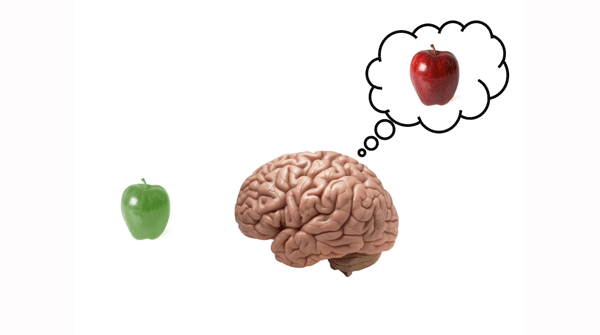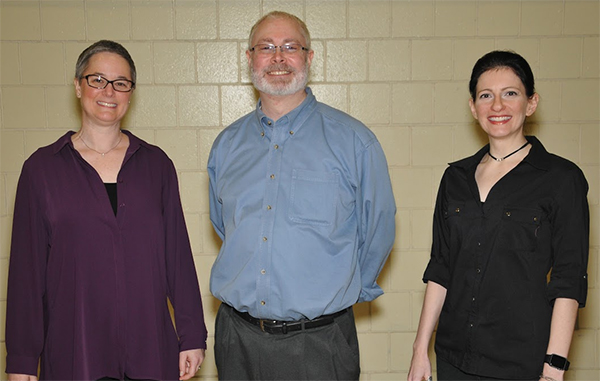 L-R: Kara Kaufman, Fred Altieri, Cari Keebaugh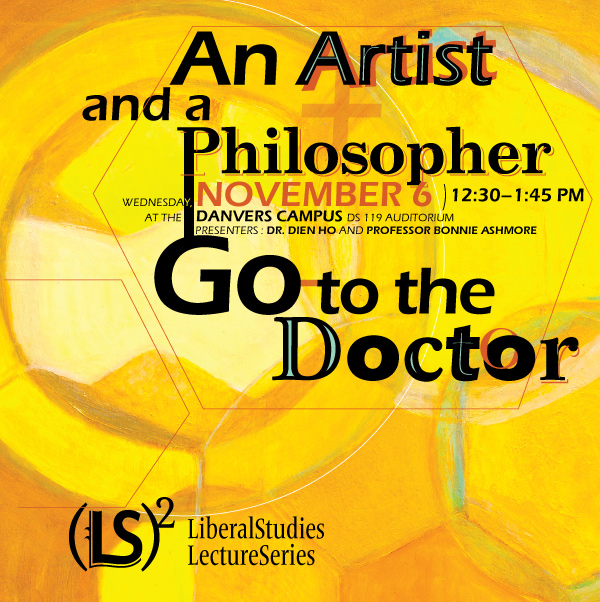 Professor Ashmore and Dr. Ho will be discussing the intersection of medicine and the humanities and specifically how it impacted their collaboration in creating the cover for Dr. Ho's book.
An Artist and a Philosopher Go to the Doctor with Professors Bonnie Ashmore and Dien Ho.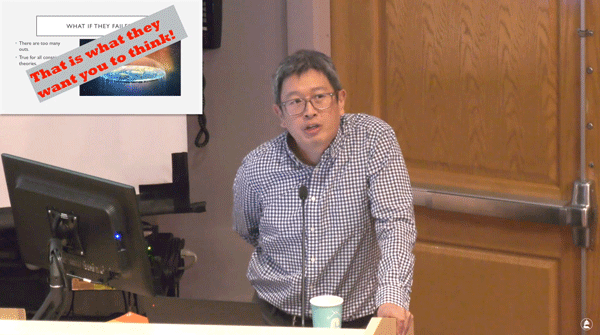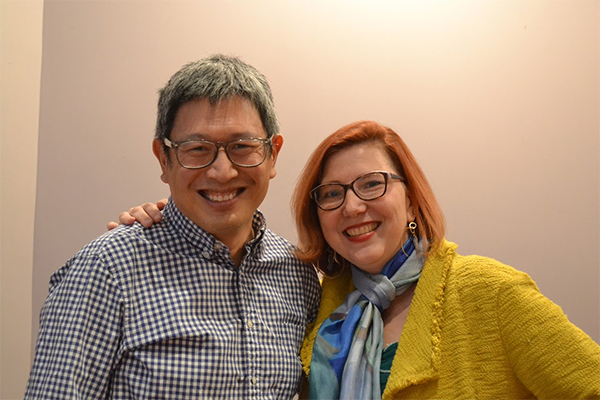 L-R: Dr. Dien Ho, Prof. Bonnie Ashmore
Examining the relationship that exists between the sideshow and the creation of art and our search for human truth.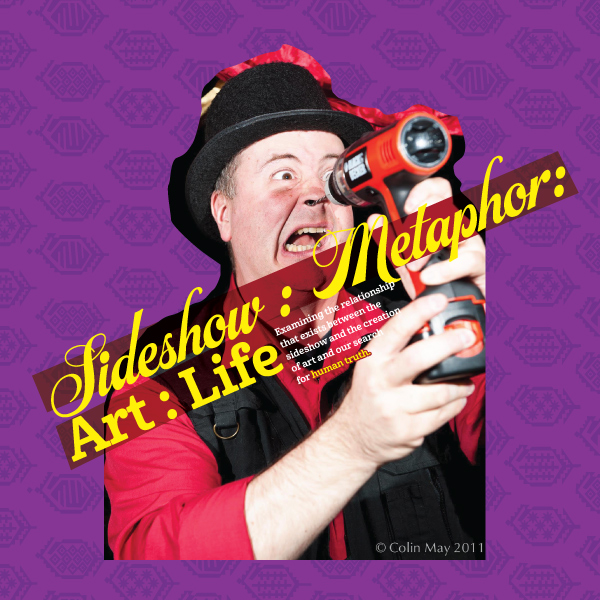 Art is the search for truth and meaning in our lives, whether it be writing, painting, sculpting, acting, dancing, etc. The revelation of human truth and the individuality of the artist echoes the world of the sideshow.
The sideshow is a metaphor for art in its determination to be different, unique and individual as well as its constant grind towards a form of artistic perfection, and art is a metaphor for life, in the way it reflects the world around us and reveals the human truth all of us seek.
Sideshow: Metaphor: Art: Life with Prof. Anthony Gangi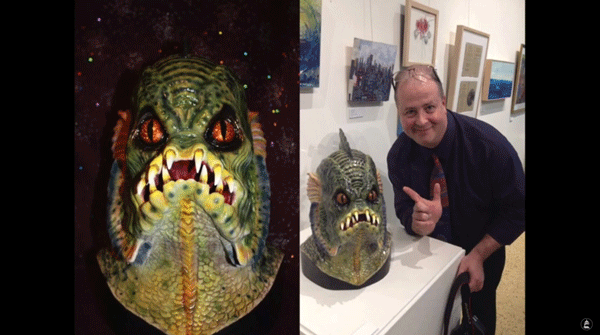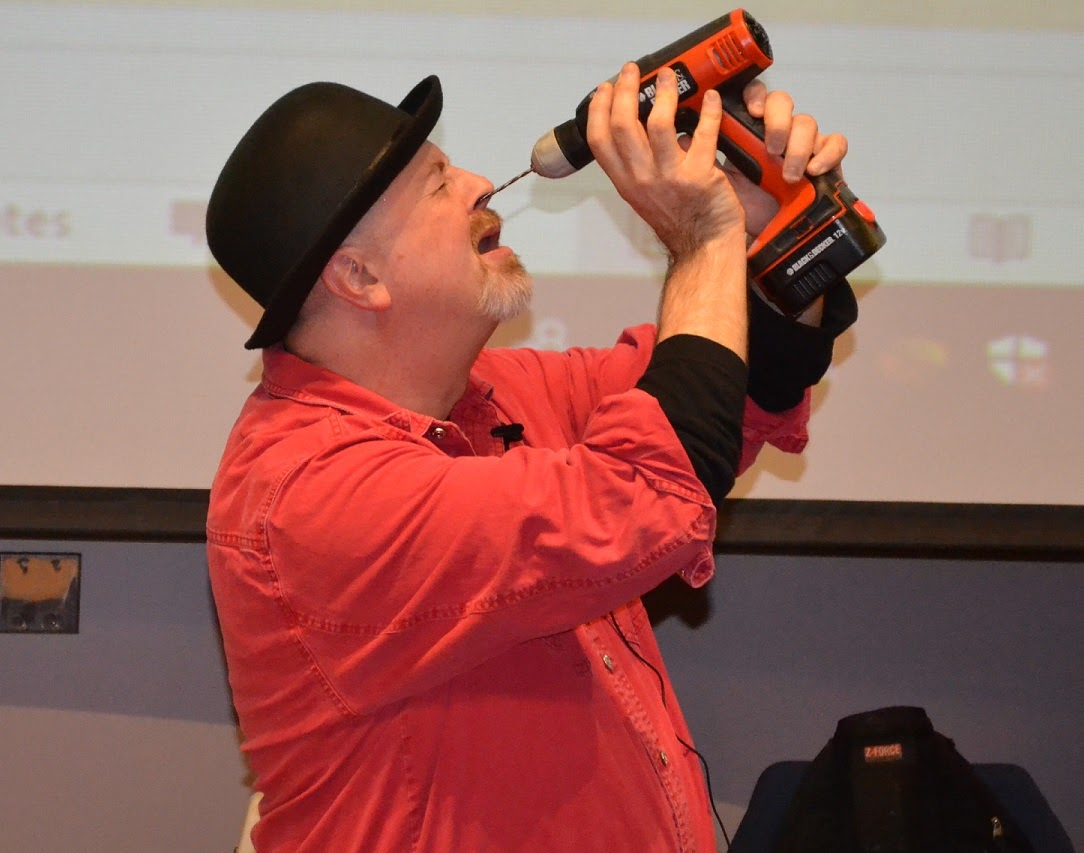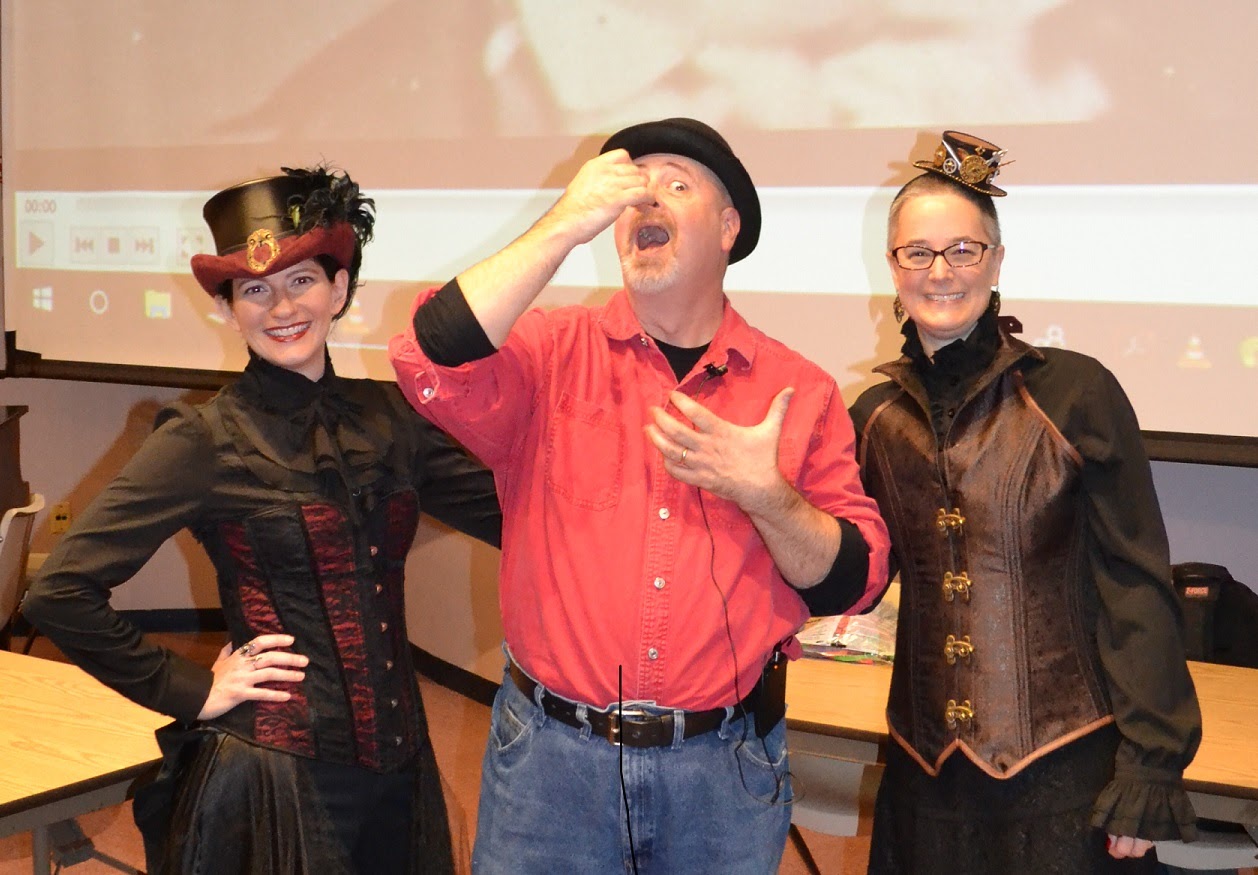 L-R: Cari Keebaugh, Anthony Gangi, Kara Kaufman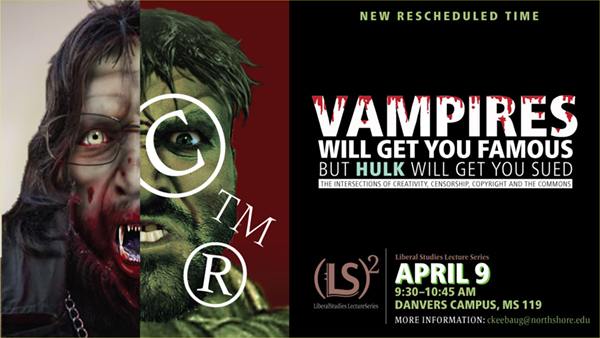 Explore CREATIVITY, censorship, copyright, and the cultural commons through storytelling in the 20th & 21st century with a critical eye towards some of our most favorite and restricted works.
Vampires will get you famous but Hulk will get you sued: The intersections of creativity, censorship, copyright and the commons with Prof. Lance Eaton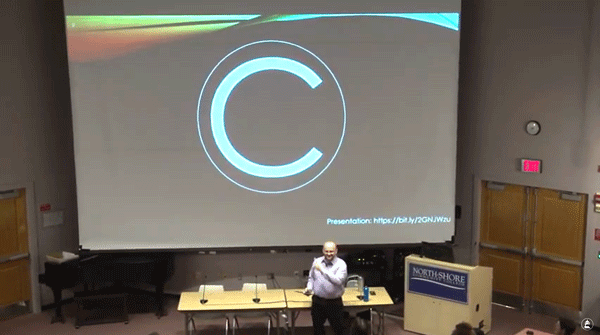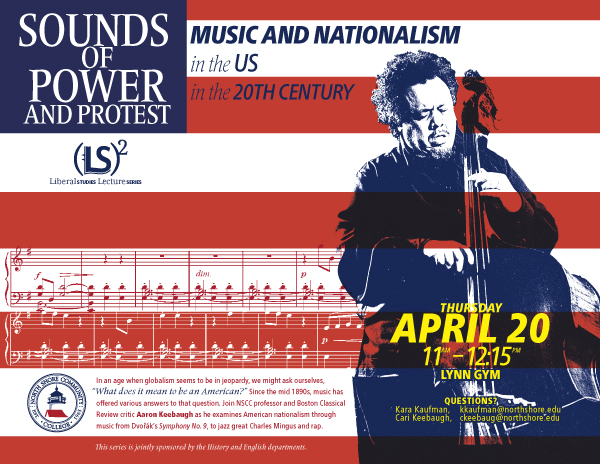 In an age when globalism seems to be in jeopardy, we might ask ourselves, "What does it mean to be an American?" Since the mid 1890s, music has offered various answers to that question. Join NSCC professor and Boston Classical Review critic Aaron Keebaugh as he examines American nationalism through music from Dvořák's Symphony No. 9, to jazz great Charles Mingus and rap.
Sounds of Power and Protest: Music and Nationalism in the US in the 20th Century with Prof. Aaron Keebaugh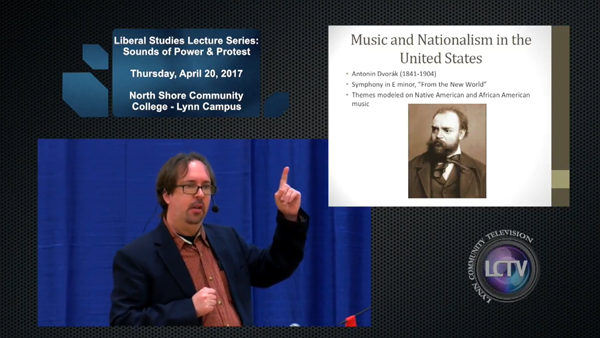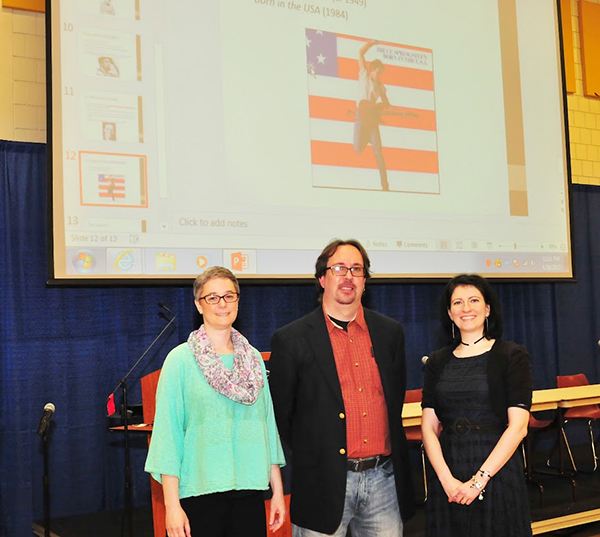 L-R: Kara Kaufman, Aaron Keebaugh, Cari Keebaugh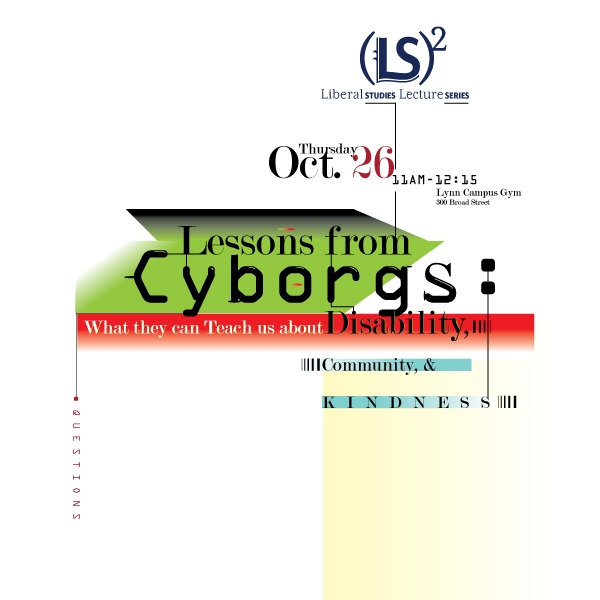 Bodies marked by disabilities are sometimes stigmatized. However, if we look at cyborgs in science fiction and the world around us, the connections they forge with other bodies/machines/animals/friendly selves, show interdependency to be a utopian goal.
In this presentation, Dr. Carlson will discuss what cyborgs in the visual media can teach us about rethinking disability, community, and kindness. She will show clips from popular films and television to engage the audience in analyzing how representation impacts bodies/ minority communities.
Lessons from Cyborgs: What they can teach us about Disability, Community & Kindness with Prof. Laurie Carlson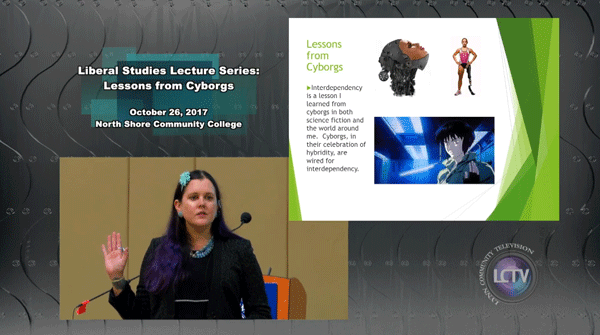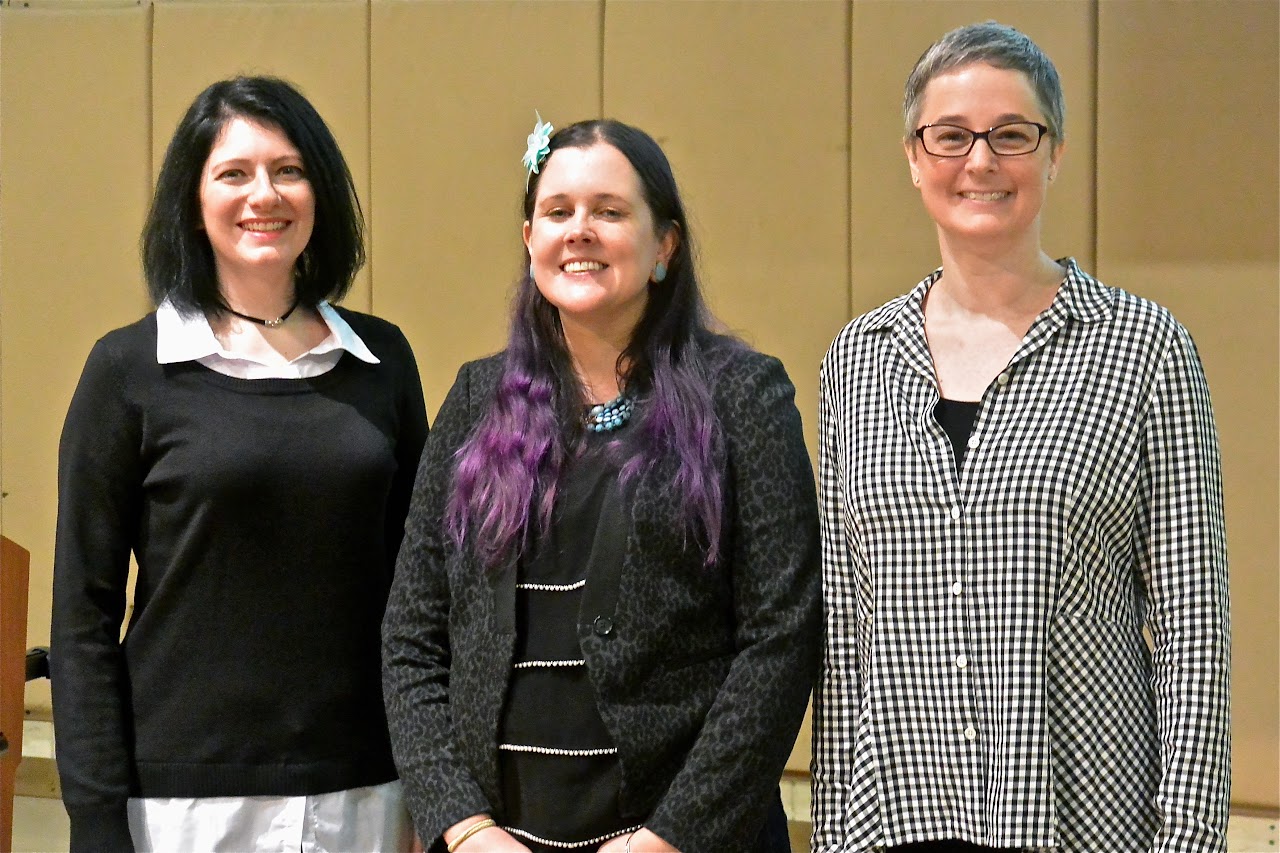 L-R: Cari Keebaugh, Laurie Carlson, Kara Kaufman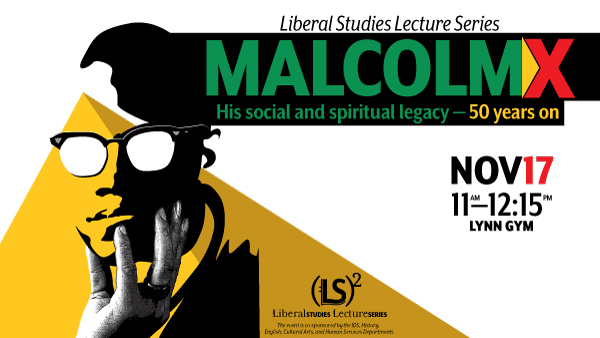 A Liberal Studies Lecture Series co-presentation by Professor Troy Smith and Professor yusef Hayes. Together they will examine both the social justice and spiritual legacies of Malcolm X, 50 years after his assassination and his lasting impression on Black America from spirituality to the Black Lives Matter Movement. This lecture offers a valuable opportunity to more fully understand Malcolm & the individual — who was both an advocate for human rights and a spiritual being.
Malcom X: His social and spiritual legacy - 50 years on with Professors Troy Smith and yusef Hayes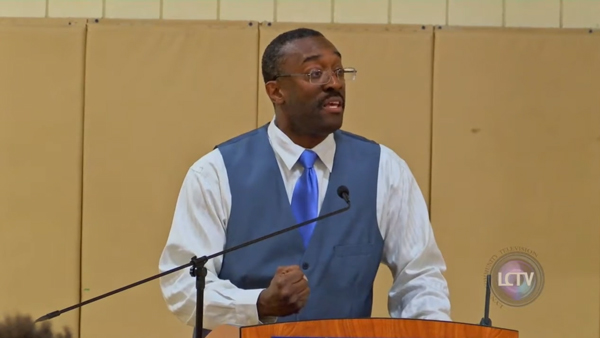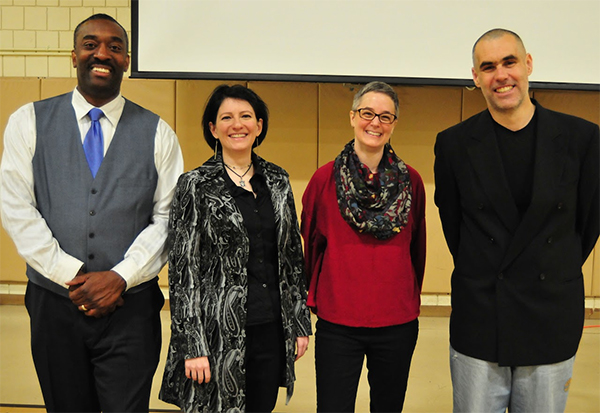 L-R: Troy Smith, Cari Keebaugh, Kara Kaufman, yusef Hayes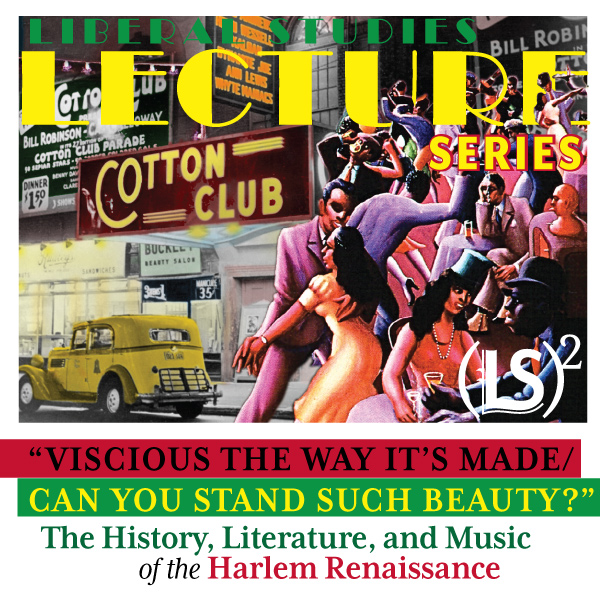 How did a regime of discrimination and racial violence ultimately lead to the mass exodus of African Americans from the South to the Promised Land of the North? How did the broken promises of the North explode into a Black Mecca of cultural expression that spanned just two decades? Join Professors Nathan Chio, Laurie Carlson, and Aaron Keebaugh as they explore the transformation of Harlem via the Great Migration, the power of black literature, and the boundary-pushing effects of jazz.
"Viscious the way it's made/Can you stand such beauty?" The History, Literature, and Music of the Harlem Renaissance with Professors Nathan Chio, Laurie Carlson, and Aaron Keebaugh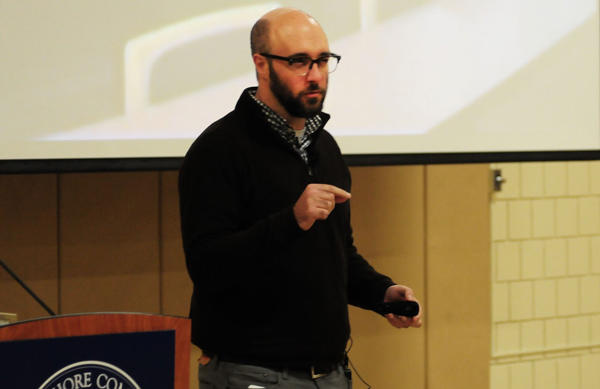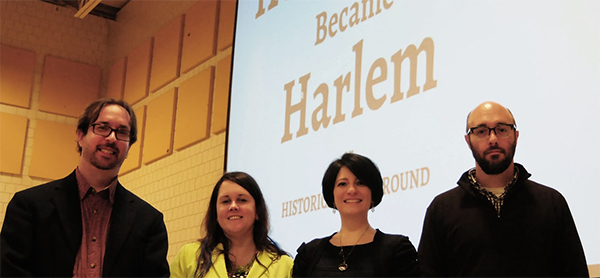 L-R: Aaron Keebaugh, Laurie Carlson, Cari Keebaugh, Nathan Chio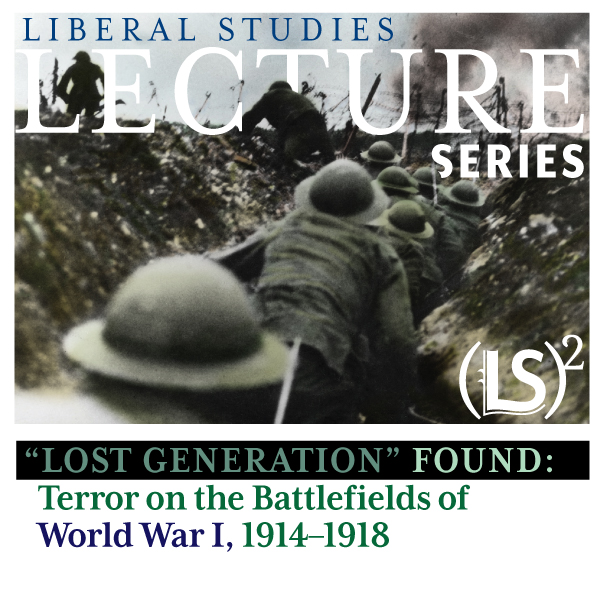 One hundred years ago, Europe blew itself apart in what proved to be one of the most devastating wars in human history. Tour the battlefields of France and Belgium with Professor of History Dr. Lawrence Davis and witness the terrible cost of the war then and now.
"Lost Generation" Found: Terror on the Battlefields of World War I, 1914–1918 with Prof. Larry Davis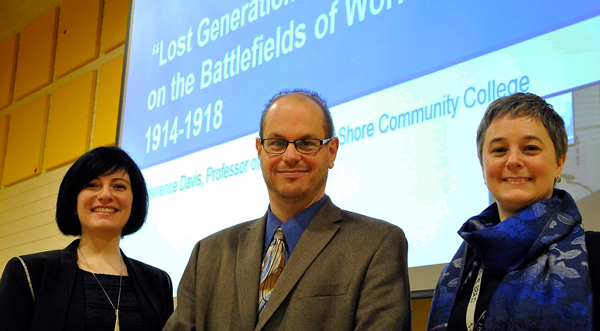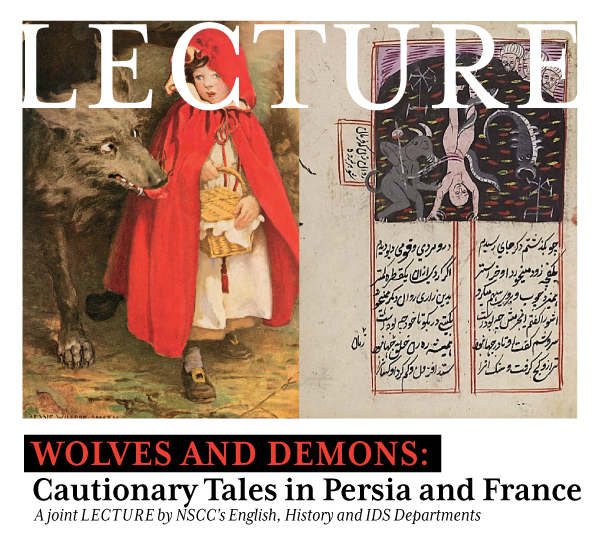 My, what big teeth you have . . .
What do "Little Red Riding Hood" and The Book of Arda Viraf have to do with each other? Come hear the surprising (and often bloody) answers when Dr. Kara Kaufman (History) and Dr. Cari Keebaugh (English) present a joint lecture for the college community. Their presentation will explore the similarities and connections between Medieval French and Ancient Persian coming-of-age cautionary tales and the dangers of being a woman.
No video available.
Call for presentations
If you would like to be considered to give a lecture, please submit a one or two paragraph summary (or a one or two page outline) that describes what topics and information your presentation will explore. Please be sure to include the names of all potential speakers, as well as any special accommodations you would need for the presentation.
Please submit your presentation summary or outline via email to either ckeebaug@northshore.edu or kkaufman@northshore.edu.