March 18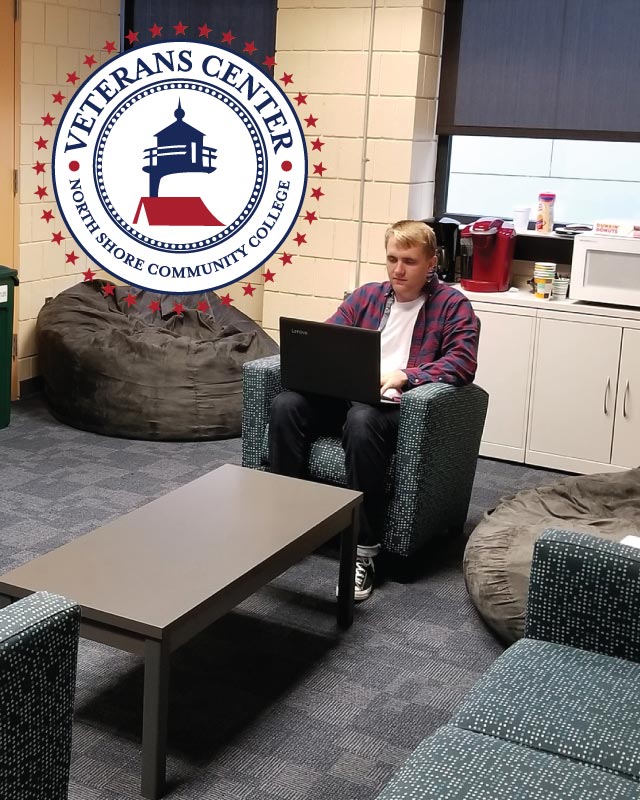 Student veterans on NSCC's Lynn campus now have a Student Veterans Lounge similar to the one their Danvers counterparts have been enjoying for several years.
The lounge, located in room LW218, was made possible by the generosity of an anonymous donor. NSCC's more than 300 student veterans and active military members can now utilize dedicated study and socialization space and support services where they can relax, study, receive assistance in applying for veterans benefits or grab coffee or a snack. Perhaps most importantly, they can also connect, identify and share experiences with other student veterans.
"The new Center here in Lynn will undoubtedly make a world of difference in hundreds of student veterans lives," said Thomas Hardy, a Marine Corps veteran and Student President of NSCC's Veterans Club. "Transitioning to life as both a civilian and a student from the military is no easy task but the Veterans Center is filled with others with whom you share a common experience and who will provide support throughout our educational journeys and beyond."
"We're delighted to be able to provide this special space for our veterans and extremely grateful for the generous philanthropic support that made both centers possible," said NSCC President Patricia A. Gentile.
NSCC recently received its ninth consecutive designation as a Military Friendly School and has been elevated to Bronze Status by the national organization Victory Media, the premier media entity for military personnel transitioning into civilian life. The designation honors the top 20 percent of colleges, universities and trade schools which are doing the most to embrace America's military service members and veterans as students.