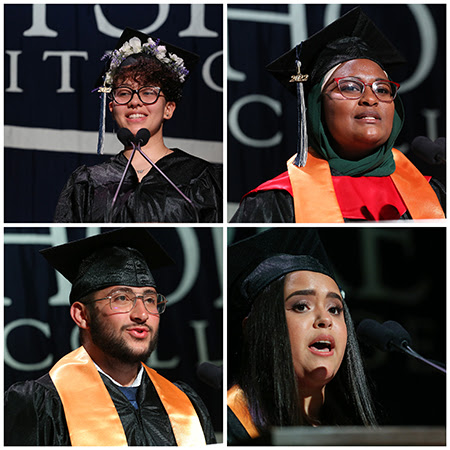 The Fab Four, 2022 Student Speakers, clockwise starting top left, Solmaria Deleon, Aya Mohamed,
Rosanna Fernandez, Luciano Hoxhaj
Approximately 875 students graduated from North Shore Community College at our 56th commencement exercises held at our Lynn campus Thursday, May 26, 2022. It was the first time commencement exercises were held in Lynn.
Also unique this year was the fact that instead of the traditional, hours-long commencement ceremony, four separate, shorter ceremonies were held throughout the day, each ceremony celebrating graduates from specific divisions of the school. Each ceremony also had its own student speaker – known collectively as the "Fab Four" – whose amazing life stories formed the basis of their speeches.
"Our students come from the North Shore, as well as countless countries around the world," said president William Heineman. "They have tremendous grit and persistence because, while they attend college classes, the vast majority of our students work. More than half of them are raising children or caring for a family member. They're constantly juggling to fit all their responsibilities in, plus go to college."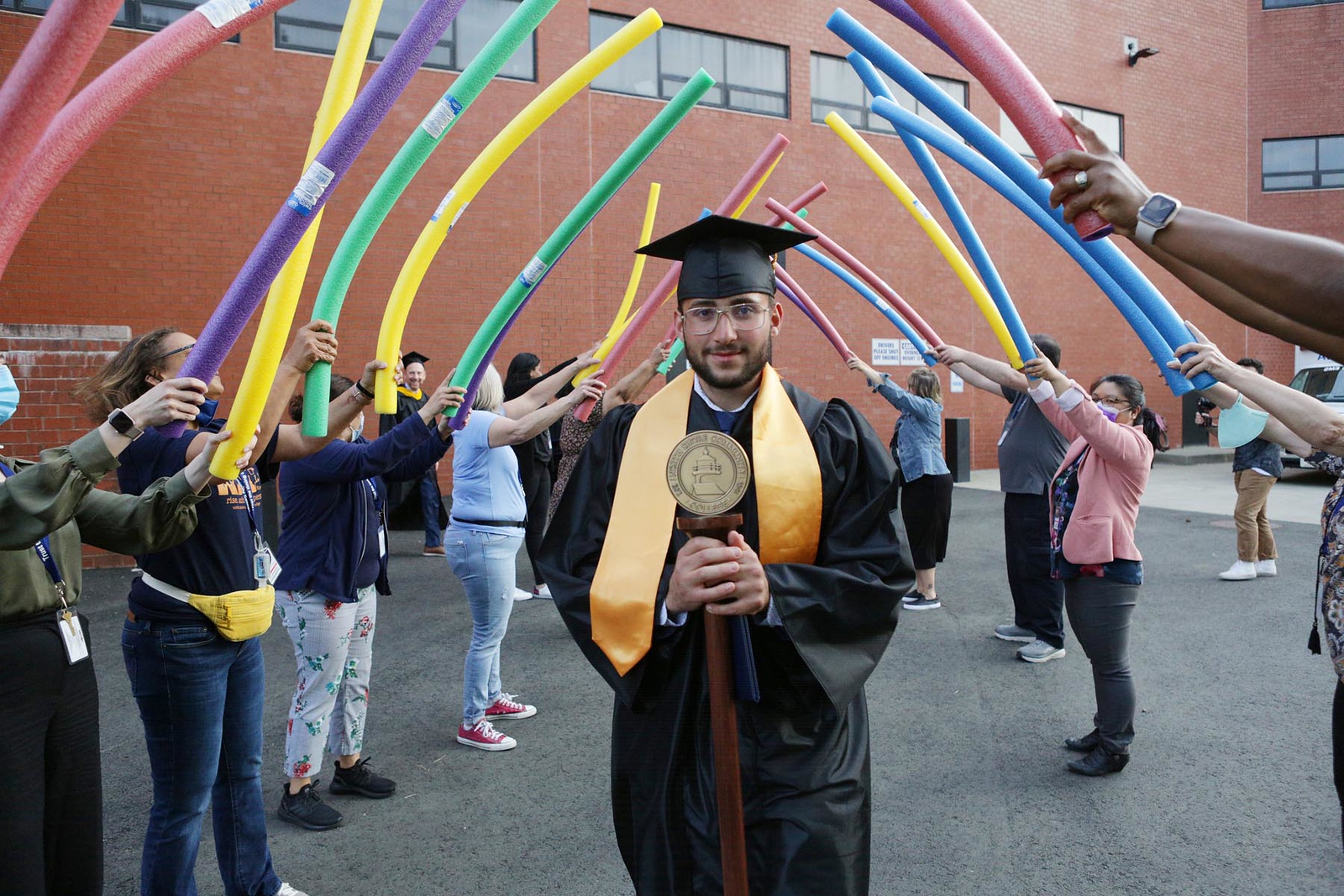 Following each ceremony, faculty and staff gathered and formed a congratulatory line – complete with a "noodle" arch, noisemakers, and lots of cheering – that students walked through before joining their family and friends for more congratulations, hugs, and photos. Photos of the four ceremonies may be found on Flickr or Facebook.
Student speakers:
10 am, CTE and Business Division
Student speaker: Solmaria Deleon, Digital and Social Marketing
1 pm, STEM Education Division, Fire Science, and Criminal Justice
Student speaker: Aya Mohamed, Liberal Arts Transfer
4 pm, Health Professions
Student speaker: Rosanna Fernandez, Nutritional Science and Diet Technology
6:30 pm, Liberal Arts Division, and Liberal Arts Health Science
Student speaker: Luciano Hoxhaj, Liberal Arts

Commencements 2022 Playlist
https://youtube.com/playlist?list=PLcvFHzTRdt2qhvM6JJVWEAsb-qudLImb0
Above is a link to each of the four ceremonies, including closed caption versions and clips of each student speaker's speech.