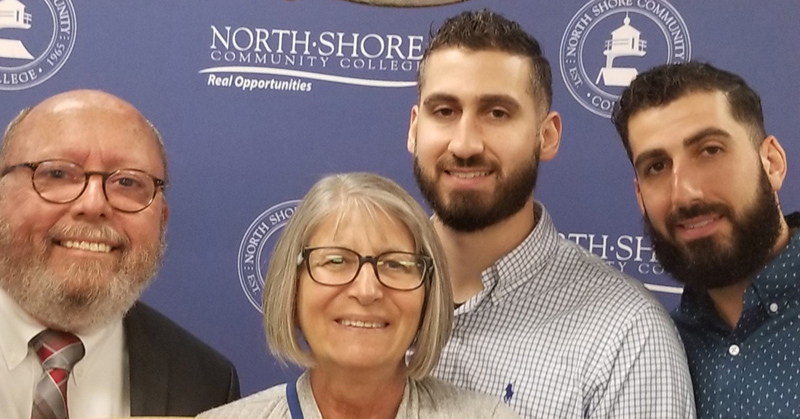 Paul Nuccio '79, Anne Nuccio '74, Tim Nuccio '09, Nick Nuccio '11
Paul Nuccio, MS, RRT, FAARC, a 1979 graduate of NSCC's respiratory therapy program, is the 2019 recipient of NSCC's Distinguished Alumnus Award. A native of Beverly, MA and '69 graduate of Beverly High School, Paul enrolled at NSCC after serving in the Marine Corps from 1969-1972. He went on to achieve his undergraduate degree in health care administration from Ottawa University and his MS in Leadership from Northeastern University.
Since entering the healthcare field, Paul has served in many professional positions in respiratory therapy at Brigham and Women's Hospital, Dana Farber Cancer Center, Boston City Hospital, and Melrose-Wakefield Hospital as well as teaching and administration. He is also the author of numerous published works.
Paul's many professional and personal achievements exemplify the criteria for the Distinguished Alumnus Award. He has been awarded the MSRC lifetime Achievement Award, the Emanuel Makros Award for Respiratory Therapist of the Year, the Dana-Farber Cancer Institute Quality Improvement-Patient Safety Judge's Choice Award, Patriotic Employer Award, Above and Beyond Awards, Department of Defense, Massachusetts ESGR, and many Partners in Excellence Awards. Additionally, he has mentored & hired many students & graduates of the NSCC Respiratory Care Program, and lectured students at NSCC and served on NSCC's Program Advisory Board.
On a personal note, Paul's NSCC connection goes deeper than being an alumnus. He met his wife of more than 40 years, Anne, when both were students at NSCC. "The building that we met in was at the old Brisco school up on the hill in Beverly," recalled Paul. "Such fond memories." The family ties to NSCC continued into the next generation as his two sons, Tim and Nick, with their father's encouragement, chose respiratory care as a career path. Both enrolled in NSCC's respiratory care program, graduated and now have their own successful careers.
"Being chosen as NSCC's 2019 Distinguished Alumnus Award recipient has been a great honor for my family and myself," said Paul. "It's something that we will always cherish."