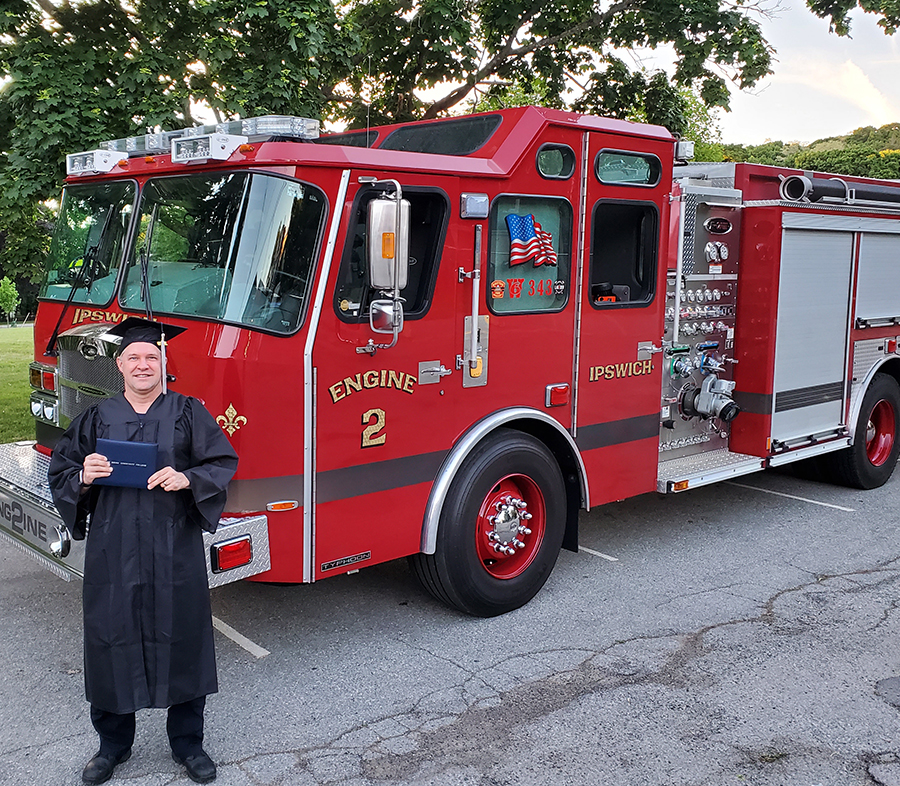 When Jeremy Dalton crossed the virtual Commencement stage this spring to receive his associate degree in fire science from North Shore Community College, he completed an educational journey that spanned 27 years.
Dalton, who has been a firefighter with the Ipswich Fire Department full time for 10 years, took a circuitous route to obtaining his degree. He first began his fire science studies at NSCC in 1993, attending classes at the college's Sohier Road location in Beverly while also becoming a "call" firefighter. Then he decided he wanted to become an EMT and went to paramedic school after which he spent many years driving ambulances in Boston. He then shifted to working as a network engineer, noting that he went home with a headache every day.
He decided it was time to transition to firefighting. He signed up to do call work on the fire department which he did off and on for a decade. One day he got the call to apply for a full-time position. "I took a cut in pay but it was worth it. I love being able to help people every day. It's very rewarding. I've helped family and friends and once revived a four-month-old who wasn't breathing. I'm pleased to say that he is alive and well today."
Over the course of his career, Jeremy has had many interesting experiences. He volunteered to go to New York City after 9/11 and was there for 12 days, helping to set up military hospitals around the site. A poignant memory was observing a firetruck being pulled from the wreckage.
It was his son Rian's graduation from NSCC in 2017, with a liberal arts degree, that inspired Jeremy to finish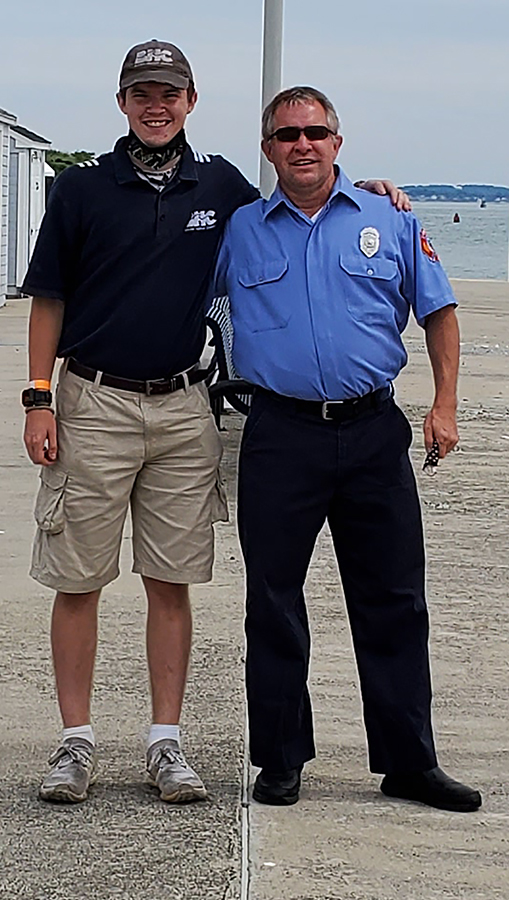 his degree. Rian transferred to NSCC from MA Maritime Academy and now captains boats for Boston Harbor Cruises including the Charlestown shuttle. (pictured are Rian and Jeremy)
"It always bothered me that although I had a lot of learning, I never got my degree. It feels wonderful to finally have it and to put it behind me," Jeremy noted. "Now that I have my degree, I plan to go for a promotion to lieutenant or maybe even continue my education." Jeremy plans to retire as a firefighter.
"NSCC has a great fire science program. Being all online, it works very well with firefighters and their schedules. The college cares about helping folks get through it efficiently. The program has changed a lot over the years too, there are so many more courses to take now," he said.
His wife, two sons, and his parents all watched the virtual graduation ceremony, his parents from Reno, Nevada, and everyone shared in the incredible pride of the moment.