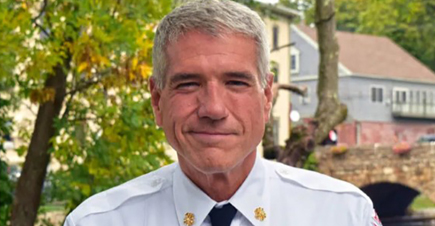 New Ipswich Fire Chief Paul J. Parisi (Photo courtesy of Town of Ipswich)
IPSWICH – Town Manager Anthony Marino and the Ipswich Fire Department are pleased to announce the appointment of Paul J. Parisi as Fire Chief, following the retirement of Chief Andy Theriault.
Chief Parisi, a 1992 graduate of NSCC's Fire Protection and Safety Technology program, has 33 years of experience in the fire service, most recently as Fire Marshal for the State of New Hampshire. He also served in roles of increasing responsibility in the Salem, New Hampshire, Fire Department, culminating as Fire Chief and Emergency Management Director.
Chief Parisi began work in Ipswich on Sept. 27
"I'm proud to have been selected to lead the Ipswich Fire Department," Chief Parisi said. "The Town is served by a highly professional fire service staff, and I am honored to work alongside them. I look forward to meeting with community members to hear their ideas about how we can grow and improve, and better serve them."
Chief Parisi holds an associate's degree in Fire Protection and Safety Technology from North Shore Community College, and a Bachelor of Science in Public Service Management from Granite State College. He holds many professional certifications in fire service and emergency management.
He served on the Executive Board of the New Hampshire Association of Fire Chiefs from 2013 to 2020, serving as President in 2018.
He also maintains numerous civic affiliations, including the Knights of Columbus, Greater Salem Rotary Club, the Derry-Salem Elks, and the DetecTogether Fire Service Advisory Board. He is a licensed Justice of the Peace.
Chief Parisi is an U.S. Army veteran. He achieved the rank of Eagle Scout, and in 2019 was recognized with the National Outstanding Eagle Scout Award for his service and commitment to the community.
Chief Parisi is a native of Reading.
"Chief Parisi brings a wealth of knowledge, experience, and leadership that will be a positive for the Ipswich Fire Department," Manager Marino said. "I extend my congratulations to him on this appointment and ask the community to join me in welcoming him."