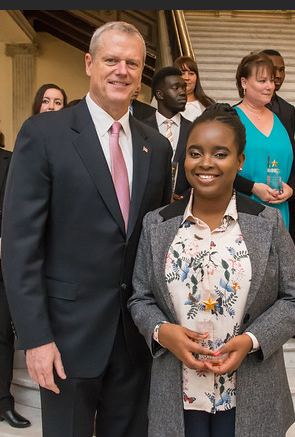 Chelsea Amadi of Lynn was one of 29 public higher education students honored at the annual "29 Who Shine" ceremony at the State House this spring. The awards are given to students who succeed not only in their academic pursuits, but in their efforts to strengthen their local communities.
Chelsea graduated as a Liberal Arts Transfer student in the STEM Biology pathway and will pursue a B.S. in biology from UMass Amherst and eventually enroll in medical school to pursue her dream of becoming a neurosurgeon. She is a Commonwealth Commitment student who will earn both associate and bachelor's degrees thanks to a package of financial incentives offered through this statewide affordability and completion initiative. She was chosen as one of four recipients of Liberty Mutual Insurance Company's LEADA@Liberty Scholarship, which supports Commonwealth Commitment students throughout their college career.
Chelsea maintained a 3.67 GPA and made the Dean's List every semester. She contributed broadly to campus life at North Shore as an orientation volunteer, peer leader, and TRIO student support volunteer. She joined the STEM Program where she became an Ambassador and Club Secretary for the MultiCultural Society (MSC) through the Student Government Association (SGA). In 2018, for Advocacy Day she was NSCC's PHENOM student representative and she spoke at the State House in support of increased funding to community colleges. All while working 20 hours per week at an additional job.