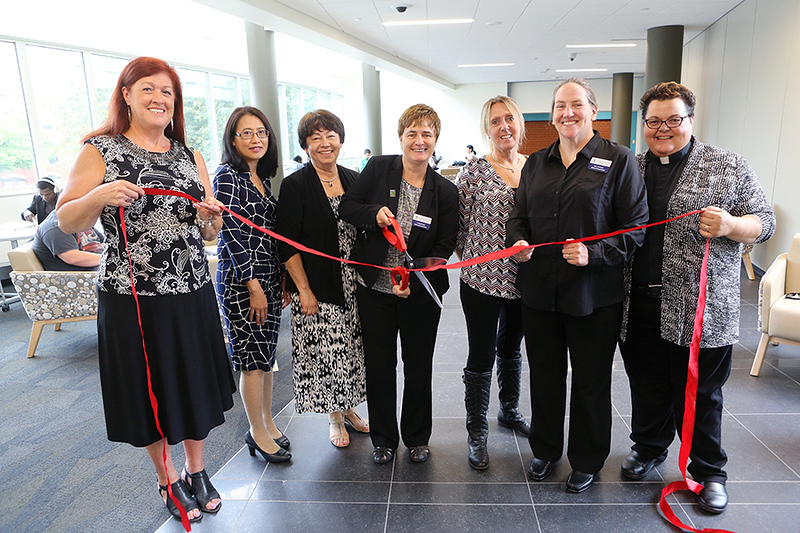 NSCC's Alumni Association Board – Julie Howland '91, treasurer, Anh Dao Tran-Moseman '83, alumni trustee, Nancy Barker '10, Lesley Peters '97, president, Donna Rosato '03, secretary, Lisa Tusinski '14, vice president, Donna Spencer-Collins '97
Remember when you were a student at NSCC? How great you felt about the education you received here from the many great faculty? Would you like to reconnect and find a way to give back? The NSCC Alumni Association is looking for new members to join them in building relationships with current students, planning events and activities for alumni, and raising money for scholarships and special gifts.
The NSCC Alumni Association board of Directors is an all-volunteer board of NSCC graduates. Board members raise funds to provide NSCC Alumni Association Scholarships, promote the college, interact with current students and strengthen relations between the college and our alumni. Members fundraise for scholarships, serve on committees to review and select alumni scholarship recipients and select an annual Distinguished Alumnus Award recipient and recommend an alumnus to serve as the alumni representative on the College's Board of Trustees.
All NSCC graduates are members of the Alumni Association and are welcome to participate in association activities at any time. Please contact us at NSCC_Alumni@northshore.edu for further details or dates of upcoming meetings.