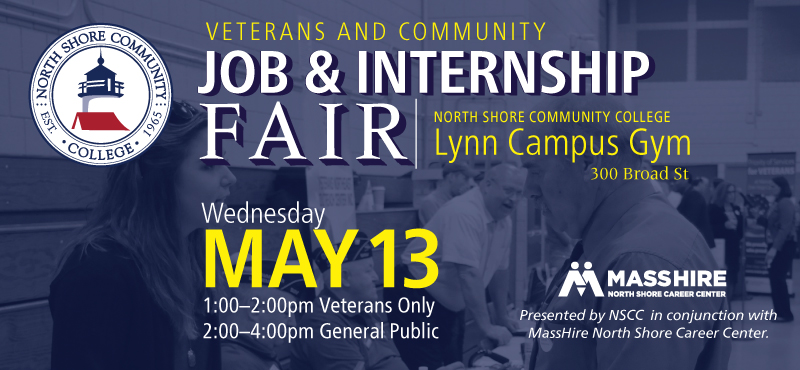 Save the Date!
Thursday, May 13th 2020
1:00-2:00 Veterans Only
2:00-4:00 General Public
North Shore Community College Lynn Campus Gym
300 Broad St., Lynn
Come to a free career and benefits fair at North Shore Community College and meet representatives of "veteran-friendly" companies, agencies and programs. Explore your eligibility under the post 9/11 GI Bill® as well as other veterans benefits.
Businesses attending
Abiomed
Additional Contract Service
All Care VNA & Hospice
Arbor AssociatesARD Corp.
Beth Israel Lahey Health Behavioral Services
Boston Children's Hospital
Boston Marriott PeabodyBoyd Corp formally Lytron
Bridgewell
Brooksby Village
Charles River Labs
Comcast
Commonwealth of Massachusetts
Delta Electronics Mfg Corp
Double Tree by Hilton Boston North Shore
Eastern Bank
Eliot Community Human Services
Essex County Sheriff's Department
Executive Office of Health and Human Services
General Electric Aviation
Hack Diversity
Hampton Inn by Hilton Salem Boston
HMS Host Logan Airport
Home Depot
Hub Spot
John Galt Staffing
Kettle Cuisine, LLC
Lynn Community Health Center
MA Dept of Developmental Services
MA Dept of Environmental Protection
MA Dept of Youth Services
MA State Police
MA Water Resource Authority
MAXIMUS
May Institute
MBTA
Meridian Associates, Inc
Microchip Technology Inc
Morgan Memorial Goodwill Industries
Mt Auburn Hospital
North Shore Bank
North Shore Community College
Northeast ArcNorth Shore Medical Center
North Shore YMCA
North Suffolk Mental Health Association
Randstad at Medtronic
Randstad at Millipore
SalemFive
Salem Metal
Seven Hills Foundation
Sodexo
Starbucks
Tech Needs
TSA
U. S. Census Bureau
U.S. Customs and Border Protection
U.S. Department of State
United States Postal Service
Vinfen
Wayne Alarm Systems, Inc
Weston & Sampson Engineers
Get a Free Headshot to use on LinkedIn
No appointment necessary. Come on by between 2:00-3:30pm. Receive you headshot through email in 3-5 days.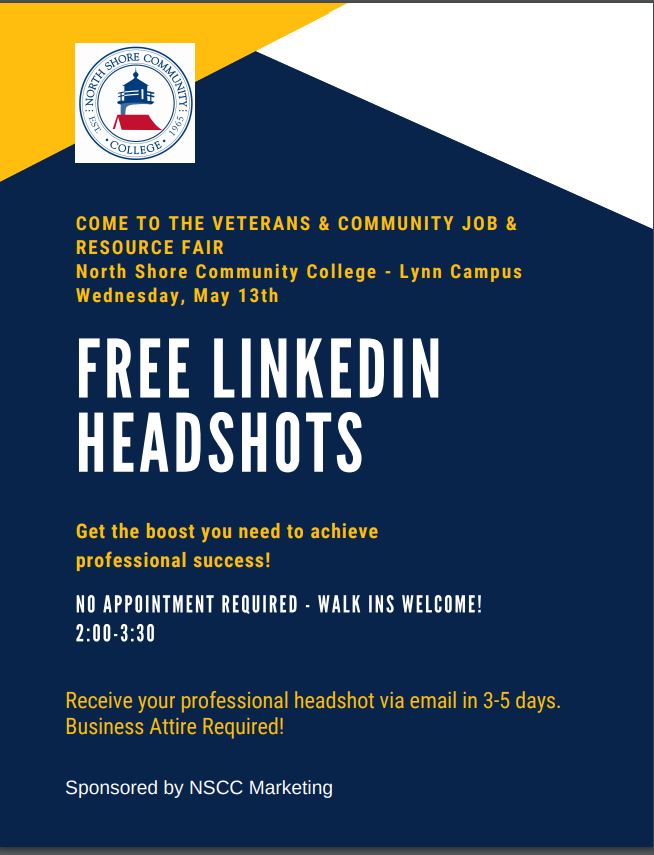 Frequently Asked Questions
Is there a fee to attend this job fair?
This event is free and open to everyone during the specified times.
Who can attend the job fair?
College students, alumni, Veterans, active service members and members of the community may attend. While the job fair is geared to students who are graduating this year, any student, regardless of your major is welcome. This fair is also an excellent opportunity for career explorers.
What type of jobs are employers recruiting for at this fair?
Employers are generally recruiting for full-time positions. However, there are a number of companies that are also offering part-time jobs and internships. Don t hesitate to ask employer representatives about possible job opportunities.
What is the dress code?
It is recommended that you dress professionally. First impressions do matter. If you are in need of business attire, please contact our career placement professionals at careerplacement@northshore.edu. Men: suit, blazer, suit jacket or collared shirt and tie and slacks Women: pantsuit, blazer and skirt, or suit
Need help preparing?
North Shore Community College Students and Alumni
If you are a currently enrolled student at NSCC or an alumnus, and would like job readiness assistance (i.e. Resume Writing, Interviewing Techniques, How to Work a Job Fair) please contact:
Career Placement Coordinator
Lynn Marcus
Phone: 781-477-2167
General Public
If you are a job seeker and are interested in job fair readiness preparation (i.e. Resume Writing, Interviewing Techniques, How to Work a Job Fair) visit the North Shore Career Center website below to view workshop schedule at your desired location.
For more information
Kristine Babcock
Phone: 987-762-4187
Email: kbabcock@northshore.edu