Welcome to the NSCC Foundation Scholarship Awards Virtual Celebration!
Thursday, September 9th at 6:00pm

Celebrating the accomplishments of NSCC Foundation scholarship awardees, the generosity of scholarship donors, and the presentation of the Traicoff Award.
Advance registration is required.
Registered attendees will receive their private access link and password within 24 hours of the event. For more information, contact
development@northshore.edu
.
---
Scholarship Awardees
David Okoro - Computer Science - Honors Program - NSCC Foundation General Scholarship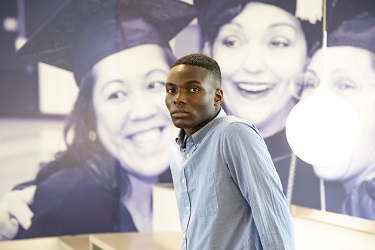 I want to become a software engineer once I graduate from college. I never owned a computer until my senior year of high school, and that's when I started learning new languages like JavaScript, Python, and Java. Taking on this challenge has helped me to this day. As a low-income college student, I need this scholarship to take more classes and complete my education efficiently. After graduating from NSCC, I plan to transfer to a four-year university and continue to make the Dean's list. My goal is to help minority students get into computer science and to own a company that hires more people of color.
---
Megan Schril - Environmental Studies - NSCC Foundation General Scholarship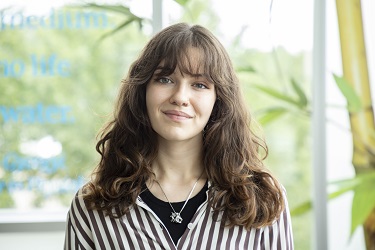 I've built my confidence over the years and overcome challenges in my life by holding myself accountable to a high standard of success. I'm very motivated to become successful and to one day provide my future family with a much different life than the one I'm living and the struggles I've had. I am very passionate about environmental advocacy and preservation, and I cannot wait for the day that I can get a job in that field. My goals are to achieve at least a bachelor's degree and embark on a career path that is fulfilling and where I will never have to worry about not having a meal again.
---
Jorge Romero - Criminal Justice - Scholarship for Veterans
I am a single parent, a police officer, and an Army veteran. Working full-time and raising my son while I pursue a college degree as a non-traditional college student is not easy, but I am focusing on my long-term goal to become a lawyer and achieving excellence along the way with a 4.0 GPA. Being selected for a scholarship award is such a tremendous validation of all the hard work and sacrifice, and it's a huge help financially. I love this college and the community here, and I would recommend NSCC to anyone wanting to further their education and career.
---
Ryan Duggan - Environmental Studies - Former Scholarship Recipient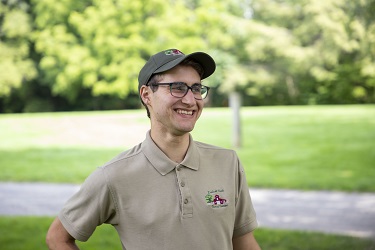 I have never been somewhere that I felt more supported than at NSCC. After graduating with an associate degree, I earned a bachelor's degree at UMASS Amherst and have begun my career as a Park Ranger. I'm so excited to see where my passion for natural resources will take me next. To all the scholarship donors, I am so appreciative of your ability to see the good and the potential in other people. You not only support us financially but also emotionally as well, by acknowledging that it's not easy to pay for school and to experience obstacles along the way. Your support gives us that extra push to keep going, which helps us feel proud of ourselves in the process.
---
Girish Dang - Nursing - Former Scholarship Recipient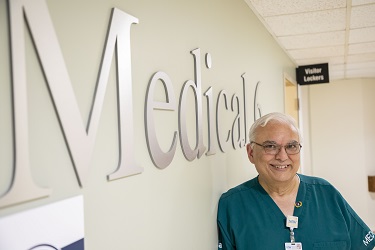 I received a scholarship in my second year at NSCC, and I cherished it because I was working two jobs while in nursing school to sustain my family. It boosted my self-esteem that I was chosen, and it helped financially too. It was the catalyst to establish the Sarika Dang Memorial Scholarship in honor of my sister, because there was no better way to give back to my alma mater. I understand it will be a drop in the bucket, but the bucket is full of drops, and every drop helps. When I see the scholarship recipients, I see myself in them, and hopefully they will have a cherished life and fulfill their American Dreams like I did after graduating from NSCC.
---
The Foss Family - Traicoff Award Honorees, 2021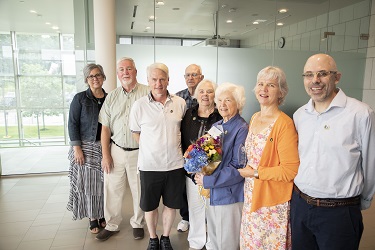 In recognition of exemplary and inspiring commitment to scholarships for student success through the Peter J. Foss Memorial Scholarship. Peter Foss, NSCC Professor Emeritus, taught at NSCC for 23 years and led the Media- Communications Department.
"Peter was just an extraordinary person and he loved teaching here. It was a second career for him after 23 years in the Army, and he thought he'd struck gold. He was really into his students and helping them in any way he could. I'm amazed we are still giving scholarships after 14 years. I never envisioned such a thing. We are grateful and delighted to be the first ones to receive the Traicoff Award, and I'm grateful to everyone who contributes and helped to make the scholarship a success". – Marie Foss, wife of Peter J. Foss
"We have what we need. We've all been very fortunate that way, and one way to celebrate and recognize any event in our family is to remember my dad, and we do that through donations to his scholarship". – Mary Foss, daughter of Peter J. Foss
---
NSCC Foundation Scholarships
The 2021 Foundation Scholarship application cycle is complete. NSCC would like to thank every applicant, donor, and reviewer for their contribution. Please check back in February for information about the 2022 application cycle.
Since 1985, the NSCC Foundation Scholarship Program has provided scholarship awards to current and incoming NSCC students. The NSCC Alumni Association partners with the Scholarship Program to award scholarships to NSCC graduating students and alumni who are continuing their education at four-year institutions. For the 2020-2021 academic year, more than 250 students were awarded scholarships totaling more than $280,000.
More than $3.6 million in scholarships have helped NSCC students and alumni achieve their academic goals.
Foundation Scholarships are funded by generous donors through the North Shore Community College Foundation. Students are matched to the scholarships for which they meet the criteria, and a final decision is rendered by an internal scholarship review committee comprised of faculty (current and retired) and staff. Some scholarships are renewable for multiple semesters, based on student performance.
If you need further assistance, contact nsccscholarships@northshore. edu.