Your time. Your schedule. Your classes.
If you're looking for an affordable and supportive way to transform your life to benefit yourself and your family, NSCC is here for you. We offer more than 60 Associate Degree and credit certificates, online classes and flex schedules to build around work and life.
18-month associate degrees lead to bachelor's degrees and higher salaries.
Earn your degree in 18 months or less and transfer to university to pursue your bachelor's degree.
9-month certificates improve your marketability for direct entry into the workforce. Take advantage of opportunities for real-world, hands-on training related to your program of study and career goals.
Credit for Prior Learning
Gain a head start toward your North Shore Community College certificate or degree by using the knowledge you have acquired through prior learning.
---
NSCC Alumni Sean Reid, Class of 2013
The education I received, the support I received, and the skills I was able to develop at NSCC are just as good, if not better than 4-year institutions. This is a community that will help you succeed!
Sean Reid, Class of 2013
---
Choose a college that lets you balance work and life.
We have flexible course options to meet your needs.
NSCC has hundreds of courses with flexible start dates and different learning formats. Online or on-campus classes let you control your college experience. We can help you personally complete the application and enrollment process and help you reduce costs for tuition and fees, books and supplies, and living expenses!
---
Portrait of Khali Kum in black leather jacket
The professors are top-notch, the community is supportive, I made great friends. I'd recommend this experience over a four-year school.
Khalil Kum, Class of 2020
Software Engineer, GrubHub
---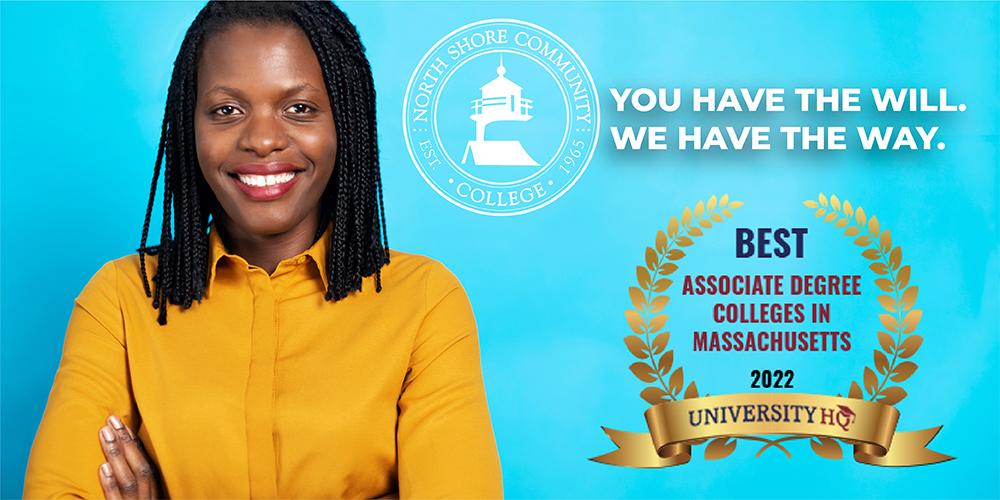 Meet our Admissions Team
Not sure about a major yet?
Have Questions?
---
Compare costs to other schools.
Save thousands of dollars by starting your college education at NSCC.

---
Pursue a bachelor's degree
Complete your associate degree at NSCC and transfer to a public college or university in Massachusetts to get your bachelor's degree and save an average of $5000 while you do it!

---
Get personal support for online learning
We will help every step of the way with support and resources as you take your classes online.

---
Learn about new class formats.
Courses combine online, face-to-face, videoconference, or a hybrid of these options depending on your program.

---
Black Lives Matter

Our commitment to a diverse and inclusive campus is stronger than ever. We denounce racism, hate, institutionalized violence, and especially anti-Blackness. We acknowledge the power of white privilege and recommit to creating a culture of mutual respect, understanding and support for all who face historical and present-day oppression.

Your safety matters to us.
We realize the pandemic has thrown a curve ball at traditional college plans. North Shore Community College offers a thriving, vibrant and supportive college experience to help you achieve your educational goals. Our top priority is to support your success – no matter how far you want to go!
Phot of Cala Elder Lowell in nursing scrubs
North Shore Community College was the best choice I could have made. I learned all my core nursing skills there, saved a ton of money, and got a great education.
Cala Elder Lowell, Class of 2011
ER Nurse, North Shore Medical Center
---
Our mission is our pledge to students
NSCC is an accredited public institution of higher education where all are welcome and each is challenged. We are a diverse, caring, inclusive community that will inspire you to become an engaged citizen and to achieve your personal, academic, and career goals. NSCC will prepare you for life in a changing world and workforce through affordable and excellent educational opportunities aligned with today's economic needs.