President Gentile announces she will retire in July 2020.

After seven years of leading North Shore Community College to new levels of accomplishment and regional and national acclaim, Dr. Patricia A. Gentile has announced she will retire effective July 6, 2020. read more
GivingTuesday Success!
WE DID IT! 57 students, faculty/staff, and supporters went ALL IN for NSCC for our extended GivingTuesday initiative and unlocked an additional $1,000 for NSCC students! A total of $3,842.43 was raised for student supports. Thanks to all who participated! YOU can still go ALL IN for NSCC! Donate this holiday season at northshore.edu/giving.
-Nicole Marcotte, Director of Development



Thank You!
A huge thank you to everyone who donated clothes, hats, gloves, and scarves for Chase the Chill. We collected numerous items that were distributed outside of My Brother's Table in Lynn on Nov. 30th. Additionally, items will be available for students through December 13th on a table across from the Lynn Gym and in the Berry Cafeteria.
A special thank you to the NSCC Alumni Association, Sigma Alpha Pi, Phi Theta Kappa, and Student Government for their kind donations as well as to the Student Engagement staff who have worked tirelessly in sorting donations and stocking the tables.
--Donna Davis, Student Support and Advising
Final Exams Schedule - Click here

Final Puzzle for the Fall 2019 Semester!

Click here for the final puzzle for the Fall 2019 semester and solution to Problem of the Week #12-13.
Week #12-13 Leaderboard scores.
Contest Rules:
Each week we will send out a problem solving challenge as a friendly competition among students, faculty and staff. They will vary in topic, format and difficulty. Problems are posted on Tuesdays and answers need to be returned via email to Professor Anne O'Shea (aoshea@northshore.edu) or Professor John Gambino (jgambino@northshore.edu) by 11:00 am on Friday of the same week.
The first randomly selected correct entry, regardless of when it is received, will earn 10 pts, the next 9 pts, the third 8 pts, the fourth 7 pts and the fifth 6 pts. All other correct submissions will earn 5 points. The person with the highest cumulative point total at the end of the semester (12/13) will be declared the winner and Problem Solving Champion and win a "fabulous" prize. Separate contests will be held for Students and Faculty/Staff.
Problems are posted each in the Bulletin each week, posted on the North Shore Community College Mathematics Department Facebook page, and on bulletin boards across from LE303 (Lynn) and on the first floor of the Berry Building (Danvers) by Tuesday. Other locations may be added at a later time.
20 Minute Online Professional Development
The Monday Morning Mentor series will be available over the fall semester to bring you professional development in twenty minute snippets.
For the week of December 9th- How can I teach soft skills to better prepare students for the workplace?
Directions for Accessing the Link to the Presentation and Supplemental Materials
Select the URL link below to access the presentation and to print the supplemental materials. (You may also copy and paste the URL into your browser's address bar.) Supplemental materials are available to view and print now.
sites.google.com/a/northshore.edu/mmm/
New presentations go live at 10:00 a.m. each Monday morning and are only accessible through Sunday.
The series is being brought to you by the Center for Teaching, Learning, and Innovation – we would appreciate your input!
-Andrea Milligan amilligan@northshore.edu
WHAT A GREAT WAY TO START YOUR WEEK!
Professional Development
Fund$

Available

The Professional Development (PD) Committee would like to let faculty and staff know that professional
development funds are available.

There are three levels of PD grants that you can apply for:
Mini grant ($300 or less)
Large grant ($301-$1500 – requests are currently being funded at 75%)
Coursework grant (for undergraduate or graduate credit coursework, up to $500.)
Please note that out-of-state travel requires pre-approval from your Vice President and the President. You will want to have the pre-approval to travel in writing (email is fine) before you submit the PD grant application. A copy of this pre-approval to travel will need to be forwarded to the PD Committee Chair.
Before completing the PD grant application form, please review the eligibility and application guidelines. These are available on My Northshore.
In My Northshore, search for professional development. Click the Professional Development Application & Award Process tile to access the eligibility and application guidelines as well as the Proposal Application Form.
Applications are due at least one week prior to the monthly governance meetings.
If you have any questions, please do not hesitate to reach out the the PD Committee Chair.
Thank you,
- Andrea Milligan, PD Committee Chair, amilliga@northshore.edu
Upcoming Events
December 9 & 11 - Pause with Paws
Pause With Paws" for End-of-the-Semester Stress Relief at the Library!

The dogs will be available for some much needed stress relief during this hectic time of the year. Please encourage students, and anyone frazzled during this busy time of the semester, to take a "Pause with Paws." All are welcome!
The Danvers Campus Library will be hosting new friends from Perfect Paws on Monday, December 9th from 11a.m. - noon.
The Lynn Campus Library will be hosting Josie from Perfect Paws on Wednesday, December 11th from 9:30 a.m. - noon.
December 12 - Year Up Open House

December 12 - Gentle Guided Meditation with Counselor Donna Davis
Feeling overwhelmed or stressed?

Feel centered & empowered instead!

Gentle Guided Meditation w/Counselor Donna Davis
FREE – open to all students, faculty and staff
No registration or experience required.
Thursday, December 12, 12:30-1pm
Danvers Campus, Student Support Center Conference Room, DH166
December 13 - President's Holiday Reception
Worthy Causes
Holiday Toy Drive, November 25 - December 11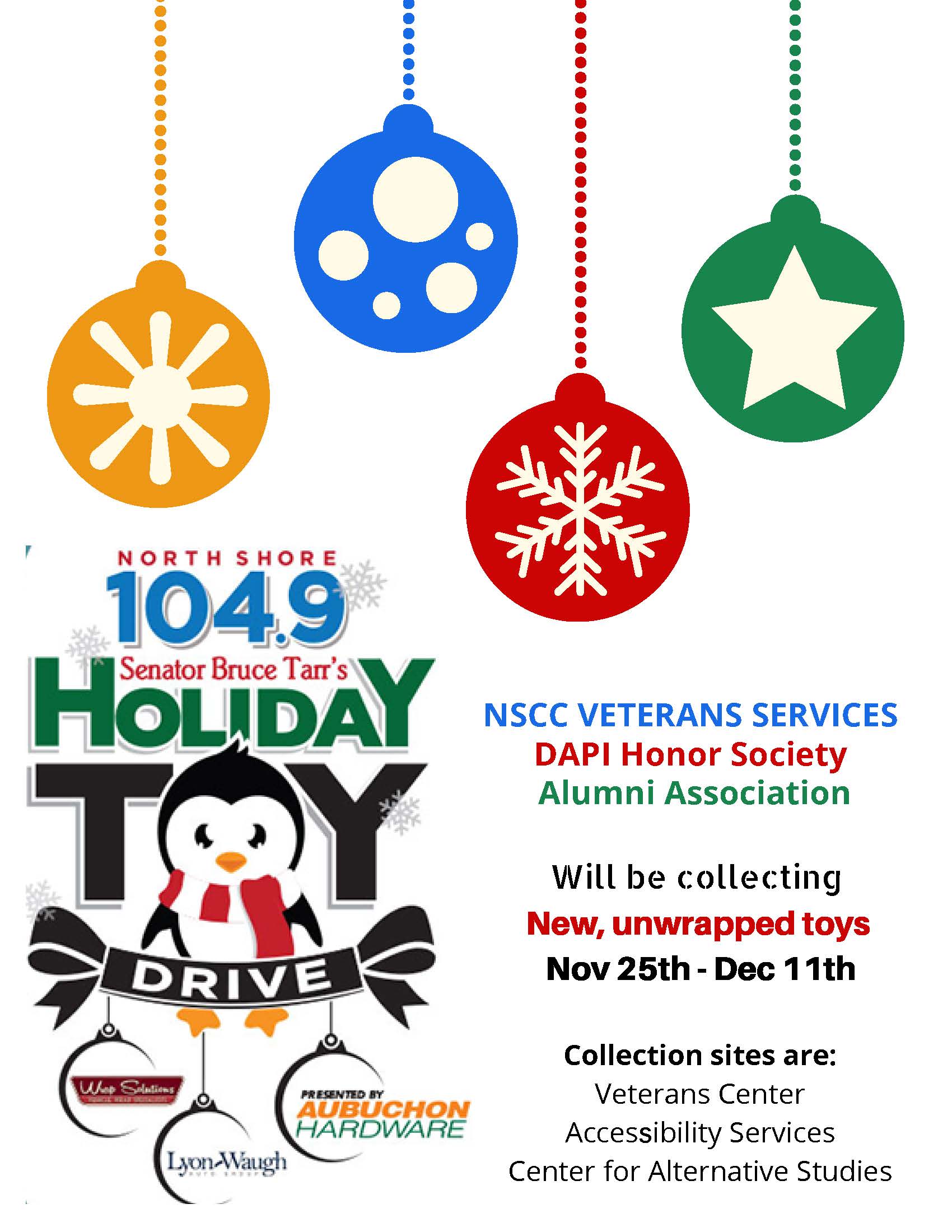 The Season of Giving is upon us! NSCC's Veterans Services, DAPI Honor Society and the Alumni Association will be collecting new, unwrapped toys Nov. 25-Dec. 11. Collection sites - Veterans Center, Accessibility Services and the Center for Alternative Studies. For more info, contact Kristine Babcock, Veterans Services Coordinator at kbabcock@northshore.edu.
Thank you for helping to make the holidays a little brighter for children in need!
Upward Bound Collecting Bottle Caps
Upward Bound needs your help collecting caps! They will be recycled to create an Upward Bound bench that will be placed on the outside path at the Lynn Campus. Thank you for your support!