HELP unlock $1,000 for NSCC Students on Giving Tuesday!
An anonymous donor will donate $1,000 to help NSCC students if 25 donors make a gift to the NSCC Foundation's ALL IN for NSCC annual fund on GivingTuesday - DECEMBER 3rd. Your gift could be the one that unlocks $1,000!
Donations benefit student scholarships, emergency assistance, meal vouchers and more!
MARK YOUR CALENDAR! Make your gift on December 3rd at northshore.edu/giving or in person from 11am – 1pm at the Lynn Campus café or the Danvers Campus café. You can also donate by phone at x5527or make your donation in person or via inter-campus mail to Nicole Marcotte, DB-330B.
GET A HEAD START! Pledge in advance by contacting nmarcott@northshore.edu or x5527 with your commitment before December 3rd!
SHARE WITH FRIENDS AND FAMILY! Show your pride and help spread the word about this exciting way to help NSCC students!
Donations on GivingTuesday will be included in ALL IN for NSCC 2020, the new annual fund campaign of the NSCC Foundation. ALL IN donor names will be included in the ALL IN for NSCC 2020 donor wall to be featured at the Lynn and Danvers Campuses. Donors will also receive a commemorative ALL IN patch and are invited to share an inspirational message for the community.

Exhibit of Professor Jim Chisholm's Paintings
All are invited to stop by the Lynn Campus Library to see an exhibit of Professor Jim Chisholm's paintings which will be on display through December 17, 2019.
About the artist -
James Ross Chisholm's paintings depict the scenic landscape of the Northeastern coast of the United States. In a nod to the French and American 19th-Century landscape painters, Chisholm works en plein air. By inserting himself directly into nature, Chisholm has developed an interest in how the atmospheric conditions influence his compositions. He welcomes nature's accidents and uses the unpredictability as an artistic impetus. How will the cold impact his palette? Will the rain leave traces on his canvas? How will the light, color, or mood change?
Based in Salem, Massachusetts, Chisholm's work can be found in collections throughout Massachusetts and New York. A graduate of Northeastern University, receiving his Bachelor of Science, Chisholm later attended the Boston Museum School and the Massachusetts College of Art where he received his Master of Science in Art Education.
Molière's A Doctor in Spite of Himself
North Shore Community College and the Liberal Arts Division present Molière's A Doctor in Spite of Himself, directed by Matthew Woods, at the Neal Rantoul Black Box Theater, Lynn Arts, Inc, 25 Exchange Street, Lynn. Performances are on December 6, 7p.m., December 7, 3p.m. and 7p.m. and on December 8, 3p.m.
Tickets are PAY WHAT YOU CAN at the door, but you may reserve seating in advance by contacting matwoods@northshore.edu.
Health care reform receives a fresh—and bawdy—treatment in Christopher Bayes' and Steven Epp's adaptation of A Doctor in Spite of Himself. Like a puppet play come to life, this full-bodied farce relates the improbable adventures of a woodcutter who is mistaken for a miracle doctor. (Note: adult themes and subject matter).
A Doctor in Spite of Himself is produced by special arrangement with Broadway Play Publishing, Inc, NYC. www.broadwayplaypub.com
Professional Development
Fund$

Available

The Professional Development (PD) Committee would like to let faculty and staff know that professional
development funds are available.

There are three levels of PD grants that you can apply for:
Mini grant ($300 or less)

Large grant ($301-$1500 – requests are currently being funded at 75%)

Coursework grant (for undergraduate or graduate credit coursework, up to $500.)





Please note that out-of-state travel requires pre-approval from your Vice President and the President. You will




want to have the pre-approval to travel in writing (email is fine) before you submit the PD grant application. A




copy of this pre-approval to travel will need to be forwarded to the PD Committee Chair.





Before completing the PD grant application form, please review the eligibility and application guidelines. These




are available on My Northshore.





In My Northshore, search for professional development. Click the Professional Development Application &




Award Process tile to access the eligibility and application guidelines as well as the Proposal Application Form.
Applications are due at least one week prior to the monthly governance meetings.
If you have any questions, please do not hesitate to reach out the the PD Committee Chair.
Thank you,
Andrea Milligan, PD Committee Chair, amilliga@northshore.edu
Upcoming Events
December 5 & 12 - Gentle Guided Meditation with Counselor Donna Davis
Feeling overwhelmed or stressed?

Feel centered & empowered instead!

Gentle Guided Meditation w/Counselor Donna Davis

FREE – open to all students, faculty and staff
No registration or experience required.

Thursdays, Nov. 14 & 21 - Dec. 5 & 12, 12:30-1pm
Danvers Campus, Student Support Center Conference Room, DH166
December 13 - President's Holiday Reception

Meet your newest colleague!
The Human Resources & Payroll office is pleased to announce that Janet Tennent has filled the full-time position of Accountant I in the Fiscal Affairs department.
Open Jobs
Campus Police
PT Institution Security Officer (3rd Shift)
Clerical/Office Support
Payroll Analyst (Accountant II), Human Resources and Payroll
PT Clerical Assistant, Accessibility Services, Danvers Campus
Storekeeper III, Auxiliary Services
Faculty
FT Faculty, Nurse Education (Foundations of Nursing & Maternal Health), Spring 2020
PT Instructor, Nurse Assistant/Home Health Aide
PT Instructor, QuickBooks Level 1
Maintenance/Trades
PT Evening Custodian, (Maintainer), Facilities Department, Danvers campus
The Monday Morning Mentor series will be available over the fall semester to bring you professional development in twenty minute snippets.
For the week of November 25- How do I design effective combinations of gamified elements to encourage deeper learning?

Directions for Accessing the Link to the Presentation and Supplemental Materials
Select the URL link below to access the presentation and to print the supplemental materials. (You may also copy and paste the URL into your browser's address bar.) Supplemental materials are available to view and print now.
sites.google.com/a/northshore.edu/mmm/
New presentations go live at 10:00 a.m. each Monday morning and are only accessible through Sunday.
The series is being brought to you by the Center for Teaching, Learning, and Innovation – we would appreciate your input!
--Andrea Milligan amilligan@northshore.edu
WHAT A GREAT WAY TO START YOUR WEEK!
Bookstore Hiring Seasonal, Temporary Team Members
Please inform your students!
The North Shore Community College and Salem State University Bookstores are now hiring temporary team members to work December through the end of January.
If you are interested, visit https://tinyurl.com/se2y9hf to apply. If your application meets our hiring needs you will hear back from us within two weeks.
Applicant Requirements:
ABLE TO WORK DECEMBER THROUGH JANUARY

CAN WORK DURING THE FIRST 3 WEEKS OF CLASSES

RELIABLE AND HARDWORKING

ABLE TO GET TO WORK, EVEN OVER WINTER BREAK


Enjoy lunch at the Beacon!
The Beacon Café, North Shore Community College's student-run café, will be serving fresh, hot meals on Tuesdays and Thursdays beginning October 15th through December 10th. The café will be closed Thursday, November 28 in observance of Thanksgiving.
Luncheons are only $5.00 -$7.50, depending on the menu, and will be served buffet style. The Beacon has two seating times: 11:00 a.m. and 11:45 a.m. and reservations are required. Please call (no emails, please) to make your reservation at 978-762-4000, x1513 and follow the instructions in the message.
The Beacon Café is located off Route 114W at 30 Log Bridge Road, Middleton in the North Shore Business Center.
Hope to see you at the Beacon!

Problem of the Week #12-13
Click here for Problem of the Week #12-13 and solution to Problem of the Week #11.
Contest Rules:
Each week we will send out a problem solving challenge as a friendly competition among students, faculty and staff. They will vary in topic, format and difficulty. Problems are posted on Tuesdays and answers need to be returned via email to Professor Anne O'Shea (aoshea@northshore.edu) or Professor John Gambino (jgambino@northshore.edu) by 11:00 am on Friday of the same week.

The first randomly selected correct entry, regardless of when it is received, will earn 10 pts, the next 9 pts, the third 8 pts, the fourth 7 pts and the fifth 6 pts. All other correct submissions will earn 5 points. The person with the highest cumulative point total at the end of the semester (12/13) will be declared the winner and Problem Solving Champion and win a "fabulous" prize. Separate contests will be held for Students and Faculty/Staff.
Problems are posted each in the Bulletin each week, posted on the North Shore Community College Mathematics Department Facebook page, and on bulletin boards across from LE303 (Lynn) and on the first floor of the Berry Building (Danvers) by Tuesday. Other locations may be added at a later time.
Worthy Causes
Holiday Toy Drive, November 25 - December 11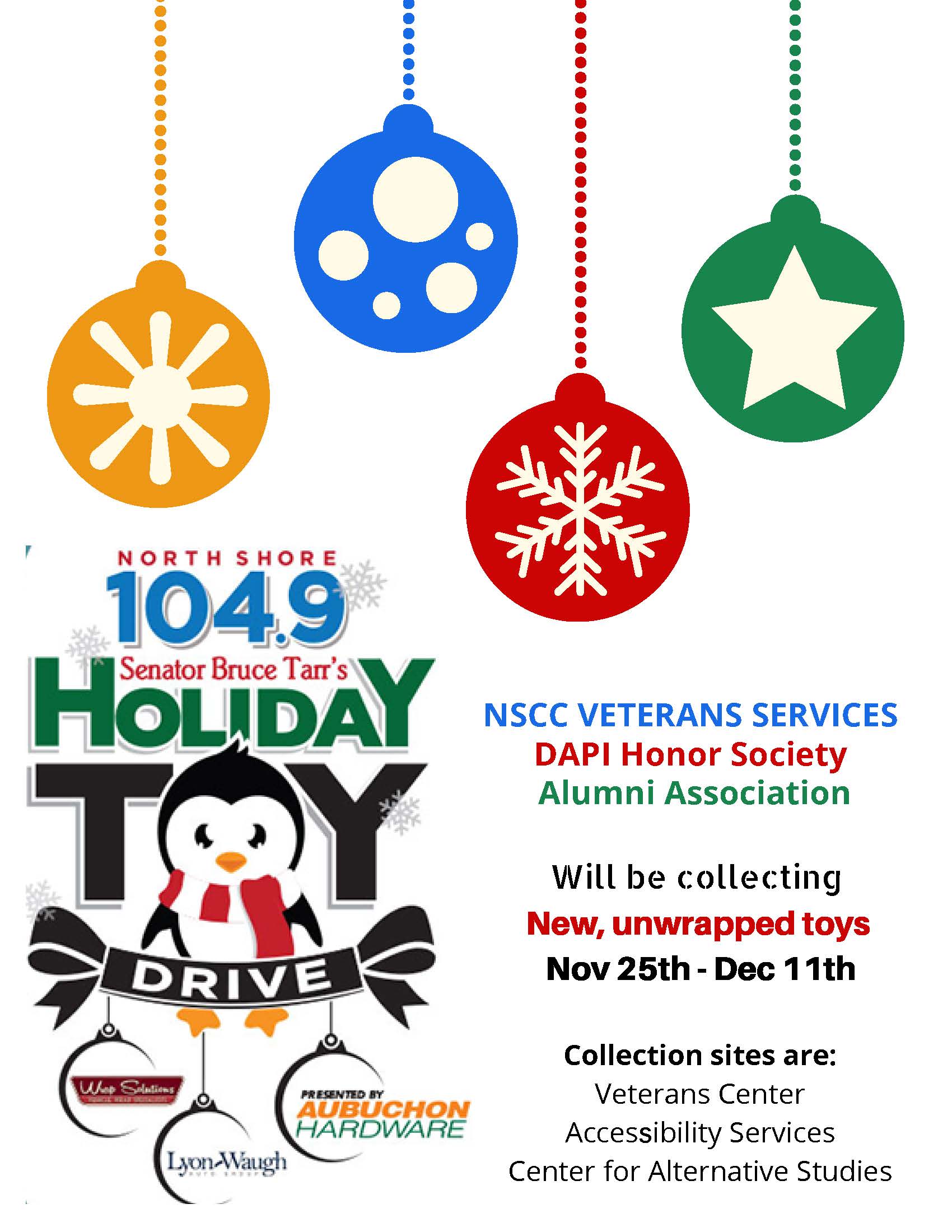 The Season of Giving is upon us! NSCC's Veterans Services, DAPI Honor Society and the Alumni Association will be collecting new, unwrapped toys Nov. 25-Dec. 11. Collection sites - Veterans Center, Accessibility Services and the Center for Alternative Studies. For more info, contact Kristine Babcock, Veterans Services Coordinator at kbabcock@northshore.edu.
Thank you for helping to make the holidays a little brighter for children in need!