Room Reservation Advanced Scheduling
Class scheduling has been designated as a top priority in the room scheduling process. After completion of credit and noncredit class scheduling, the reservation system is opened for general event reservations. Due to this limitation, the system will be available for general reservations on the following dates:
Reservations for spring semester, January 1, 2020 - March 5, 2020
Reservations for summer session, May 6th 2020 - August 31, 2020
Special requests outside these guidelines will require Vice President approval
.

And the lucky winners are…
Two students were chosen to win a free course for Spring semester by registering early during Priority Registration Week. Reg Week was held from Monday, October 28 – Saturday, November 2, exclusively for current students to get a head start on securing their classes for Spring semester.
During the week-long event, over 1300 students registered early, exceeding this year's goal of 1000.
Congratulations to Jessica Morrow and Katherine Bullerwell for registering early and winning a free class each!
Co-Curricular Planning Dates
Director of Student Engagement Amanda Dooling has been working with the division of Liberal Studies and other areas on campus to gather ideas about co-curricular programming for our students.
She has set aside some co-curricular planning dates for faculty and staff to share ideas and programming options. Please touch base with her to RSVP (adooling@northshore.edu), or pop in!

Tuesday, November 12 - Lynn Campus 1:00 pm - 2:00 pm Room LE 203
Thursday, November 14 - Danvers Campus 1:30 pm - 2:30 pm Room DB 313
Monday, November 18 - Lynn Campus 9:30 am - 10:30 am Room LE 303
Tuesday, November 19 - Danvers Campus 9:30 am - 10:30 am Room DB 313
Professional Development
Fund$

Available

The Professional Development (PD) Committee would like to let faculty and staff know that professional
development funds are available.

There are three levels of PD grants that you can apply for:
Mini grant ($300 or less)

Large grant ($301-$1500 – requests are currently being funded at 75%)

Coursework grant (for undergraduate or graduate credit coursework, up to $500.)





Please note that out-of-state travel requires pre-approval from your Vice President and the President. You will




want to have the pre-approval to travel in writing (email is fine) before you submit the PD grant application. A




copy of this pre-approval to travel will need to be forwarded to the PD Committee Chair.





Before completing the PD grant application form, please review the eligibility and application guidelines. These




are available on My Northshore.





In My Northshore, search for professional development. Click the Professional Development Application &




Award Process tile to access the eligibility and application guidelines as well as the Proposal Application Form.
Applications are due at least one week prior to the monthly governance meetings.
If you have any questions, please do not hesitate to reach out the the PD Committee Chair.
Thank you,
Andrea Milligan, PD Committee Chair, amilliga@northshore.edu
Upcoming Events
November 20- Mobile Market, Lynn (3rd Wed. due to Thanksgiving), 10-11:30a.m.
The NSCC Mobile Markets are held monthly on both the Lynn and Danvers Campus and provide fresh seasonal fruits and vegetables to ALL NSCC students, faculty and staff, FREE of charge. Each participant may receive up to 25 pounds of produce.
Please plan to bring your own reusable bags to carry your items as bags may not be available at each market.
To volunteer or to register and to find out the dates, times and locations of the mobile markets, https://tinyurl.com/yxkey4cz
Please alert your advisees!
November 20 - TRIO/Student Support Services SSU Transfer Info Session
November 21 - Gentle Guided Meditation
November 21 - Students vs. Faculty/Staff Basketball Game, 6p.m., Lynn gym
Calling all hoopsters! Sign up now! https://bit.ly/2ItUzZI
For more info, contact Archie Bandera at abandera01@northshore.edu
December 13 - President's Holiday Reception
Open Jobs
Administrative
Dean of Career and Technical Education and Business Division


Campus Police
Institution Security Officer II (3rd shift)
PT Institution Security Officer (3rd Shift)
Clerical/Office Support
Payroll Analyst (Accountant II), Human Resources and Payroll
PT Clerical Assistant, Accessibility Services, Danvers Campus
Faculty
FT Faculty, Nurse Education (Foundations of Nursing & Maternal Health), Spring 2020
PT Instructor, Basic English as a Second Language lV and Integrated Skills Low
PT Instructor, QuickBooks Level 1
Maintenance/Trades
PT Evening Custodian, (Maintainer), Facilities Department, Danvers campus
Professional
Sr. Specialist for Assessment of Student Learning Outcomes
The Monday Morning Mentor series will be available over the fall semester to bring you professional development in twenty minute snippets.
For the week of November 18- How can I create an effective syllabus for my online class?

Directions for Accessing the Link to the Presentation and Supplemental Materials
Select the URL link below to access the presentation and to print the supplemental materials. (You may also copy and paste the URL into your browser's address bar.) Supplemental materials are available to view and print now.
sites.google.com/a/northshore.edu/mmm/
New presentations go live at 10:00 a.m. each Monday morning and are only accessible through Sunday.
The series is being brought to you by the Center for Teaching, Learning, and Innovation – we would appreciate your input!
--Andrea Milligan amilligan@northshore.edu
WHAT A GREAT WAY TO START YOUR WEEK!
Get discounted tickets (save $23 off full price!) to NSMT's A CHRISTMAS CAROL!
Join NSCC's Alumni Association at Bill Hanney's North Shore Music Theater to celebrate one of New England's brightest holiday traditions! An original adaptation based on Charles Dickens' classic novella, A CHRISTMAS CAROL is a musical ghost story following Ebenezer Scrooge through a series of strange and magical journeys where he discovers the true spirit of the holiday season. Featuring dazzling special effects and traditional songs this award-winning production was created specifically for NSMT and has been seen by more than 1 million people since its 1989 debut. RUNNING TIME: 2h 20m (includes intermission) CONTENT ADVISORY: Contains sudden loud noises, pyrotechnics, dark images. May not be suitable for all audiences.
December 14, 2019, 2 p.m.
Adults $58.50, Youth (4-18) $35.50 Promo Code: ALUMS
Seating is limited – reserve your seats now! Go to https://www.nsmt.org/ to buy tickets.
Hope to see you there!
--NSCC's Alumni Association


Enjoy lunch at the Beacon!
The Beacon Café, North Shore Community College's student-run café, will be serving fresh, hot meals on Tuesdays and Thursdays beginning October 15th through December 10th. The café will be closed Thursday, November 28 in observance of Thanksgiving.
Luncheons are only $5.00 -$7.50, depending on the menu, and will be served buffet style. The Beacon has two seating times: 11:00 a.m. and 11:45 a.m. and reservations are required. Please call (no emails, please) to make your reservation at 978-762-4000, x1513 and follow the instructions in the message.
The Beacon Café is located off Route 114W at 30 Log Bridge Road, Middleton in the North Shore Business Center.
Hope to see you at the Beacon!

Problem of the Week #11
Click here for Problem of the Week #11 and solution to Problem of the Week #10.
Contest Rules:
Each week we will send out a problem solving challenge as a friendly competition among students, faculty and staff. They will vary in topic, format and difficulty. Problems are posted on Tuesdays and answers need to be returned via email to Professor Anne O'Shea (aoshea@northshore.edu) or Professor John Gambino (jgambino@northshore.edu) by 11:00 am on Friday of the same week.

The first randomly selected correct entry, regardless of when it is received, will earn 10 pts, the next 9 pts, the third 8 pts, the fourth 7 pts and the fifth 6 pts. All other correct submissions will earn 5 points. The person with the highest cumulative point total at the end of the semester (12/13) will be declared the winner and Problem Solving Champion and win a "fabulous" prize. Separate contests will be held for Students and Faculty/Staff.
Problems are posted each in the Bulletin each week, posted on the North Shore Community College Mathematics Department Facebook page, and on bulletin boards across from LE303 (Lynn) and on the first floor of the Berry Building (Danvers) by Tuesday. Other locations may be added at a later time.
Worthy Causes
Holiday Toy Drive, November 25 - December 11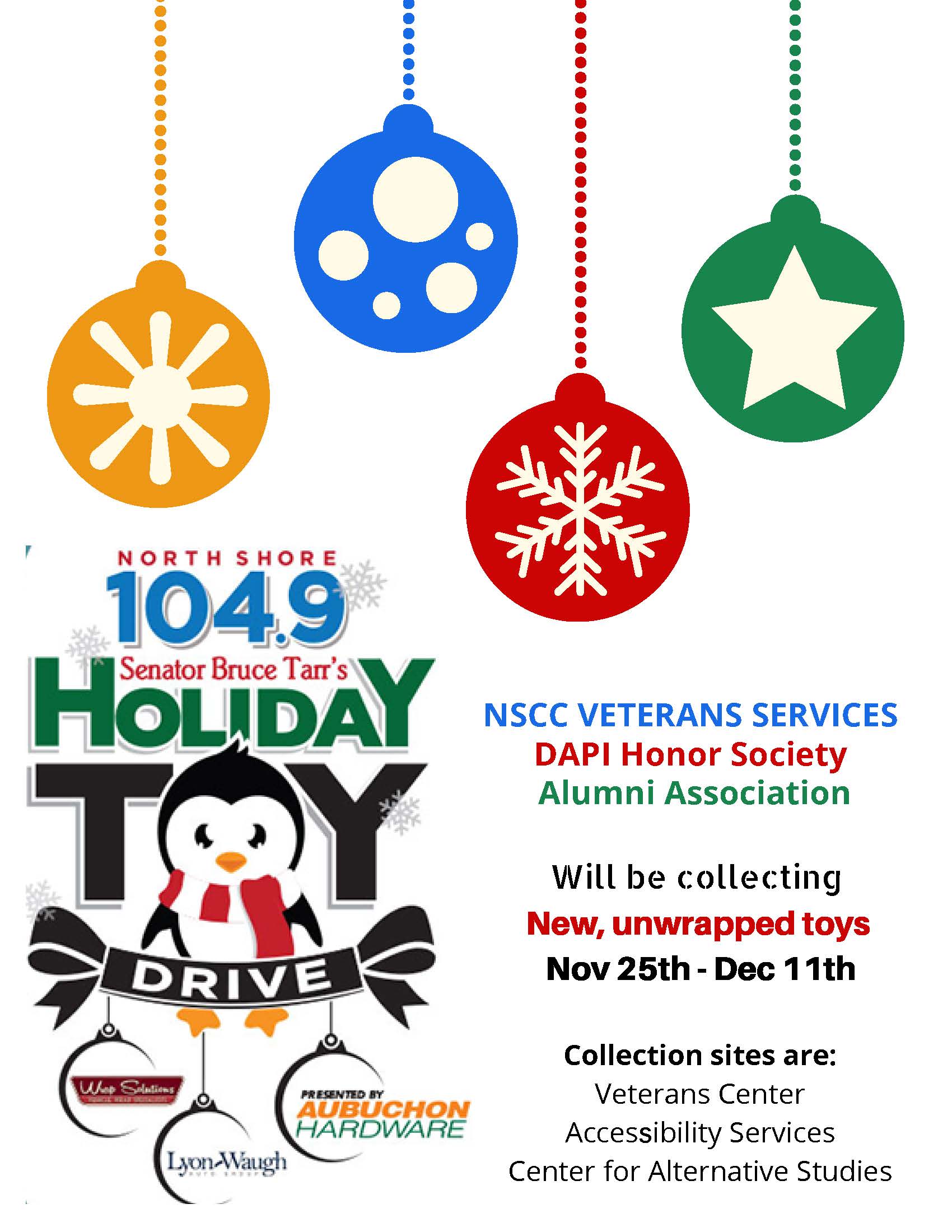 The Season of Giving is upon us! NSCC's Veterans Services, DAPI Honor Society and the Alumni Association will be collecting new, unwrapped toys Nov. 25-Dec. 11. Collection sites - Veterans Center, Accessibility Services and the Center for Alternative Studies. For more info, contact Kristine Babcock, Veterans Services Coordinator at kbabcock@northshore.edu.
Thank you for helping to make the holidays a little brighter for children in need!