Professor Rondon takes 1st place!
Congrats to Associate Professor and Ph.D. student Yelenna Rondon on winning the best lightning talk award and taking first place for a graduate student from the UMass Lowell College of Education for her research into how students fare when they start out at a community college, compared to a four-year public or private college.
Yelenna, a Ph.D. student, found that students who start at community colleges are less likely to complete their bachelor's degrees within six years. But if they do, they earn as much as those who started and finished at a four-year school.
George Craig is retiring!
George Craig, Auxiliary Services, is retiring after 42+ years at the College! His last day is Wednesday, August 28. We all wish George the best on his retirement and the start of his new life chapter! Thanks for the memories. Remember, the only person that is truly happy on a Monday morning is a retired person!
--Scott Hughey, Auxiliary Services
NSCC/Year Up Alumna in the News
Read this inspiring story in Forbes magazine about Marcia Jordan, NSCC '13 and Year Up '15. "NSCC was my first big step to a better life."
Lynn Campus Electrical Project
Site work for the Lynn Campus Electrical Project is scheduled to begin the week of August 26th. This initial phase will focus on under ground utilities and construction in the vicinity of the Green House and Loading Dock .Trailers and equipment will occupy sections of the rear parking lot as well as a portion of the Broad Street Lot. Traffic cones will be positioned and control fencing will be installed. Campus Police will be present for directions.
Overall, this project involves the replacement of the 30-year-old electrical service to the main McGee Building. Duration of this project is approximately 1 year. Please review the attached diagram.
For questions, please contact Jamie Wicks, Director of Facilities at x4286 or Rick Reney, AVP, Facilities Management at x4040.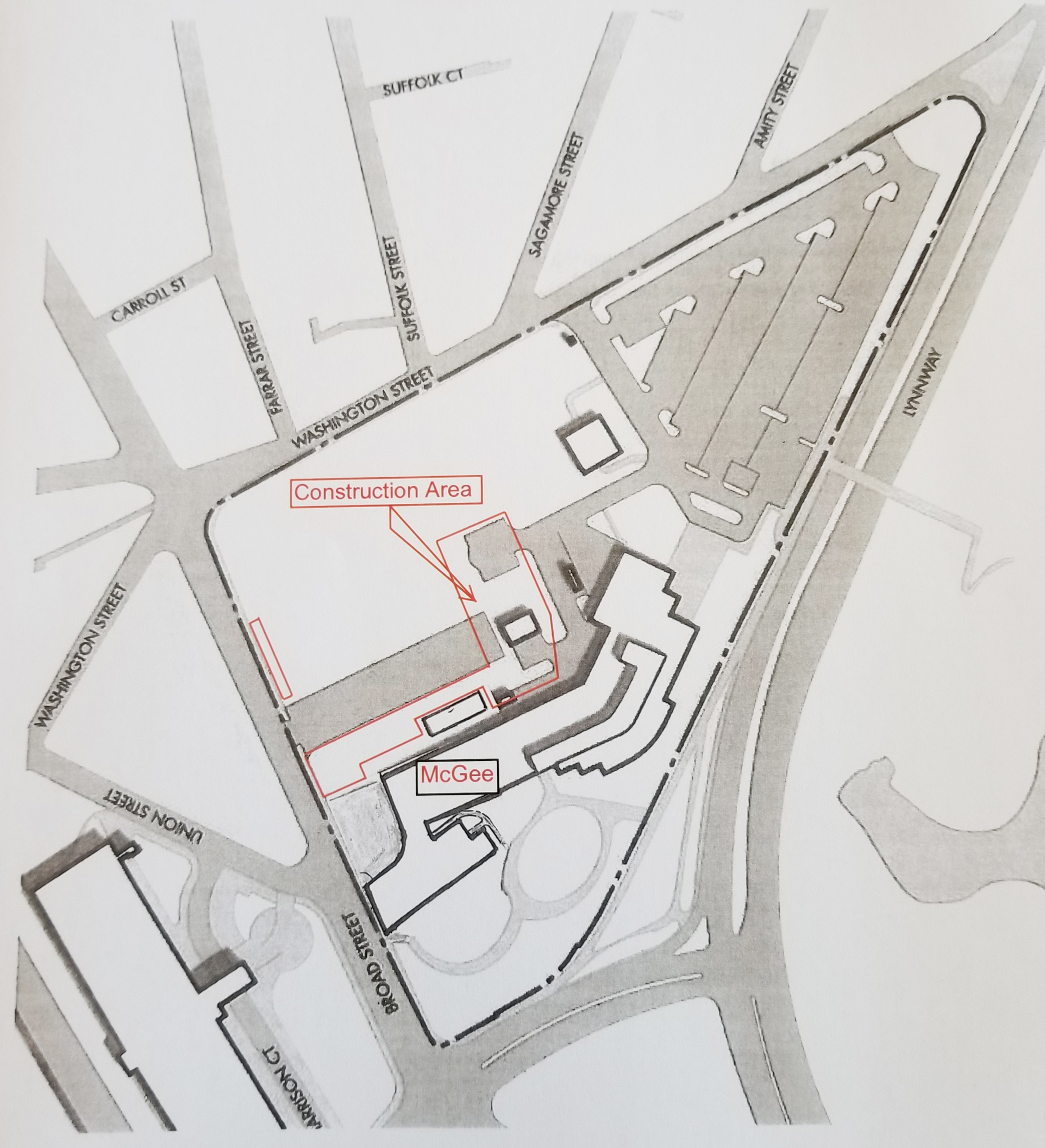 Save the dates!
October 3, 2019- 3rd annual Champions for NSCC Breakfast
Join the North Shore Community College Foundation for the presentation of the NSCC Champions Awards, honoring exceptional leaders dedicated to excellence in higher education and career pathways for residents of the North Shore and beyond on Thursday, October 3, 2019 from 7:30 to 9:00 AM at the Boston Marriott Peabody.
2019 NSCC CHAMPIONS AWARD HONOREES
The Bertolon Family - in recognition of philanthropy and volunteerism
The Solimine Family - David J. Solimine Sr., David J. Solimine Jr. and Joel Solimine of Solimine Funeral Homes - in recognition of community impact
Rosalin Acosta, Secretary of Labor and Workforce Development in MA - in recognition of public service and advocacy
Net proceeds from this event benefit North Shore Community College programs and initiatives that enhance student success and educational access at North Shore Community College.
For more information, https://www.northshore.edu/champions/ or contact Nicole Marcotte, NSCC Director of Development, at 978-739-5527 or nmarcott@northshore.edu.
October 24, 2019 - Celebrate 50 years of Nursing Excellence at NSCC and the unveiling of the planned Bertolon Simulation Health Care Center of Excellence
Please join us as we celebrate 50 years of nursing excellence at NSCC, Thursday, October 24, 5-7 p.m. in the Health Professions and Student Services building on the Danvers Campus!
In addition, the event will include the unveiling of the planned Bertolon Simulation Health Care Center of Excellence at NSCC, made possible by a gift from Donna (NSCC Class of 1972) and Henry Bertolon and their family. Read more about the Bertolon's gift.
RSVP https://tinyurl.com/y64upmug or for more information, email NSCC_Alumni@northshore.edu
20 Minute Online Professional Development
The Monday Morning Mentor series will be available over the fall semester to bring you professional development in twenty minute snippets.
For the week of August 26th – How do I create a class that supports first-year students?
For the week of September 2 - Beyond syllabus policies: What strategies help students take responsibility for learning?
Directions for Accessing the Link to the Presentation and Supplemental Materials
Select the URL link below to access the presentation and to print the supplemental materials. (You may also copy and paste the URL into your browser's address bar.) Supplemental materials are available to view and print now.
sites.google.com/a/northshore.edu/mmm/
New presentations go live at 10:00 a.m. each Monday morning and are only accessible through Sunday.
The series is being brought to you by the Center for Teaching, Learning, and Innovation – we would appreciate your input!
--Andrea Milligan amilligan@northshore.edu
WHAT A GREAT WAY TO START YOUR WEEK!
Job Openings
Administrative
Campus Police Lieutenant (Staff Associate)
Comptroller, Fiscal Affairs
Energy Systems Manager, Facilities Department
PT Assistive Technology Learning Specialist, Accessibility Services (Lynn campus)
Staff Associate, Records and Registration, Enrollment Services


Clerical/Office Support
Accountant I, Fiscal Affairs
Part-time Clerical Assistant, TRIO-Talent Search Program
PT Administrative Assistant, Health Professions
PT Clerical Assistant, Enrollment Services, Lynn & Danvers campuses (2 openings available)


Faculty
Adjunct Faculty, Biological Sciences, Fall 2019
Adjunct Faculty, Developmental Reading and Writing
Adjunct Faculty, First Year Experience (Lynn)
Adjunct Faculty, Introduction to Digital Photography
Adjunct Faculty, Introduction to Graphic Design
Adjunct Faculty, Mathematics
Adjunct Faculty, Understanding Higher Education and Career Pathways
PT Adult Education ELA & Social Studies Instructor for Level 3 (GLE 9-12) class
PT English Instructor, Upward Bound Program
PT Instructor, Adobe Creative Cloud
PT Instructor, Basic English as a Second Language lll and IV
PT Instructor, Nurse Assistant/Home Health Aide
PT Instructor, Real Estate Salesperson's Exam Preparation
PT Instructor, Spanish I
PT Instructor, Understanding Menu Development
PT Math Instructor, Upward Bound Program


Maintenance/Trades
Painter I, Facilities Department
PT Maintainer (Janitorial), Facilities Department, Danvers campus


Professional
Academic Counselor, Financial Aid
Part-Time Assistant Librarian (2 Positions) Danvers Campus
Part-Time ESL and Writing Tutor Position (Learning Specialist)
PT Head Tutor, Upward Bound Program
PT Professional Science Tutor (Learning Specialist)
PT Tutor, Upward Bound Program
Recruitment Counselor, Office of Admissions
Help Welcome Back our Students!
We need your help Welcoming our Students!! Every semester the Office of Student Engagement partners with staff and faculty across both campuses to help welcome new students as they begin their first day of classes. We help students find classrooms, answer general questions, and provide them with information pertaining to resources and programming happening on campus. We are asking for only 45 minutes of your time on the campus that is most convenient for you!
Thank you in advance for helping to build a stronger, more welcoming NSCC Community!
--Jacob Rockwell, Office of Student Engagement, jrockwel@northshore.edu